Cream pies are my favorite type of pie. This collection is brought to you by Foodie.com. All opinions are my own. Since March 14th is pie day, it's the perfect time to share this cream pie collection with you.
16 Delicious Cream Pie Recipes
Did I ever mention that I worked as a waitress at Baker's Square for about 5 years? I had a blast working there and definitely had my fair share of pie-tasting. I quickly learned that my favorites all contained whipped cream. Anything with chocolate, peanut butter, cream cheese and whipped cream was pretty much irresistible to me. We categorized all the pies as either "cream pies" or "fruit pies", and I could eat the heck out of the cream pies. In fact, it was a tad bit dangerous to work there with my sweet tooth!
Now that I have been starting to experiment more in the kitchen, I am anxious to try making some cream pies on my own. There are so many delicious recipes out there and several seem a lot easier than I would have anticipated.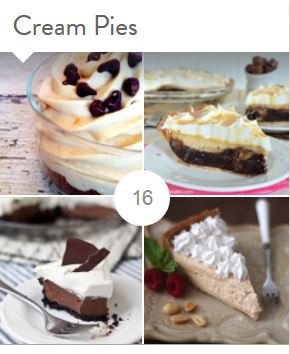 It's safe to say that we will be celebrating pie day on March 14th. I mean, who am I to ignore such an important day? 😉 We shall celebrate it to the fullest with at least one slice of a delicious cream pie.
Here's another scrumptious tip: Create a pie shake by tossing a piece of pie into the blender with a scoop of ice cream and some milk. Oh my goodness is that an indulgent treat!
Just look at the Turtle Pie from Edwards — Oh my gosh!
What is your favorite type of pie? Do you like cream pies or fruit pies better?