1st Step Pro Wellness
1st Step Pro Wellness offers a wide variety of products to get you on the right track to a healthy lifestyle. We all know that maintaining a health plan takes a lot of time and effort. 1st Step Pro Wellness is here to help make that a lot easier.

I received several products for review. The one I was probably most excited about was the protein powder. They sent me both vanilla and chocolate flavors which was very much appreciated! I drink protein shakes daily for breakfast, so I love to be able to switch it up. I usually opt for vanilla because it's easier to fit into recipes, but I am really enjoying the chocolate. It's so easy, I just mix a scoop with skim milk, a banana, and a little peanut butter – YUM! The French vanilla flavor also contains over 20 essential vitamins and minerals in each scoop. 1st Step Pro Wellness Whey Protein powders are designed to help support lean and toned muscles and help with muscle recovery.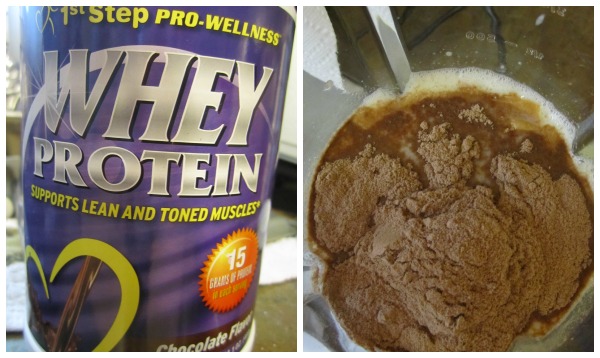 Another product I got to try out was the Liquid Vitamin B12 Complex. This is a stimulant free, caffeine free, great tasting drink to give you a boost. I followed the suggested use of drinking half the bottle. It definitely tastes pretty good. I took this instead of my afternoon coffee. I would love to get over the nasty habit of requiring caffeine multiple times per day! I cannot say that this drink gave me a ton of energy, but let's just say I didn't really miss the coffee. This is a great way to get some extra B vitamins.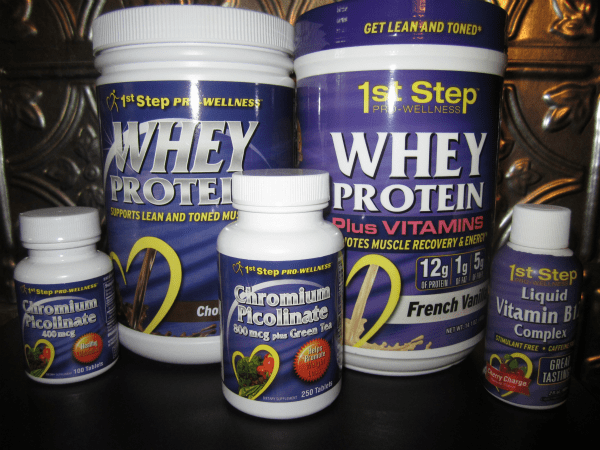 I also received two of the supplements that help control weight – Chromium Picolinate and Chromium Picolinate plus Green Tea. These have both been shown to help your body process fats and carbs more efficiently, help regulate blood sugar, and to boost energy. I have been taking the one with green tea for the added energy.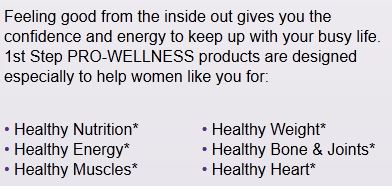 Great news! As of June 1, 2012 most of the 1st Step Pro Wellness products can be purchased at Walgreens stores nationwide! The rest of them will be available in late August 2012.
~~~ Coupon ~~~
Find a coupon for $2.00 off here.
Stay up to date on all the latest by liking the 1st Step Facebook page or following @1stStepWellness!
Disclosure: I received free products for review purposes. Thank you to the Family Review Network for this opportunity.