The Rack Trap
How to Use the Racktrap™
Locate your breasts . Are you a righty or a lefty? Decide what breast is most easily accessible.
Place your essentials (cash, credit cards, drivers license etc.) in

The

Rack

trap

™

.
Insert

The

Rack

trap

™

in your bra between the cup and your breast (see #1) at the top of your cup.
Make sure the opening of

The

Rack

trap

™

is lined up with the edge of your bra.
Pull your shirt tight to make sure there are no lines.
Use your free hands for good and not evil.
Repeat again tomorrow.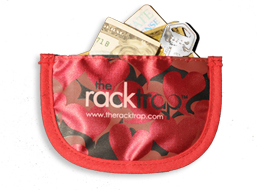 You know I have always wondered how some women can smoothly just whip some cash out of their bra.  I tried it once and failed miserably.  (Not much I do is naturally smooth.)  I also don't like the idea of cash on my bare skin.  Money is dirty – I'd like to think my boobs are not.
The Rack Trap is such a simple, yet genius, product.  It's a pouch that you place between your breast and the cup of your bra.  That way whatever you would like to carry is not just flopping around loose in your bra.  It's secure in a nice little bra pouch.
There are several occasions where I am going out and do not feel like worrying about my purse.  I am always so paranoid about it and can never relax when I am clutching my purse for dear life.  One of those days will definitely be MY WEDDING.  A purse is the last thing I want to have to freak out over that day!
This would make an excellent gift for my bridesmaids, too.  Perfect for them to slip a room key, anti-anxiety pill, ID and few bucks in!

Rainbow Crumbs for You
Weekly newsletter with our latest posts and shenanigans.