Horizon Organic Fat-Free Milk Plus DHA Omega-3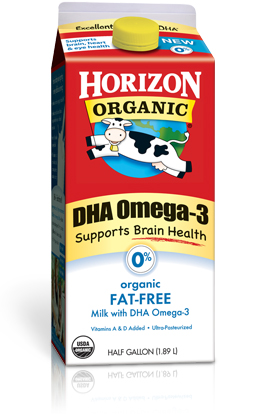 I have been buying organic milk for quite some time now ever since I heard about all of the nasty additives found in non-organic dairy products.  Sure, buying organic is more expensive, but it is worth it to me to avoid additional growth hormones, pesticides, GMOs and antibiotics.  I find it disgusting what some companies do to make their cows "produce" faster for them.  Cows should be able to make milk on their own natural cycle.  They are living creatures, not machines!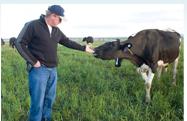 One of the biggest reasons I choose to buy Horizon Organic is because they respect their animals and treat them humanely.  This is huge to me because I believe that animals deserve just as many rights as us humans.  They do not have a voice, so it is up to us humans to treat them with the utmost respect.  Horizon is also kind to the Earth using only clean, renewable wind power to produce it's products.
To be honest I was a little nervous to try the new milk with the DHA Omega-3 added in.  When I think about Omega-3, I think of fish.  Fishy milk?  Yikes.  But, that is not to be a concern at all because they use a vegetarian and plant-based form of DHA.  It does not affect the taste of the milk at all!  So, if you have any picky eaters that won't eat fish, this is an excellent way to get them this important nutrient shown to support the brain, heart and eyes!
Feel better about the milk you serve your family!  Try Horizon Organic!
Rainbow Crumbs for You
Weekly newsletter with our latest posts and shenanigans.