Chicken Soup for the Soul: Country Music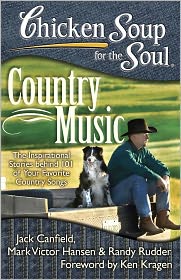 As you may know, I am a member of the Chicken Soup for the Soul blog network.  I will now receive each new release and be able to host giveaways on each one! Product was received for review purposes and this post may contain affiliate links.
The latest book is for country music lovers.  I am not an avid country music fan, but I do enjoy it on occasion.  I always find the lyrics very honest.  Most of the time you know there's got to be a story behind the song.  Whether it's a bad breakup or true love, country songs tell it like it is without holding back.  In this book you can read the personal stories behind 101 favorite country hits.  They are told by the songwriters and the performers.
This would make an excellent gift for any country music fan.  It's entertaining and uplifting just like so many country songs are!
Rainbow Crumbs for You
Weekly newsletter with our latest posts and shenanigans.