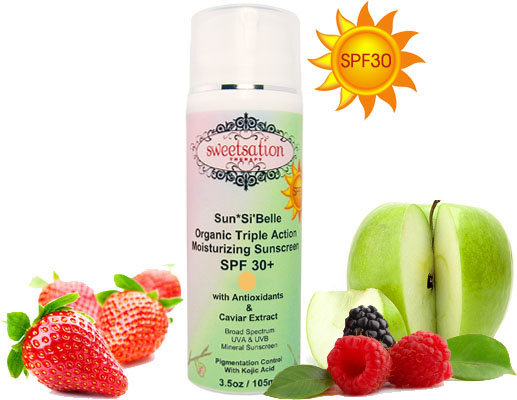 Sun*Si'Belle Organic Triple Action Moisturizing Sunscreen SPF 30+, tinted, with brightening action, 3.5oz
Product was received for review purposes and this post may contain affiliate links.
Recently included in the new EWG 2011 Sunscreen guide.  Sweetsation Therapy sun products are among the best and safest recommended by EWG.

You know me, I love multi-tasking products!  This one not only protects from the damaging rays of the sun, but it also repairs some of the damage you may have already done over the years.  This lotion is packed with antioxidant and age-fighting ingredients.  Among the many beneficial ingredients, it contains Reishi Mushroom and amino acids.  They are said to increase cell turnover and collagen synthesis, improve firmness and hydration, and reduce appearance of fine lines and wrinkles!  Of course personally, I am thrilled that it also contains essential oils that have anti-inflammatory and anti-bacterial properties to help fight any acne and breakouts!  This stuff really has it all!
I was finally able to give this lotion a fair test on a hot sunny day.  I applied it to my face and laid out in my yard.  At first I used too much, but I was able to rub it all in pretty quickly.  A little goes a long way.  I like that it is slightly tinted so there are no leftover white spots on my face.  It feels light on and didn't bother me or make me super greasy.  After lounging in the sun for about an hour, my face did not burn at all.  Although I burnt the rest of my body (oops), the places that I applied Sun*Si'Belle Organic Triple Action Moisturizing Sunscreen SPF 30+ appeared completely untouched by the sun.   It works great.  Next time I just have to remember to put it all over my body, too!
Rainbow Crumbs for You
Weekly newsletter with our latest posts and shenanigans.