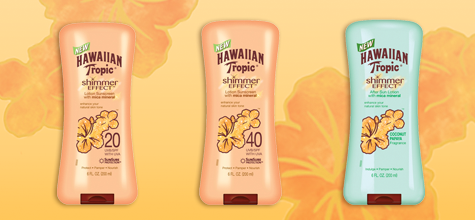 Hawaiian Tropic® Shimmer Effect Lotions
Well we are finally having a seriously pool-worthy summer!  Oh yeah, at 100 degrees, about the only place to be is in the pool if you ask me!  We are really cracking down on the sunscreen in this house, though.  Applying an appropriate SPF is a must for leaving the house.  Hawaiian Tropic has always been one of our go-to brands for sunscreen.  I was extra excited to try their new Shimmer Effect line! Product was received for review purposes and this post may contain affiliate links.
Find It Here
Find It Here
Find It Here
First off, I love that it comes in SPF 20 and SPF 40.  Sometimes I want to get a little more color while still being protected and I find that using an SPF of 20 is perfect in that case.  When I want to be more cautious, or plan to be in the sun a lot longer, I will apply the SPF 40.  Second, the Shimmer Effect lotion feels and looks great on!  It's not oily or greasy feeling.  Just a nice light coat that adds a touch of shimmer which is HOT!  It's amazing what a little bit of shimmer can do.  It really gives my skin that extra healthy-looking glow and seems to mask flaws well!  Third, it has that amazing Hawaiian Tropic scent that everyone knows and loves.  Even though I am just in my backyard pool, I feel like I am in the tropics.  I love it!
Continue the skin pampering after your day at the pool or beach, too.  After you shower, apply the Shimmer Effect After Sun Moisturizer for some more shimmer, mica minerals and antioxidants to nourish your sun-kissed skin!
Rainbow Crumbs for You
Weekly newsletter with our latest posts and shenanigans.