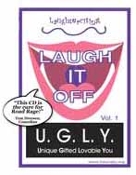 Laughtercising™ Laugh It Off Vol. 1
When I'm stressed, anxious, or upset about anything, nothing gets me out of that funk better than laughter.  Laughter has been proven to reduce stress, improve heart health, lower cholesterol and impact weight loss.  Go to https://heyugly.org/LaughterHealthBenefits.php to read about the health benefits of laughter.  My favorite is searching YouTube for videos of babies laughing. Product was received for review purposes and this post may contain affiliate links.
No one can possibly stay mad with that going on!  Well, the people at Hey UGLY Unique Gifted Lovable You, have also figured out the key to stress relief and even belly fat…  Laughter!  With this hilarious CD playing, you can't help but giggle, chuckle, and even belly laugh along.  It's just an hour of two people laughing.  Seems simple enough…  I put this on while my two children were sitting at the kitchen table doing a craft.  They didn't know what I was up to and when it started playing they both game me the look that says "Mom, what is this?"  Then they gave each other the crinkled eyebrow look and we all started cracking up.
This CD is not just a stress reliever either… its also a workout program!  Work yourself up to laughing for ten minutes straight!  Beats doing sit-ups and crunches if you ask me!
And, I just have to mention something about this non profit organization…  I had never heard of it, until this review opportunity…  This is truly an awesome foundation.  They are helping people all over the world realize that we all feel inadequate at some point in our lives.  Through the voices of celebrities, this message is really powerful.
Rainbow Crumbs for You
Weekly newsletter with our latest posts and shenanigans.