I am a huge fan of keeping my feet comfy.  The majority of my wardrobe now consists of comfortable things.  I especially like items for my feet.  Mike always makes fun of me for my variety of crazy socks and slippers.  But, I like my feet warm!  I was very excited to work with Dearfoams on this opportunity.  I picked the floral thong to review.  This is my first pair of slippers in the form of a flip flop.  Since it's been so hot, I figured they would make a wiser choice.  Even though it is sweltering outside, I still like to wear slippers in the house. Product was received for review purposes and this post may contain affiliate links.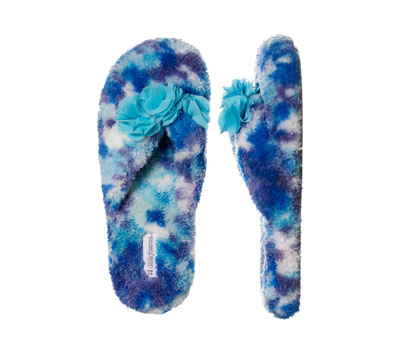 Dearfoams Slippers for Cozy Feet
Walking around in my Dearfoams is just too fun!  It feels like two tiny, insanely soft pillows are strapped to my feet.  I can definitely see why Dearfoams has been around for 60 years!  They have mastered the art of comfort in a slipper.  Although I mainly wear mine in the house, the soles are also designed for outdoor wear as well.  They are also machine washable so if you do venture outside, it's good to know they can be cleaned easily.
Find It Here
Find It Here
Find It Here
Find It Here
Seeing the variety of styles, shapes and colors Dearfoams has to offer, I know I will be back for more ASAP!
Need gift ideas for ladies?  I think slippers make a great gift.  So often we forget to pamper ourselves.  This is such an easy way to add comfort to our daily lives.  Check out the huge variety that Dearfoams has to offer.
Rainbow Crumbs for You
Weekly newsletter with our latest posts and shenanigans.