Chicken Soup for the Soul: Just for Teenagers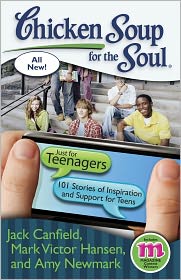 Since I am a member of the Chicken Soup for the Soul blog network, I get to check out all the new releases!   I truly enjoy all of their books.  They are always so inspiring and uplifting. Product was received for review purposes and this post may contain affiliate links.
The latest book is for teenagers.  Although I am certainly far from a teenager, I definitely remember those years.  I would never want to go back there!  I was beyond an awkward and insecure teenager.  Not to mention a raging hormonal mess.  This book tackles all of the challenges that these young people have to face.  It contains 101 stories to let the reader know that they are not alone.
Find It Here
What makes this book even more perfect for busy teens is how it is broken up into individual short stories.  Each one is just a few pages making it such an easy read.  There is no big commitment – just grab and read a section here and there.  It's amazing what a couple paragraphs and an uplifting quote can do to improve your mood!
This would make an excellent gift for any teenager.  It's so helpful to know that these are years that we all must go through!
Rainbow Crumbs for You
Weekly newsletter with our latest posts and shenanigans.