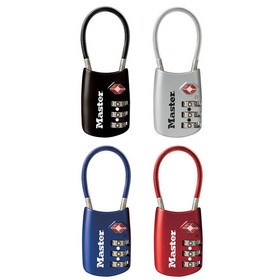 Master Lock 4688D Luggage Lock TSA Approved
Prior to this year, I hadn't been on vacation in over a decade.  So far this year, I've been to Mexico, Las Vegas, and several tri-state area camping trips…  So, the last time I traveled by plane was before 9/11 and let me tell you…  a lot has changed!  I was very concerned with my own safety and that of my belongings.  Lets face it, lost or stolen luggage=a miserable trip. Product was received for review purposes and this post may contain affiliate links.
Find It Here
Thanks to Master Lock, I could rest easy on the plane and in the airport regarding my suitcase.  This luggage lock is the perfect size to fit through the zippers and it has a keyhole for the TSA screeners should they want to inspect anything inside.  It has a three digit combination that is easy to set.  They even come in different colors so you can match it to your luggage!
Not only is this a great product, but the company is even offering handy security tips for safe travel…  and they also have some great products for your home while you're away!
Rainbow Crumbs for You
Weekly newsletter with our latest posts and shenanigans.