Math-A-Magician Activity Set
Math has always been one of my favorite subjects.  I know, I know, many of you are rolling your eyes or sticking your finger down your throat at that…  but really, math always came really easily to me, even as a kid.  Fortunately, my kids also seem to have this strength in the subject.  Which just makes it more fun for us all!  🙂 Product was received for review purposes and this post may contain affiliate links.
The Math-A-Magician Activity Set is a great way to learn without even being aware of it!  The first thing my kids noticed was that each spinner has different size color slices.  I took this as an opportunity to explain probability…  and they understood!  They chose their spinners accordingly from then on, to better ensure their chance of getting the color they wanted!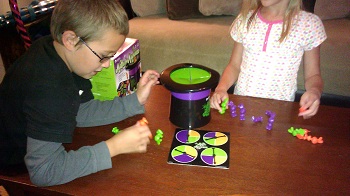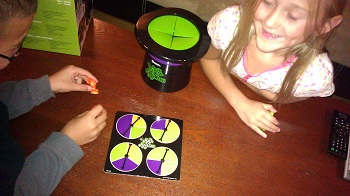 There are several different games to play with this set.  We started with the Math-A-Magician game which is where each player takes ten rabbits out of the hat (without looking).  The object is to then spin the spinner or your choice and land on the color of a rabbit that you have.  You then put that rabbit back into the hat.  The player that returns all their rabbits to the hat first wins!  This really emphasized the importance of which spinner you choose on your turn and by that, the importance of probability.
There are a bunch of other games listed in the instructions that help with numbers and operations, Algebraic thinking, Geometry, measurement, and data analysis and probability.
Rainbow Crumbs for You
Weekly newsletter with our latest posts and shenanigans.