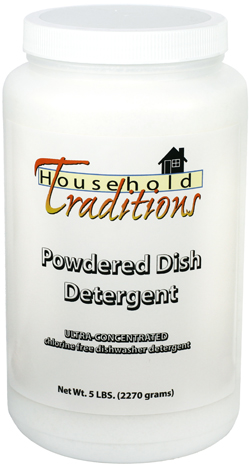 Household Traditions Powdered Dishwasher Detergent With Enzymes – 5 lb.
Tropical Traditions is slowly but surely transforming my house into a safer place!  With the opportunities I have had to try their products, it's really opening my eyes to all of the harsh chemicals I had been using for so long.  Thankfully, I have truly loved all of these safer products and plan to continue to use them.  This latest one is a biggie to me.  I am obsessed with my dishwasher and get quite upset when I actually have to hand-wash anything.  Yes, I am spoiled and I am okay with it. Product was received for review purposes and this post may contain affiliate links.
There's nothing worse than running a load of dishes and having them come out questionable.  No one wants to eat or drink out of a cloudy or otherwise funky looking glass or plate.  You either have to rewash them by hand or rerun the dishwasher.  This has happened to me quite often and I have always blamed the dishwasher itself.  To my pleasant surprise, it has not happened since I have been using Tropical Traditions!  I am thrilled about this.
This detergent does NOT contain chlorine, phosphates, fillers or fragrances AND is quite economical to use.  What's most important is that it is also effective.  Thanks to Tropical Traditions I now have one more safer item in my house!
Rainbow Crumbs for You
Weekly newsletter with our latest posts and shenanigans.