Lite Sprites Lite Wand and Prisma Sprite Set
Lite Sprites™ are adorable creatures that live in a magical land called Lite-Topia.  Now, you can create this whimsical, light-up world in your home for your children.  We cannot wait to get some of the deluxe playsets to really get the whole effect! Product was received for review purposes and this post may contain affiliate links.
My six-year-old daughter is now obsessed with this entire product line.  She loves running around the house stealing and capturing colors with her wand and transforming the little Sprites.  The Lite Wand can collect almost any color from nearly any flat surface!  Then, the Lite Sprites™ can catch the color from the Wand.  They can also share and catch color from each other, and also with the playsets.
Find It Here
There are two really cute, fun color games to play and they come with the Wand.  One idea is if your are playing with more than one person, try a Lite Sprites version of 'Hide and Seek'.  Have one child grab the color from an object in the room while the others close their eyes.  Whoever can guess where the color came from gets a prize!  Or you can come up with your own!  For an added challenge, we were seeing how many of the stolen colors we could name in Spanish!  And, Chesney really enjoyed making her sprite look like her with "yellow hair!"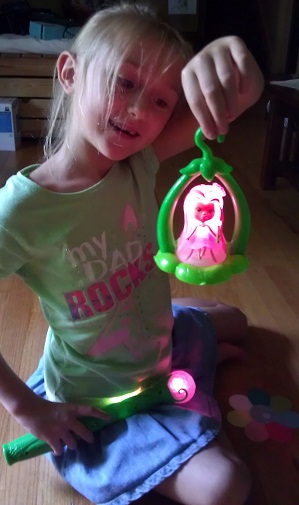 Rainbow Crumbs for You
Weekly newsletter with our latest posts and shenanigans.