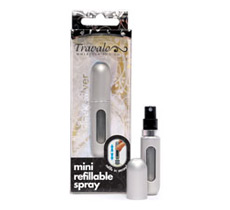 Travalo Refillable Perfume Spray
I am pretty lost when it comes to what is allowed in a carry-on these days, but you will not hear me complain!  I want whoever is checking baggage on my flight to be extra diligent when looking for anything possibly harmful.  However, I try to prevent having my own items taken away from me!  It never fails that I will usually have something that is not allowed on the plane in my purse or carry-on.  Unintentionally of course! Product was received for review purposes and this post may contain affiliate links.
I got to review this neat little product called the Travalo.  It's a refillable perfume atomizer that holds up to 50 sprays.  Perfect for traveling!  It's even airline approved for hand luggage.  Even if you are not jet-setting anytime soon, this is a great item for your purse, too.  No one wants to lug around a big bottle of perfume.  Even if you did have room for it, what if it breaks?  Yuck, what a mess that would be!  Now you can just load your Travalo and toss it into your purse, pocket, tote or whatever you carry your stuff in.  It's about the size of a lipstick case, so it's easily transportable.


As you can see from the video, it's extremely easy to use.  You just pump the perfume into the Travalo from a small hole in the bottom.  Spending $15.99 on this is far better than having your $50+ perfume being taken from you!
Rainbow Crumbs for You
Weekly newsletter with our latest posts and shenanigans.