This is a Sponsored post written by me on behalf of Comfort Zone® products. All opinions are 100% mine.
Pets can get stressed when their environment changes.  With the holidays upon us we are either leaving them behind while we travel, boarding them in a strange place or bombarding them with unfamiliar guests.  All this stress may cause them to misbehave.  Comfort Zone® Products help reduce stress-related behavior in your cat by mimicking their natural pheromones that help them feel calm and comfortable in their environment.
Comfort Zone® products are 95% effective at reducing scratching and urine marking for cats.
Comfort Zone® with Feliway® products for cats help control destructive urine marking and scratching associated with fear or stressful situations.
The Comfort Zone® with Feliway® Diffuser continuously releases an odorless vapor that mimics the soothing feline facial pheromone. Plug it in where your cat spends most of its time to keep it calm.
Comfort Zone® with Feliway® Diffuser is also great for use in multi-cat households to help keep them all relaxed around each other.
Comfort Zone® with Feliway® Spray is easy and convenient to spray in an area where a cat has recently marked or scratched. It's also good to spray in a crate to help cats remain calm during travel.
Our Rescue Cat
We rescued our cat, Stewie, a year ago, almost to the day.  He is a great pet and has become part of the family.  With rescues, it is hard to know what to do to make them comfortable when you don't know about their past.  All I know is he was abandoned in a rental house and was left in a really gross environment.
He totally freaks out when we leave for longer than a couple hours.  He seems to have serious abandonment issues.  No surprise there.  While we are away, he chews on plants and wires.  He doesn't have claws otherwise I'm sure our furniture and curtains would be shredded to bits.  More than anything, I'm concerned for his safety.  I don't want him getting sick from eating plants or shocking himself.
On top of all this, he is totally food obsessed.  He meows like a maniac in the morning and at night.  You'd think he was starving.  But he is a glutton and started getting fat so he's on a diet.  He wakes up the whole house and sometimes does this all night long.
After using the Comfort Zone® with Feliway® Products Diffusers for a couple months he is so much calmer.  He doesn't seem to be bothered when we're gone and doesn't meow unless you "talk" to him.  We even find him splattered out in the middle of the room totally relaxed.  He is still playful, but in between playtimes, he's chill and mellow.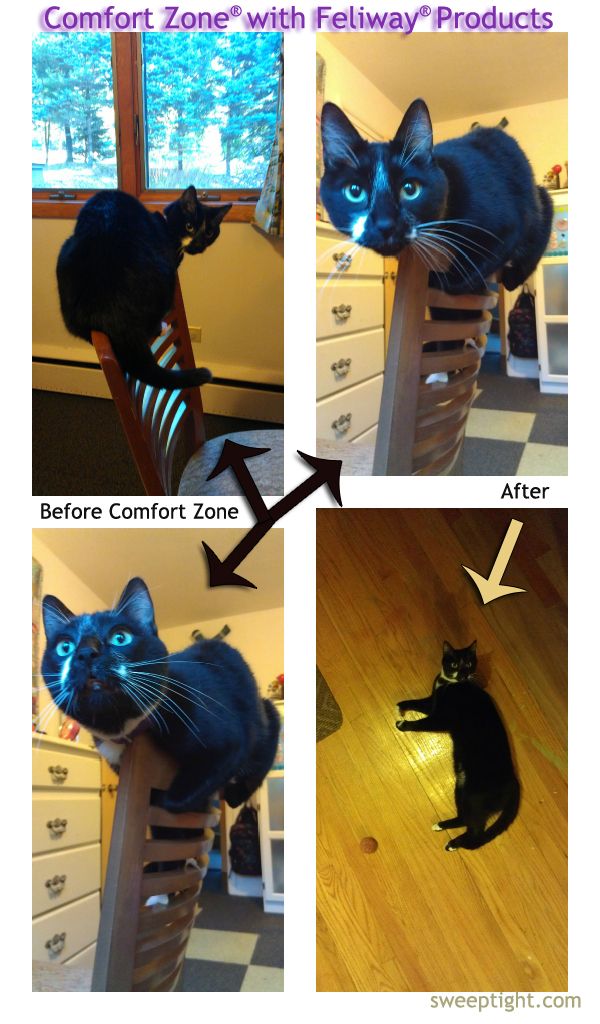 If your cat or dog is misbehaving, this product is definitely worth trying!
You can learn more by visiting www.petcomfortzone.com or find them on Facebook.
Rainbow Crumbs for You
Weekly newsletter with our latest posts and shenanigans.