Sears offers deals that just can't be passed up!  Upgrading kitchen appliances can be the most expensive part of renovation.  By using these promotional deals, everything can be accomplished within your budget.
With the New Year just a couple weeks away, I can't think of a better way to start fresh!  With all the time spent in the kitchen, we should really make sure it is as nice as possible.  (Remove all women-in-the-kitchen jokes from your brain right now.)  Quality appliances can save so much time, money and effort.  With all the high efficiency technology some of these big guys can actually lower your utility bills.  Plus, they just plain look great!
Sears Deals
Up to 35% off Appliances!
From now until January 5, 2013, Sears is offering up to 30% off your favorite appliance brands.  Plus an additional 5% off when you use your Sears card!  These deals are available online and in store.  You can find out all the details here.
Share this deal with your friends and family!  Click to Tweet!
Dream Kitchen
I'm not even close to obtaining my dream kitchen just yet.  But, with small steps, one day I will get there!
I need a new oven/range more than anything.  I just realized my oven is pretty darn small.  I bought a pizza (one of those take and bake pizzas) and it wouldn't even fit in my oven!  Maybe the pizza was on the larger end, but c'mon!  I'm also obsessed with the glass-top ranges.  They are so easy to clean it's ridiculous.  I cannot stand having to scrub grates!  And, it seems I'm always breaking a nail while trying to get the impossible grease off of all those tough-to-reach tiny spots.
Look at this beauty!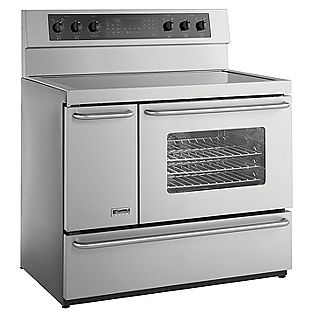 Disclosure: This is a sponsored post with http://brandfluential.com, I am a Sears blogger, though all opinions are my own.
Rainbow Crumbs for You
Weekly newsletter with our latest posts and shenanigans.