Coffee is a staple in my life. I drink it and use it in recipes. I don't just love it, I need it. Sad, but true, I am totally hooked. I started drinking coffee in my early teens and have never stopped. A more recent habit of mine is drinking iced coffee. I enjoy delicious, expensive and calorie-laden icy coffeehouse drinks like you wouldn't believe. However, they can quickly make a negative impact on both your wallet and your waistline. I was excited to hear that International Delight was launching a new light iced coffee. Time to head to Walmart to check it out!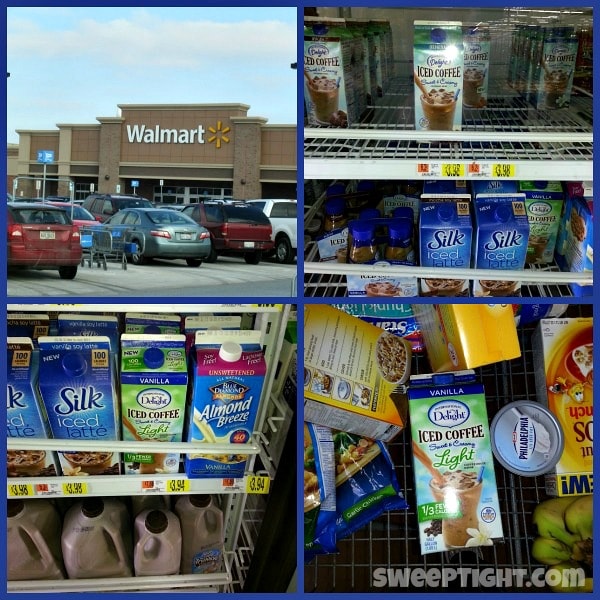 Walmart on a Saturday can be quite busy and challenging to navigate through, so I was happy to easily find what I was looking for. They had a nice selection of the original International Delight, but only the Vanilla in the reduced calories version. I would have loved to try the mocha, too, but I will save that for next trip. Before I left for my shopping trip I found a coupon to shave even more off of this affordable price.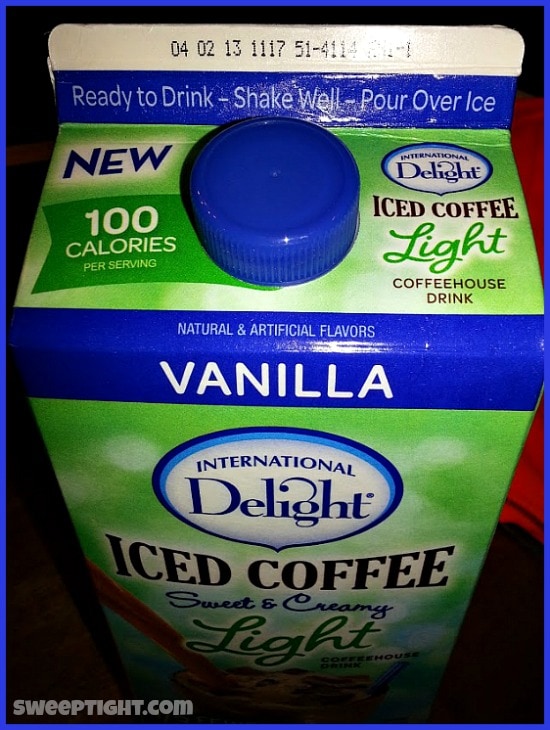 After the crazy trip to the store, I was ready to pour myself a glass of this low-sugar coffee as soon as I got home. At only 100 calories per serving, I didn't feel one bit guilty. Normally I do not like to drink my calories, but since I have been regularly downing full-calorie iced coffee, this is an improvement.
Fun with Coffee Recipes
This drink doesn't need any special treatment. Just pour a glass over ice and enjoy, but I wanted to play around with some recipes, too. I have been making Mike his favorite little trifle desserts quite often lately, so I thought I would finally make one with less guilt for me! Now… this is not guilt-FREE, but less guilt for sure!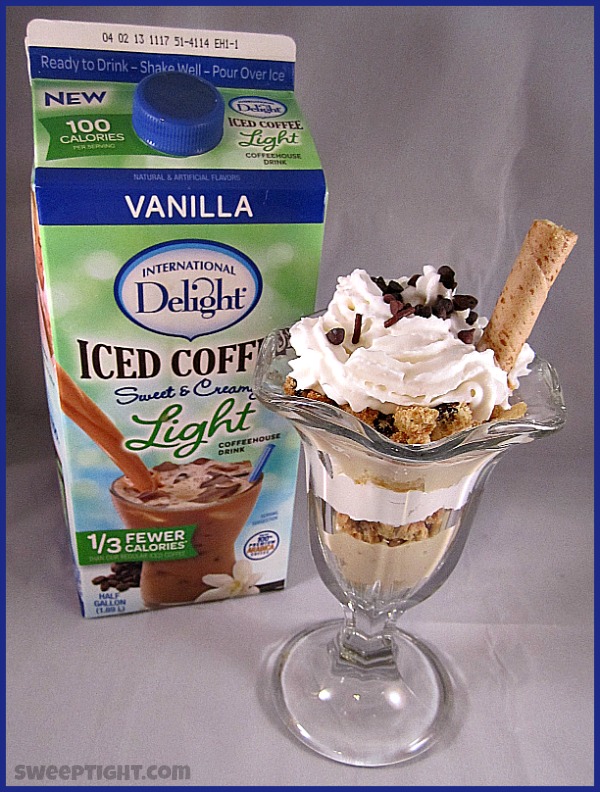 Light Iced Coffee Pudding Parfait
Ingredients
2 TBS International Delight Light Iced Coffee (I used Vanilla)
1 Sugar Free Vanilla Pudding Snack Pack
Cool Whip (Use fat free for even less calories)
Reduced Fat Chocolate Chip Cookies
Angel Food Cake
Fat Free Whipped Cream
Topping of choice (optional) I used Hershey's triple chocolate and a Pirouette from Pepperidge Farms. (Leave off to save on calories)
Instructions
Mix 2 tablespoons of Light Iced Coffee with pudding well.
Cut up cake.
Crush cookies.
Layer ingredients in the following order: Cake, pudding mixture, cookies, cool whip.
Continue to layer until you run out of room in your dish.
Top with whipped cream and choice of toppings.
I also enjoy drinking this coffee drink blended with iced. Add a little fat-free whipped cream and it can save me a trip to the coffeehouse. My wallet and weight appreciate this. Making things at home is always the better choice! I am happy to have the options to do so without missing out on my yummy treats. 🙂
Make sure to stay in touch with International Delight by liking their Facebook page and following them on Twitter.
What is your favorite way to enjoy coffee?
Disclosure: I am a member of the Collective Bias® Social Fabric® Community. This content has been compensated as part of a social shopper insights study for Collective Bias® . and White Wave #cbias #SocialFabric
Rainbow Crumbs for You
Weekly newsletter with our latest posts and shenanigans.