This post brought to you by Avocados from Mexico. All opinions are 100% mine.
If a recipe calls for avocado I will most  likely give it a try just for that.  Even if a recipe doesn't call for an avocado, I typically end up adding one to the mix.  Guacamole is a staple in my house.  I prefer to make it from scratch, however if I don't have time I like to keep a frozen stash on hand.

—
Did You Know?
Avocado intake may help lower blood cholesterol?
Avocados have 35% more potassium than bananas?
Avocados are rich in B vitamins, vitamin E and vitamin K?
Avocados have a high fiber content of 75% insoluble and 25% soluble fiber?
Avocados are under preliminary research for potential anti-cancer activity?
I have been eating avocados for years.  A long time ago I received one of those forwarded emails that listed the benefits of fruits and vegetables based on their appearance and likeness to human organs.  For example, carrots are good for your eyes—the cross section of a carrot resembles and eye.  The avocado was suggested to aid menstrual cramps because the fruit itself has the shape of a uterus.  This sounds ridiculous, I know, but the email was saying that nature is telling us what is good for what by making these apparent similarities.  Molecularly speaking, these theories prove true because the nutrients contained in these fruits and vegetables do coincide with medical benefits for their human counterparts.
So, I started eating avocados.  My cramps are still pretty bad, as it turns out I have PCOS and endometriosis.  But, I have noticed a huge improvement in other areas since eating this delicious fruit.  My skin is healthier and I'm not as moody.  I don't have any scientific research to back that up, but I've made a direct link with avocados and that improvement.
Plus, they're just freaking delicious!
Avocado Recipe
Any recipe with Avocados from Mexico as an ingredient is worth a try in my book.  I add avocado to just about anything.  From sandwiches to over eggs or plain I just love avocados!
My favorite recipe is a chunky dip that I like to eat with pumpkin seed chips.  It's a flavor explosion in your mouth and so healthy you feel amazing after binging on it!  (Because I can't eat just a little of this.  I always eat as much as I make.)  :/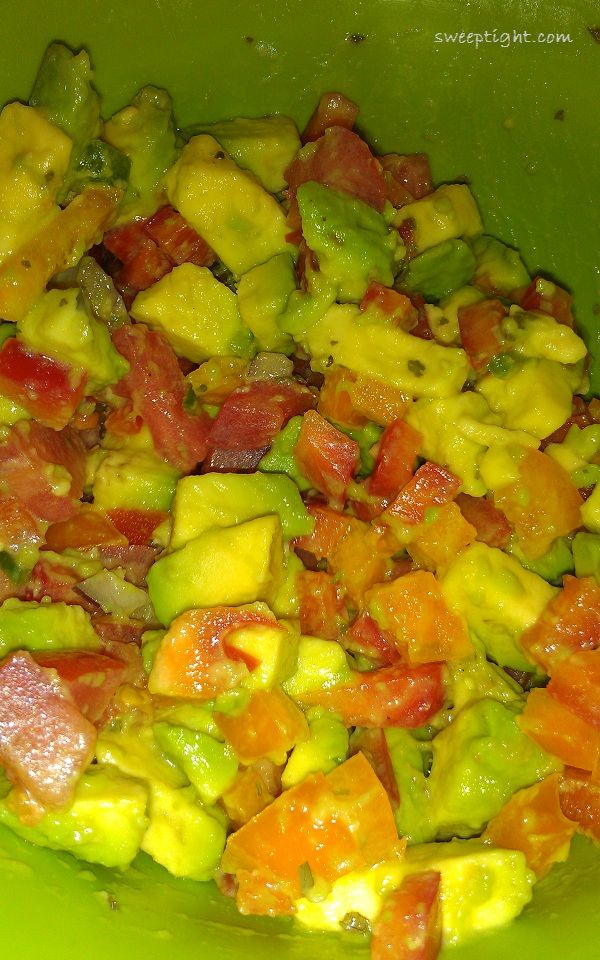 Chunky Avocado Vegetable Medley
Ingredients:

Red Bell Pepper, diced
Orange or Yellow Bell Pepper, diced
3-4 Plum Tomatoes, diced
1/3 cup diced red onion
2 Jalepeno peppers, diced
3 tbsp lime juice
1-2 tbsp dried cilantro
salt and pepper to taste
*4 avocados
Chips, Pumpkin Seed Chips are my fave
Mix the above ingredients excluding the avocado.  Unless this is going to feed a party of 4 or more, I only cut up enough avocado for me to eat in one sitting.  (Which is usually one whole avocado.)  I cube the avocado and spoon this mixture (about a cup) together and that makes one large serving.  When I take this with me to eat at school I add additional lime juice to prevent the avocado from turning brown.  Oh, and you can add fresh cilantro if you like it, but I can't stand it.  I only like it dried.  Otherwise, all 4 avocados can be cubed and added to the mixture.  Cover and refrigerate any leftovers.
Share your avocado love with this fun Share the Avocado Love Facebook app !  I just sent Jen an Avocado Valentine!  🙂
I just ordered this adorable apron from the Avocados from Mexico Cafe Press store.  I can't wait for it to arrive!
Don't Miss This Twitter Party
On February 7th between 3:00 and 4:00pm EST there will be an #iloveavocados Twitter party with @guacgrl! Check it out for a good time and for great prizes such as gift cards and Café Press gift cards to buy I Love Avocados Gear – over $500 in prizes! Just follow @guacgrl or hashtag #iloveavocados to be a part of the fun!
Rainbow Crumbs for You
Weekly newsletter with our latest posts and shenanigans.