This recipe is easy enough for any night, but perfect for Valentine's Day since it's pink!  Mike has been begging me to make my trifle recipe for weeks now.  The one that I normally make is huge, so there's no reason for the two of us to have that much in the house.  I decided to experiment with smaller dessert dishes.  This recipe is very forgiving and so easy.  Just layer yummy ingredients and most likely it will end up delicious!
Recipe for Mini Strawberry Pudding Parfait Dessert
I purposely made this as a single-serve recipe.  (Of course it will depend on the dish you use, as well.)  This way I can easily adjust the recipe if I want more servings.  Once again, I don't like to have a lot of leftover sweets because I end up eating them all!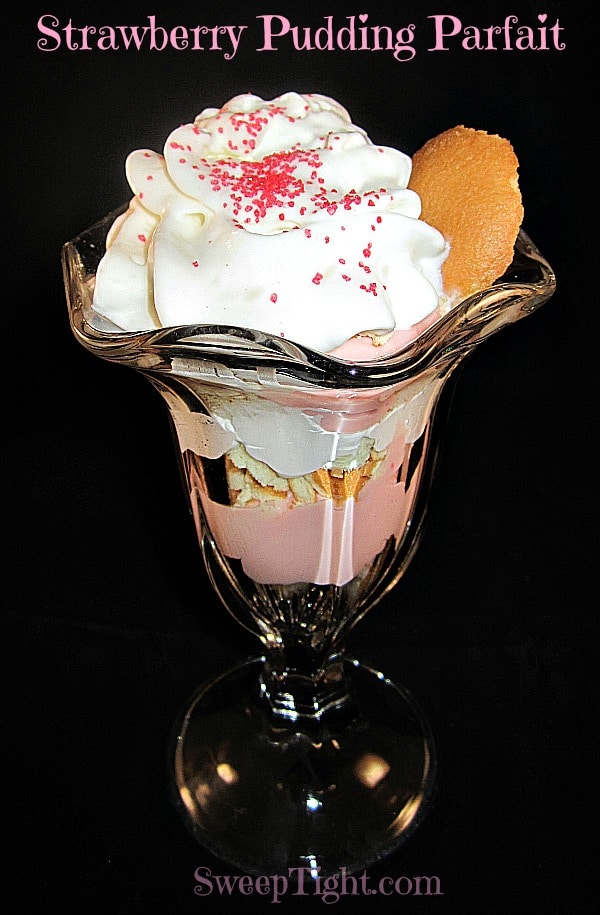 Presentation is everything with this recipe.  I highly recommend getting yourself some fancy dessert dishes.  You can even grab some at the dollar store.  Whatever you throw in them is automatically more impressive!  😉
If you are planning a stay-at-home Valentine's Day date night, give these a try!
&
Recipe for Mini Strawberry Pudding Parfait Dessert
Ingredients
1 Vanilla Pudding Snack Pack
Nilla Wafer Cookies
Angel Food Cake
Cool Whip
1 1/2 tsp Strawberry Quik
Whipped Cream for topping
Pink Sprinkles (optional)
Instructions
Cut Angel Food cake into chunks
Crush up Nilla Wafers
Mix Quik with pudding
Layer in this order: Cake, pudding, cookies, cool whip. Continue until you run out of room in your dish
Top with whipped cream and sprinkles
Rainbow Crumbs for You
Weekly newsletter with our latest posts and shenanigans.