This post brought to you by Simply Right Infant Formula. All opinions are 100% mine.
Choosing the right infant formula is one of the most important decisions you will make for your baby.  No pressure or anything…  😉  Balanced nutrition gives your baby the best foundation for proper growth and development and a healthy future.  I've partnered with SIMPLY RIGHT Infant Formula to show you how much you can gain by switching your formula.
Formula Overload
With so many different types of formula to choose from and prices that can make or break your bank account, you do not have to feel guilty for getting a bargain.  Because with formula like SIMPLY RIGHT you are not sacrificing any nutrition. Check out the incredible savings at Sam's Club on SIMPLY RIGHT Infant Formula!  Using the SIMPLY RIGHT Savings Calculator, you can see just how much you'll save per week, month and year by switching to this formula!  We would save over $550 a year!
Babies!
While my kids are way passed their formula days, I am babysitting for this adorable infant!  And, boy does he love to eat!
And he's never happier than when he has a full belly.  Look at that happy face!  These faces are my favorite moments.  Babies' facial features change what seems like daily and I love watching them grow into themselves.  I think it is hilarious when they go through "awkward" phases.  All the infants in my family went through a phase where we looked like scary, angry little old men.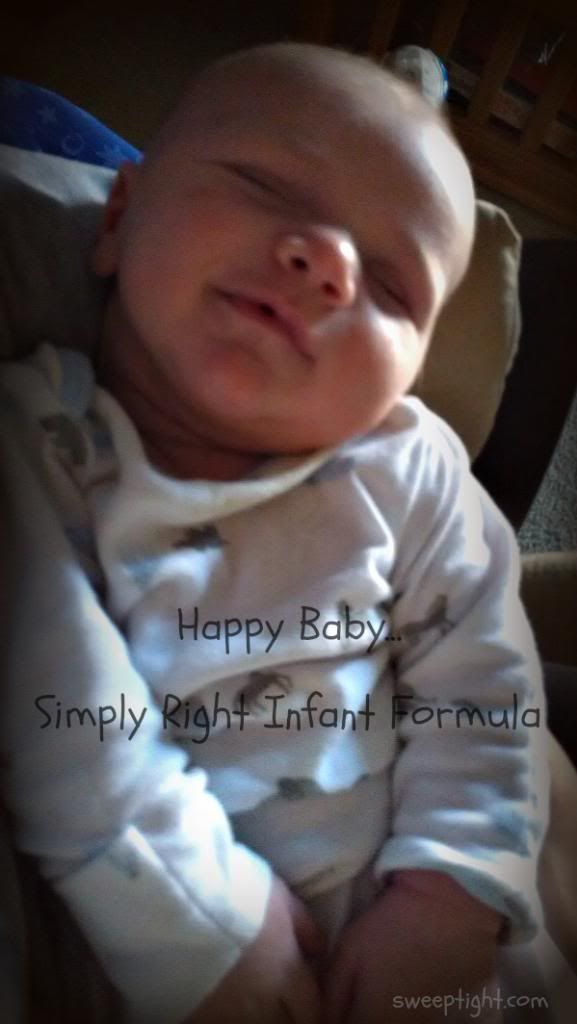 What are your favorite motherhood memories?  Did your babies go through funny looking phases?
I can't get over the brilliant design of the SIMPLY RIGHT Infant Formula can.  With a crying baby on one hip and only one free hand, this makes life so much easier!  There are no powder spills which means less waste and no hassle.
Rainbow Crumbs for You
Weekly newsletter with our latest posts and shenanigans.