This is a Sponsored post written by me on behalf of ALPO® Brand Dog Food   . All opinions are 100% mine.
Cute dog videos are an excellent marketing plan for ALPO dog food.  I watched every single one of them.  They have an adorable panel of dogs as a focus group.  They all "voice" their opinions and it's really quite amusing.
Think that's funny? See what else our focus group has to say about our favorite blogger dogs
My favorite video is the one with "Roxie" as the pictured dog.  She reminds me of The Grump.  The dogs around the table had me cracking up, too.  Ralph is the best.  I just want to give him a big hug.
I would imagine that if our dogs could talk, they would have a lot to say about ALPO's wet dog food.  They get so excited just at the sight of the can.  If The Grump could voice his opinions of it, it would probably sound similar to the "nomnomnomnom" sound that the one dog (Sharon) makes in the video.
Our dogs make us happy on a daily basis.  We love to return the favor as often as possible.  Treating them with ALPO wet dog food definitely makes them beyond happy.  Their faces light up and little butts wiggle!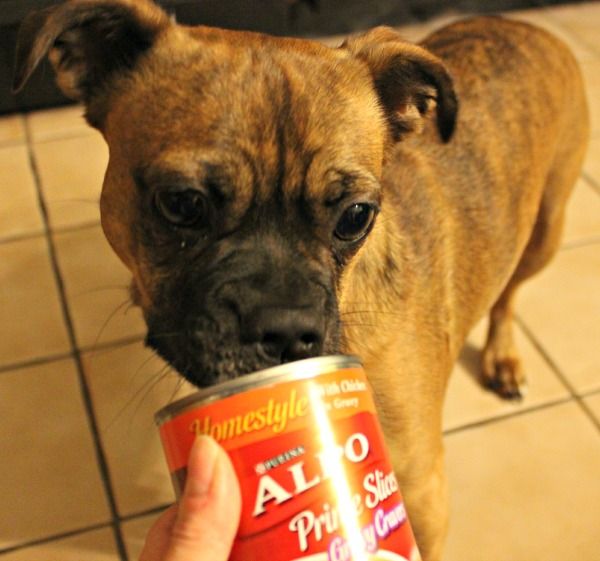 We can feel good about feeding them ALPO, too.  It's a complete and balanced food for dogs of all ages.  The quality ingredients help to support a happy, healthy life, shiny coat, strong bones and teeth, and keeps that tail wagging.  Happy dogs are healthy dogs!
Watch more blog dog videos and get inspired to share photos and videos of your dog with #HappyStartsHere
Check out the ALPO® Instagram page for more cute dog videos and pictures.  Don't forget to share your own and use the hashtag #HappyStartsHere!
Which cute dog video is your favorite?  Can you imagine what your dog would say about ALPO wet dog food?
Rainbow Crumbs for You
Weekly newsletter with our latest posts and shenanigans.