This is a Sponsored post written by me on behalf of CVS. All opinions are 100% mine.
Does the thought of eating ice cream or drinking hot coffee make you twinge?  After whitening my teeth that is exactly how I feel about my favorite treats.  My teeth are super sensitive and I am thrilled to have found relief.
Heal Sensitive Teeth
I thought sensitivity to my favorite foods was the price I had to pay for vanity.  But I am so excited that simply switching toothpastes is the answer.  Sensodyne® Repair and Protect can actually heal your teeth by reinforcing all the weak spots caused from whitening or other damages.
My mom has been using Sensodyne® for as long as I can remember and just loves it.  She's never whitened her teeth but has always been sensitive to hot and cold foods.  I think she lacks adequate calcium in her diet.  Combined with over brushing, she basically stripped her teeth of their own protective coating leaving them exposed to hot and cold temperatures.
When I tried her Sensodyne® toothpaste, I was skeptical at first thinking that I would feel a residue on my teeth after brushing.  But, I was wrong–they felt smooth and looked shiny!  After just a couple brushings I could feel a difference when drinking my hot coffee or eating cold cereal.  Before using this, I was even sensitive to breathing outside in the cold air!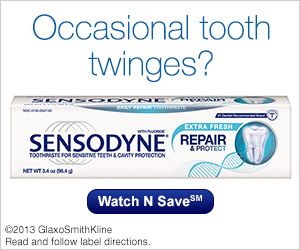 Save Money!
Save money with great coupons at CVS!  Simply watch the video and you get a $1.00 off coupon.  Share the video with your friends and you can save $1.50!
Do you have sensitive teeth?  From whitening or maybe something else?  What have you tried to get relief?
Rainbow Crumbs for You
Weekly newsletter with our latest posts and shenanigans.