This is a Sponsored post written by me on behalf of Bahama Breeze. All opinions are 100% mine.
Looking for a girls' night out hot spot or tropical place for a date night? It's the ideal time to visit your local Bahama Breeze!
Bahama Breeze Summer Beach Bash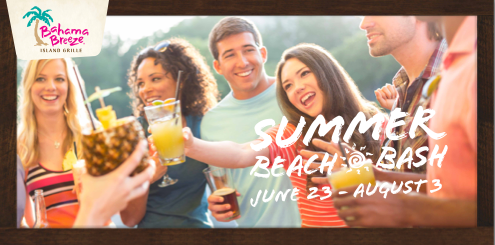 Summer is just whizzing by and I feel like we haven't done much to enjoy it yet. In fact, today feels more like the beginning of fall. Since heading to a tropical island is probably not in our near future, planning a date night to the Bahama Breeze Summer Beach Bash sounds like an excellent option.
The Summer Beach Bash starts on 6/23 and end 8/3. On Saturdays they feature live music and bring out a mojito bar. You can choose your fruit, your rum, and watch the bartender create the perfect summer cocktail just for you.
No matter what you create, be sure to also try the must-have cocktail of the season – Bahama Breeze Ultimate Pineapple. You will drink straight from the pineapple. Doesn't get much more tropical than that!
Bahama Breeze is the summer destination for good times. Transport yourself into a tropical oasis without needing a passport. Just head to your local Bahama Breeze for a fun night out.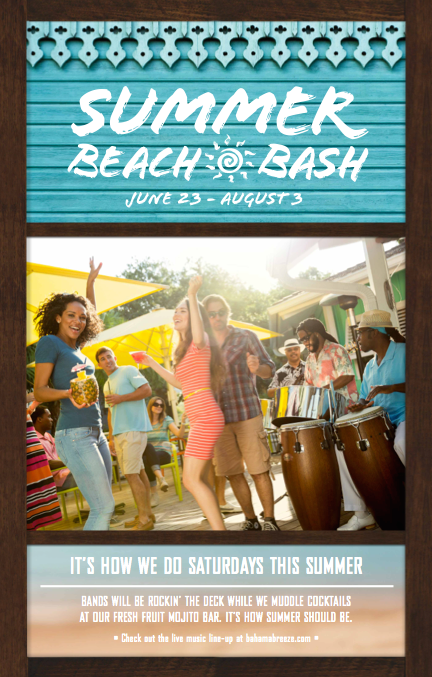 #MyBBSelfie Instagram Contest
Show off your amazing selfie skills for a chance to win #BahamaBreeze gift cards and swag. Enter the #MyBBSelfie Instagram contest. All you have to do is take a selfie of yourself enjoying your time at the Summer Beach Bash. Use the hashtag #MyBBSelfie to enter.
With our anniversary and my birthday coming up, I can see us definitely heading to Bahama Breeze a few times. I think I shall declare a girls' night out and a couples' night out for the next two Saturdays. Why the heck not? Summer is too short and we need to soak up all the fun that we can!
Have you been to a Bahama Breeze? Who would you love to go with?
Rainbow Crumbs for You
Weekly newsletter with our latest posts and shenanigans.