The best hostess gift ideas are the ones to show you truly know your host. However, here are some unique suggestions in case you feel stumped. Hosting holiday gatherings is a ton of work and it's important to thank whoever cares enough to invite you over.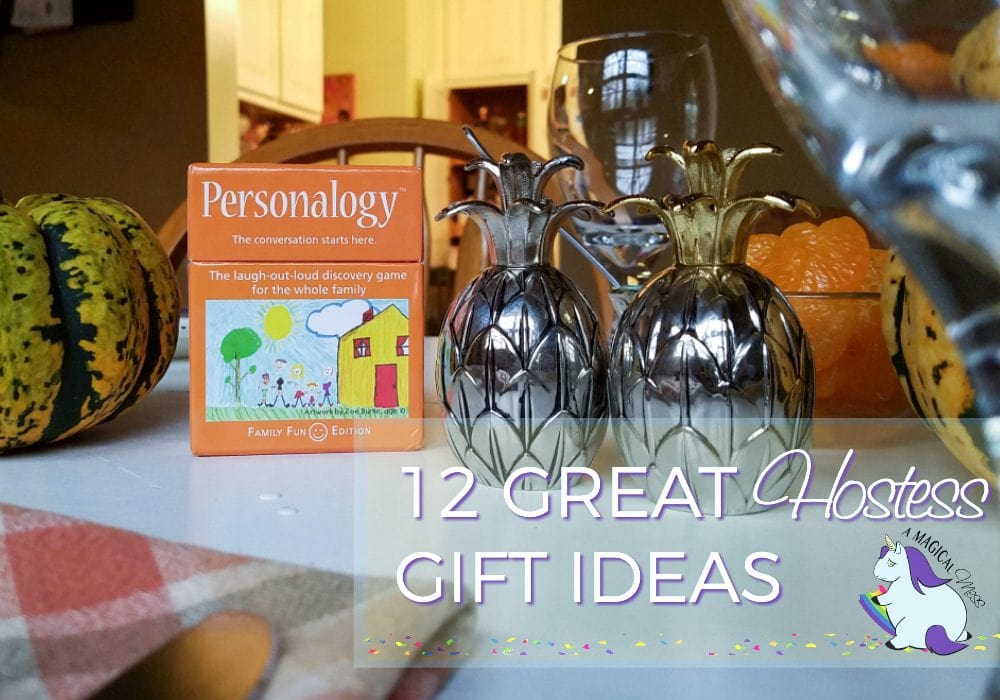 Best Hostess Gift Ideas to Thank Holiday Hosts
With the current essential oils craze, I think it's safe to say any host will appreciate a gorgeous diffuser. After you invade their home, give them the cleansing gift of essential oils. 😉 The Raindrop Essential Oil Diffuser is not only useful but also decorative. There are plenty of choices that double as home decor and practical home refresher.
 Raindrop Essential Oil DiffuserCheck out the reviews! Essential Oil BlendsBuy Now Wooden Storage BoxGreat Deal Here
&
There's a good chance your host or hostess is already a huge fan of essential oils. In that case, I think the wooden storage box to store oils is a super winner. I know I have struggled with where to store all my oils where they aren't an eyesore out in the open. A gorgeous wooden storage box is genius.
Really Personal…
As we mentioned in our Christmas gifts for a family guide, you really cannot go wrong with photo gifts. Whether it is one person hosting or an entire family having you over, you can choose a picture that will make a fabulous gift. These days it's as easy as visiting their Facebook page to "borrow" a photo to use on a gift. With the prices at Photobarn, you can get a meaningful gift that may just cost you less than your latest cup of coffee.
 PhotoBoardsHURRY! CLICK NOW & SAVE OVER 60% PhotoCubesJUST $5!!! CRAZY SAVINGS55% OFF EVERYTHING?!
&
There are so many unique items that make the best hostess gift ideas out there. Even items that will make their next gathering even better. I mean, how fun is it to have your guests choose their favorite pooch to identify their wine glass? Or, how about an Amazon Echo to give your hostess a hands-free command center while he/she's busy prepping? Last year, we gifted our aunt a fresh whipped cream dispenser and now we all benefit from it. We get to top our pie, coffee, and other desserts with the best whipped cream ever.
 Magnetic Dog Wine CharmsCheck out this price! Amazon Echo – WhiteOver 39,000 Positive Reviews! Whipped Cream DispenserMake the Best Whip Cream EVER
&

Converstation Starters
Sometimes–it might even be safe to say–most of the time, there is drama underlying large gatherings of family members and/or friends. This can make for some proper awkward silences or even catastrophic interactions. Why not ensure the topics stay light and funny? Maybe family bonds can even be restored through the laughter!
These tabletop games are the perfect way to get everyone talking and giggling. We played Personalogy at our Thanksgiving dinner and had a blast. Turns out my daughter–who's only 12–knows everyone in the family the best!
 HYPERtheticals: 50 Questions for Insane ConversationsShop Here TABLETOPICS Questions To Start Great ConversationsShop Here Personalogy Family Fun Card GameShop Here
&
Whatever you decide the best hostess gift ideas are, it's the thought that counts. It's easy to take for granted that family member that offers up their home for the whole herd. At least in our family – it's a big crowd! That person deserves recognition in the form of a kick butt gift.
Do you have any best hostess gift ideas to add?
Rainbow Crumbs for You
Weekly newsletter with our latest posts and shenanigans.