Whey protein pancakes have become quite the obsession in our household. They freeze well, reheat perfectly, and provide a balanced breakfast or post-workout snack. Bacon lovers everywhere, this recipe is for you. It's sweet, savory, and motivational–who doesn't want to jump out of bed when these glorious aromas are wafting from the kitchen! This is another recipe created by my bodybuilder buddy and adapted by Kari from Craft Create Cook.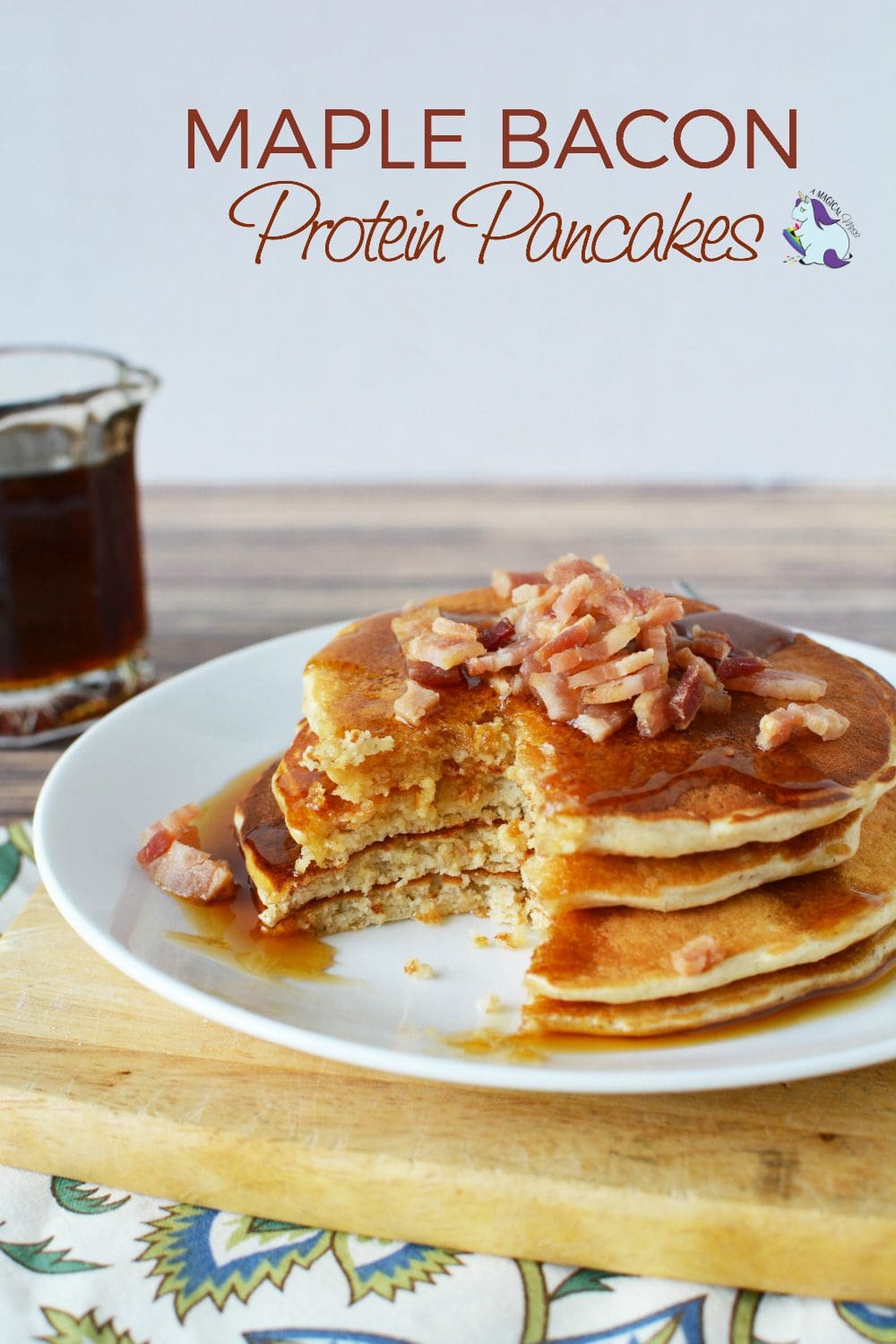 Maple Bacon Whey Protein Pancakes
While I've titled these 'whey protein pancakes,' any kind of protein powder may be substituted. I like whey the best because of how it tastes and the way it makes me feel. But, if you have other preferences, there are plenty of additional options like soy, casein, pumpkin, pea, or hemp proteins that would suffice.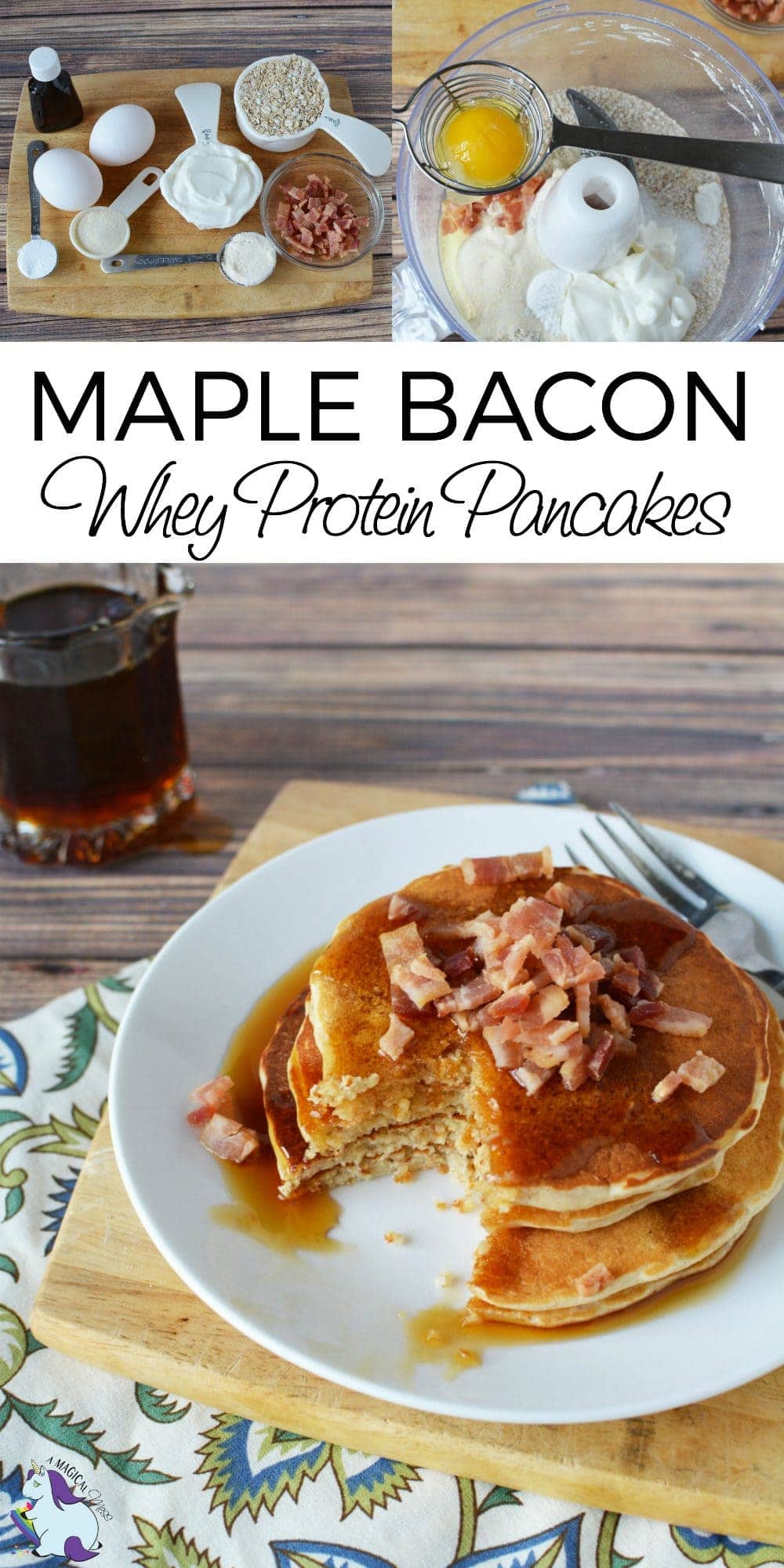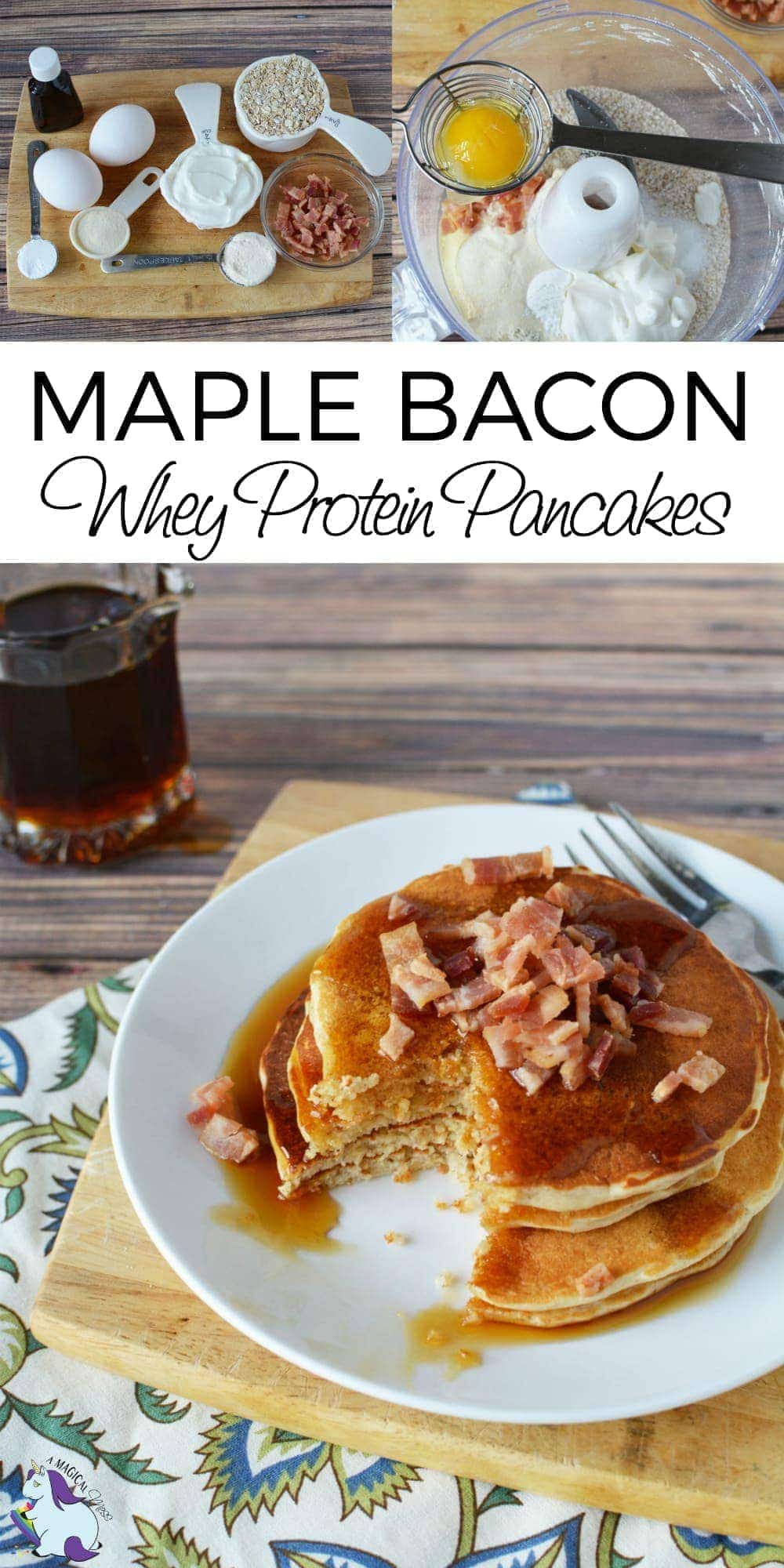 Nutrition Facts
Important note: these nutrition facts do include one tablespoon of sugar-free syrup and are based on making four pancakes with this amount of batter. So, you may want to adjust this nutrient information based on how many pancakes you make and the amount of syrup you use. Just try to keep them the same size if you're looking for nutrients per pancake.
I prefer a sugar-free syrup if I'm just having these for breakfast. However, if I have them as a post-workout snack, I use regular syrup because the additional sugars in the syrup help drive the proteins to the muscle after a good lift. Make sure to drink plenty of water as well for the best results.
If you start to make protein pancakes as often as we do, I have to suggest getting this pancake griddle with removable handles. It's easy to store and cooks your pancakes to perfection. I have an electric stovetop, and the heat can be finicky when using a frying pan. This griddle gives me plenty of space and makes the whole process fly by. I'm making pancakes for days. 😉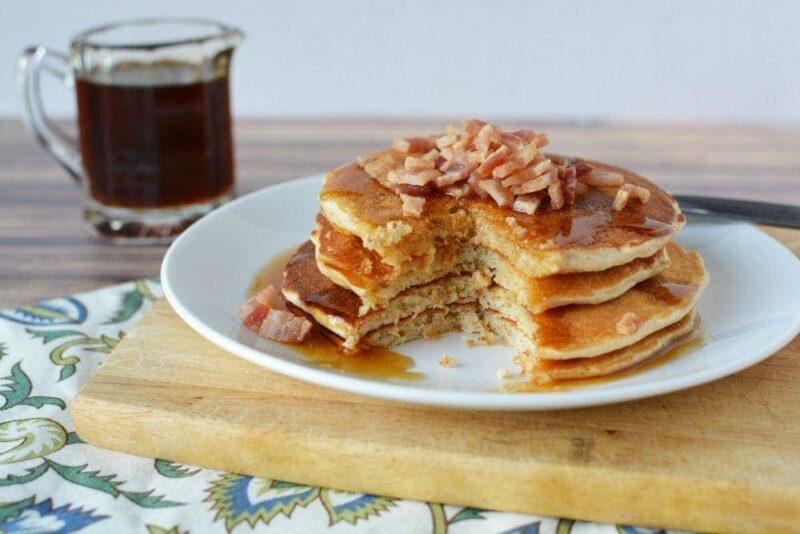 Print
Maple Bacon Whey Protein Pancakes
Yield 4-5 pancakes
Ingredients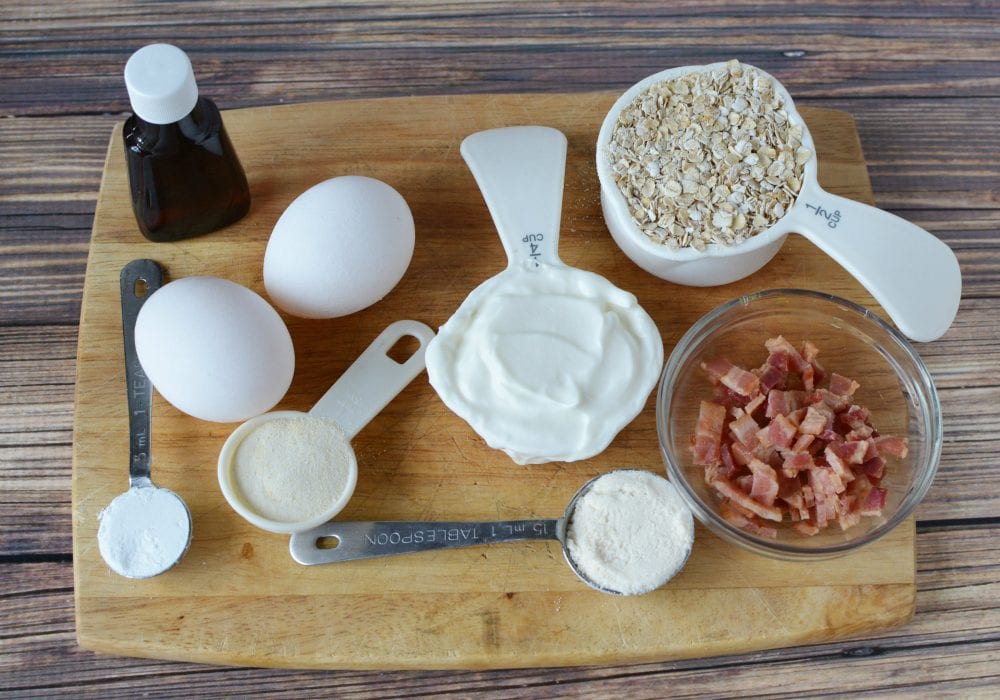 Instructions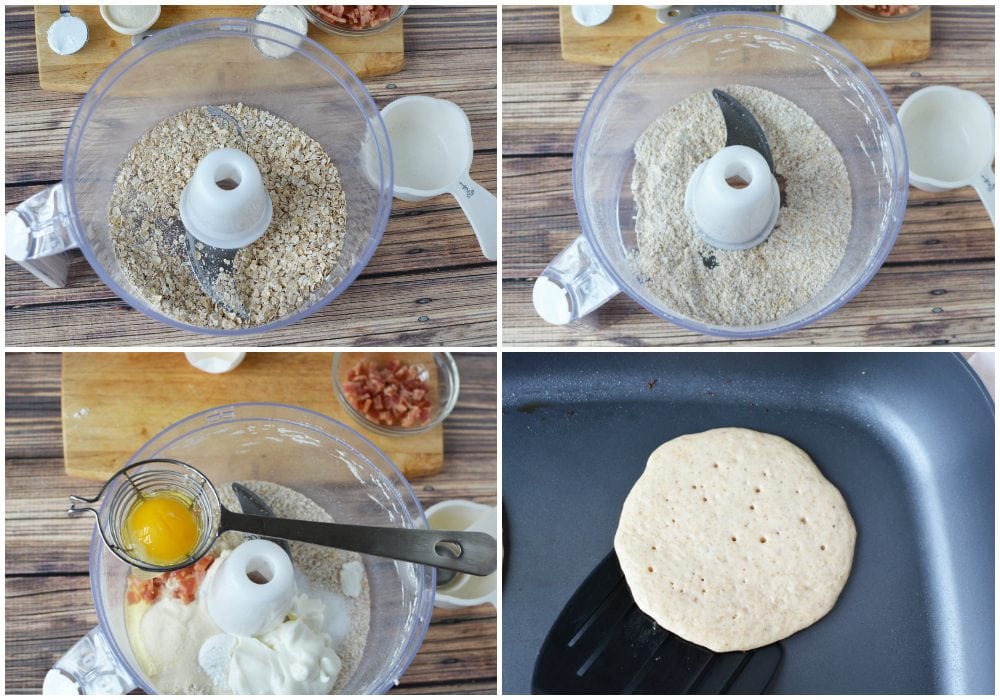 Place oats in a food processor and process until finely ground. Add coconut flour, yogurt, milk, bacon (reserve 1 tablespoon for topping), extract, baking powder, egg whites, protein powder and Stevia. Process until mixed well, scraping down the sides of the bowl if necessary. 
Preheat a skillet or pancake griddle and spray with non stick cooking spray. Pour 1/3 cup of batter onto hot griddle and cook on medium heat for 2-3 minutes on each side. 
Serve with maple syrup and reserved bacon.
Courses Breakfast
Cuisine Protein Pancakes
Nutrition Facts
Serving Size 1 pancake
Amount Per Serving

Calories 109

% Daily Value

Total Fat 2.8 g

4%

Saturated Fat 1 g

5%

Cholesterol 14.7 mg

5%

Sodium 262.6 mg

11%

Total Carbohydrates 11.1 g

4%

Dietary Fiber 2 g

8%

Sugars 1.3 g

Protein 9.7 g

19%
* Percent Daily Values are based on a 2,000 calorie diet. Your daily values may be higher or lower depending on your calorie needs.
For more of our yummy protein pancake recipes, click the links below:
Best Tasting Protein Pancakes – Strawberry Cheesecake
Best Protein Pancakes – 90 Calorie Chocolate Cherry Goodness
Mouth Watering Caramel Banana Protein Pancake Recipe
Have you tried whey protein pancakes yet? Or any type of protein pancake recipe?
Rainbow Crumbs for You
Weekly newsletter with our latest posts and shenanigans.