Since the hot weather is officially here, I thought I would share some of my hot weather hair tips. Outdoor summer activities are coming up, and I don't want to be the one with the messy bun at every single event. Sponsored post by Mirum Shopper. All opinions are my own. With all of the summer fun in the sun, it's important to tweak your hair care routine a bit. As much as I'd love to emerge from the beach with fantastical mermaid waves, that's just not a reality. However, there are some steps you can take to make your hair as low maintenance as you can so you can focus on fun.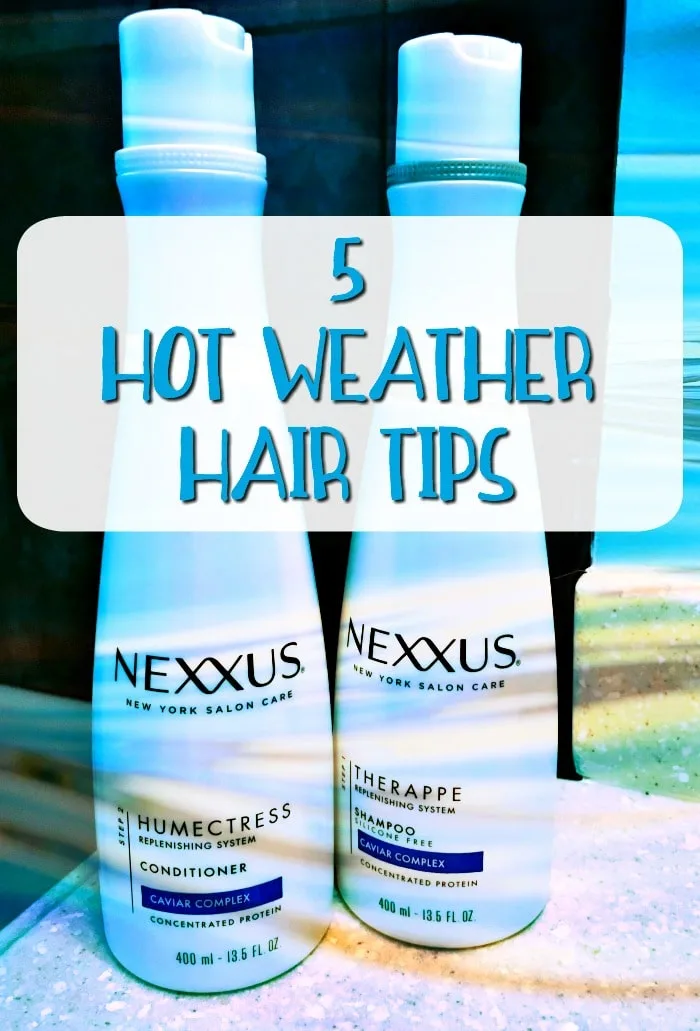 5 Hot Weather Hair Tips
Cut – I recommend keeping your hair at a length where it's easiest for you to style over the summer. I recently got my super long hair cut into a long angled bob. As much as I like it, it's not a great length for a ponytail or a braid – two of my go-to hairstyles in the summer. My new cut looks best when it's blown dry and curled. Two hot tools I don't love to fire up during ninety degree weather.
Cleanse – Wash your hair with a gentle cleanser like Nexxus Therappe Shampoo. It's important to wash out all the sunscreen, bug spray, and whatever else the wind blows into your hair without stripping it with a harsh shampoo.
Condition – The hot sun can dry out your hair. You might feel like the heat is making it greasy, but now is the time to deliver intense hydration with Nexxus Humectress Conditioner.
Style – No offense intended with my messy bun comment above. Trust me, it used to be my savior. Now my hair is a bit too short for it, which forces me to think of other options. I find that I have enough natural waves to allow my hair to air-dry in hot weather. If managed correctly, my waves do not turn into random frizz tufts. Using Nexxus® Mousse + Volumizing Foam, I can mold my waves and end up with volume and body to avoid using the curling iron.
Hold – For longer summer events, you want your hair to hold. Hairspray can quickly become a sticky situation when it's scorching out. You want that summer breeze to blow through your hair without it looking like a matted mess. Use Nexxus® Comb Thru Finishing Mist Hair Spray to hold without those concerns.

Nexxus Savings at CVS
The best part about all of these products is that they are available at your local CVS. Salon quality without trekking into a salon or paying premium prices. Take advantage of these special offers at CVS (For 7 days only! Offers valid 6/12/16 – 6/18/16)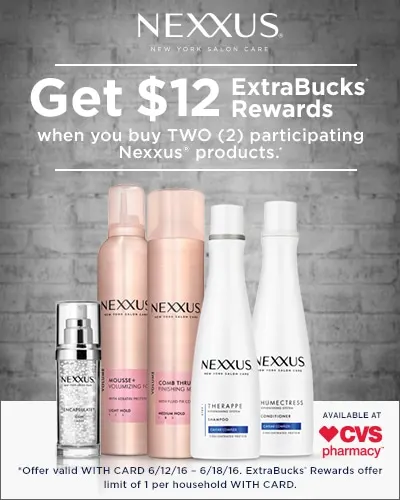 Get $4 ExtraBucks® Rewards when you buy ONE (1) participating Nexxus® product
Get $12 ExtraBucks® Rewards when you buy TWO (2) participating Nexxus® products
Do you have any hot weather hair tips? Please share in the comments below.