Ultimate Flora Critical Care 50 Billion
Therapeutic-strength Daily Probiotic Supplement for Acute Care Needs

50 billion active bacteria per capsule
30 billion Bifidobacteria
20 billion Lactobacilli and Lactococcus cultures
Enteric-coated vegetable capsules
Allergen-free
Delayed release
Potency guaranteed until expiration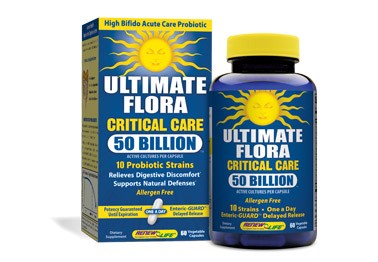 When your digestive system is out of whack, it can trigger all sorts of other issues all over your body. Maintaining balance is so important to overall health. Unfortunately, with the typical American diet, it is very easy to throw off this balance. I know my system is extremely fussy. If I don't eat "perfectly", I experience problems. I find myself in awe of people that can just power-down donuts for breakfast everyday and just go about their merry way. If I did that I would probably end up in the ER with heartburn that I would mistake for a heart attack.
Of course, openly discussing our digestive tracks is not something we all feel comfortably doing – myself included! Thank goodness for experts like Brenda Watson. She discusses all of the nasty gut issues and can help us all get back on track through natural remedies. You probably know by now, that I always take the natural healing approach with everything! No offense to doctors, but I try and avoid prescription medicines whenever possible.
Brenda is a best-selling author, media expert, speaker and now has her very own community where you can learn about digestive health and even ask questions. She is a pro when it comes to nutrition and natural digestive care. You can check your local PBS Station listings to catch Brenda's "The Road to Perfect Health" now airing nationwide.

Basically, my take on this is that there is a constant battle going on between the good and bad bacteria in your digestive system. With all of the crazy things we throw at ourselves on a daily basis, it's easy for the bad guys to get the upper hand. In order to give the good guys a chance, they need back-up in the form of Probiotics. Since most of us do not eat the foods needed to supply us with enough Probiotics, it's necessary to take a daily supplement.
Once you are on the road to balancing your gut, so many other problems in your body will begin to heal themselves! I highly recommend picking up a bottle of Ultimate Flora. In my opinion (which I am not an expert), the cost of a bottle is nothing compared to possible doctor visits and all the costs that go along with other non-natural treatments! I feel the need to add this quote that my grampa has been saying to me my whole life:  "An ounce of prevention is worth a pound of cure!"