Mario Kart has always been my most beloved nemesis. If you know me well, you know there's a reason I mainly stick to role-playing games–my reflexes aren't exactly cat-like; they're more akin to an elephant. Racer games that require fast reaction timing or shooters that require quick twitch reflexes have never been my strong suit, which is putting it kindly. In fact, back in the day, while my other friends were playing F-Zero, I was rocking Final Fantasy III and Chrono Trigger.
While nobody has ever accused me of being good at racing games, there's one I've never been able to turn away from: Mario Kart. Ah, Mario Kart…the game tailor-made to infuriate even the best racer, but do it so cutely, you just can't stay mad.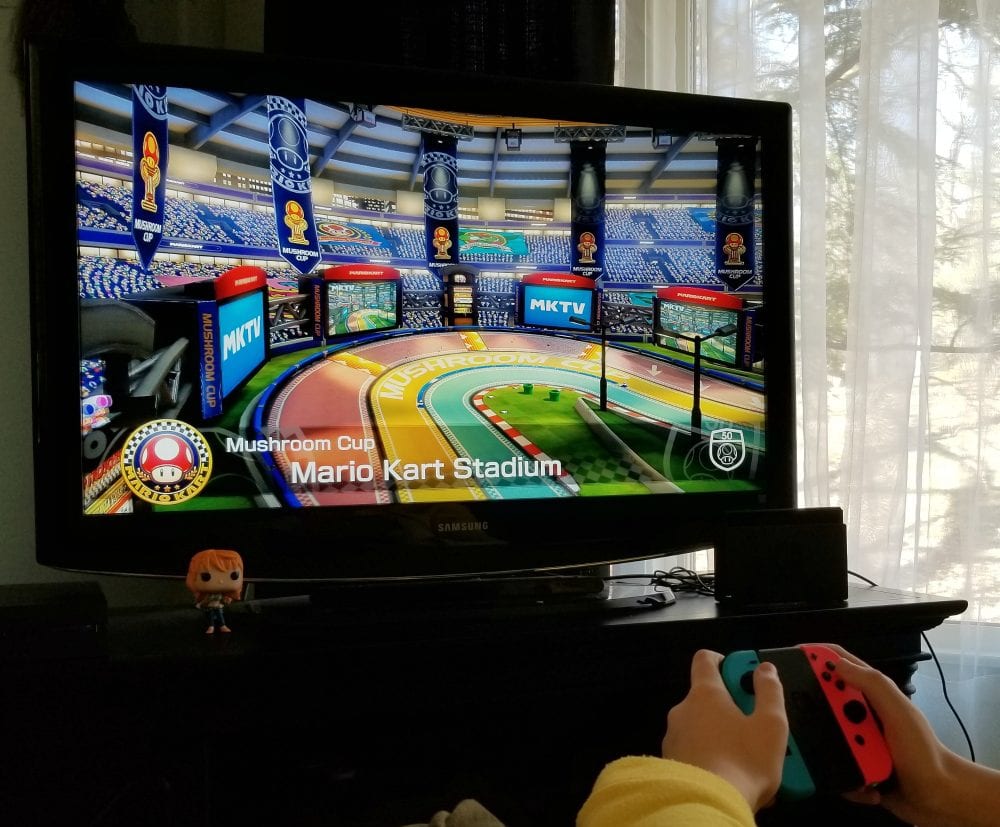 My Love/Hate Relationship with Mario Kart
When I say love/hate relationship, I mean it in the truest sense of the phrase. At age six, my first experience with gaming was the Super Mario Brothers/Duck Hunt combo that came with my new Nintendo system. I clearly remember sitting in front of our television, frantically mashing "B" to jump over obstacles, pits, and those annoying turtles. It was a glorious, incredibly daunting time in gaming for me.
Over the years, Super Mario was the only guy who could tear me away from RPGs. I played my way through all of the Mario games and, in equal measure, excitedly clearing levels and rage quitting. The experience was both beautiful and horrible at the same time. During that time, I can confidently say I became a Mario super fan. If it was Mario, I was in. So, when the first Mario Kart arrived, I was on board.
Mario Kart quickly became my frienemy. I loved the cutesy graphics of all my favorite Super Mario characters in their little cars, racing along the track, and I loved the power-ups. It was just a metric ton of fun in so many ways, but I also hated it. For such a cute game, it was surprisingly difficult. So many times I was left in the dust after hitting an obstacle, whether built into the track or thrown at me by a friend. It was not uncommon for me to go from the highest high of being in first place to the lowest low of coming in dead last–that's all in one race, mind you.
I persevered and pushed on. I willingly subjected myself to the sometimes frustrating experience that is, and will always be, Mario Kart. When you think about it, that's the mark of a good game–one that's easy to learn and leaves you coming back for more, even when you routinely quit in rage. Those games contain a special sauce that can't be replicated. So, even as I've continually embarrassed myself playing each and every incarnation of Mario Kart over the years, it's been great fun. Oh, Mario Kart, I just can't quit you. Though you treat me badly, I love you madly.
Now that I'm pushing 40 years old, I look back on those years fondly. More than anything, I remember the people who were with me when I played this game. Sure, the actual act of playing the game was fun, but it's the people I was playing with that really made it great. My life was not easy. My mother was emotionally and verbally abusive, and there were times she even bordered on physically abusive. Like so many kids, gaming helped me get through all of it. The games I remember helping the most were those that involved me with my friends. Those were the times I laughed the most and had the least amount of anxiety.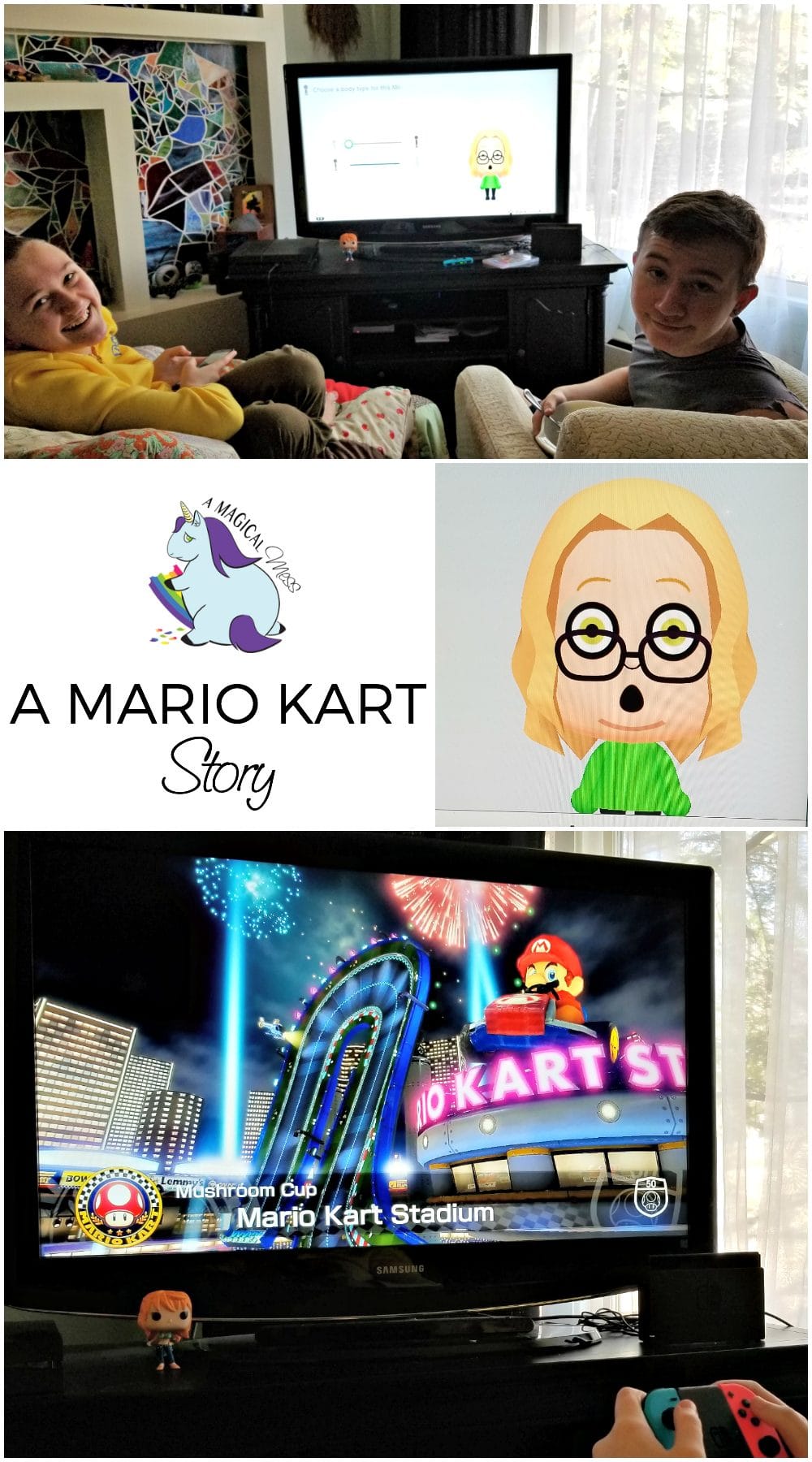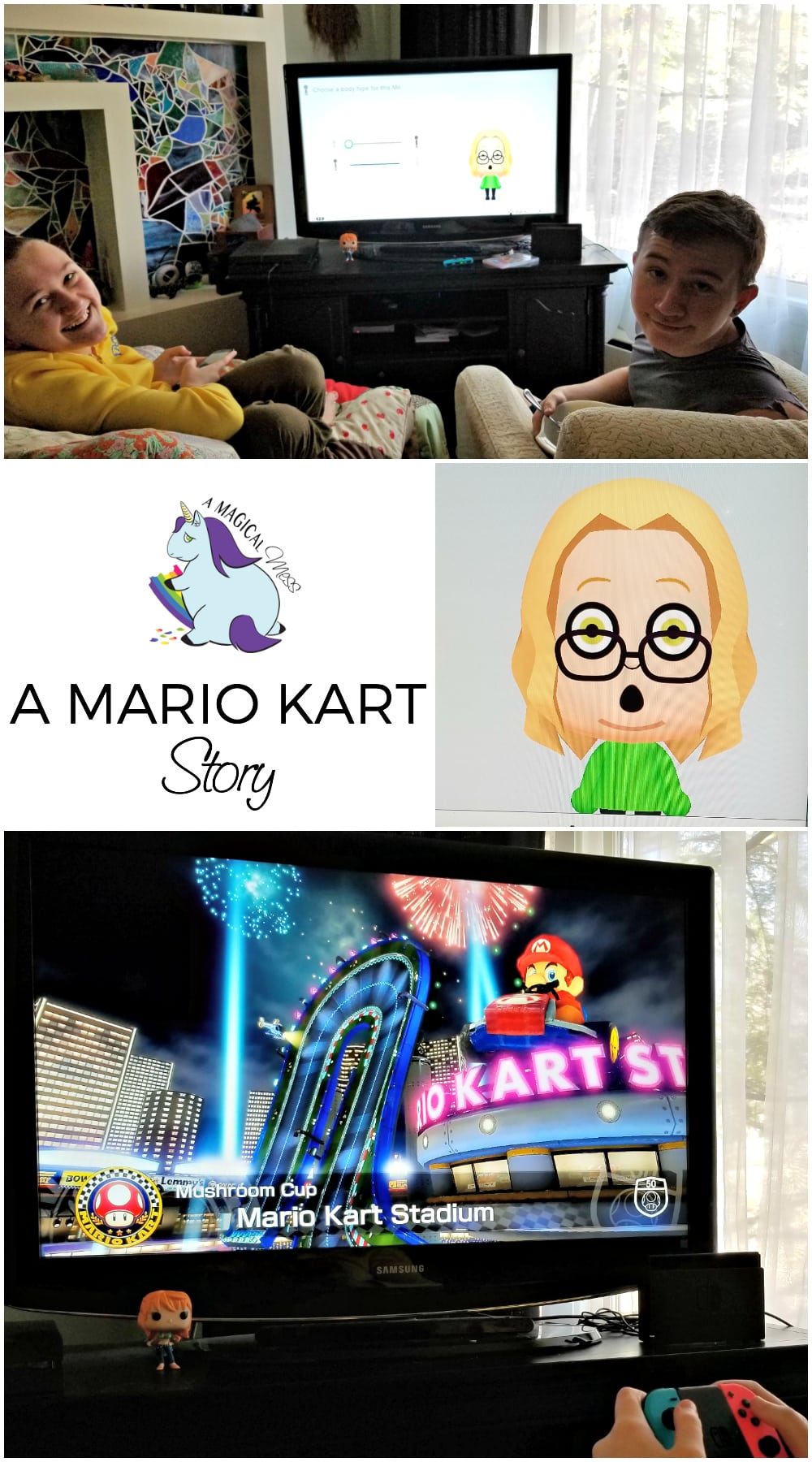 That's the magic of a game like Mario Kart–it brings people together. It makes life just a little more fun or, in my case, a little more bearable. Whether winning or losing, the time playing is a blast because you're in a room full of people who are laughing and having a good time. For me, that's probably the best illustration of why kids are told not to grow up in a hurry. And, in the end, maybe that's why I'm so in love with a game that I suck so bad at playing.
Fall in Love with Mario Kart All Over Again for the Nintendo Switch's First Birthday
With all this reminiscing in mind, I was beyond excited when GameStop asked me to make a video for their #NintendoSwitchChallenge. This challenge celebrates the first birthday of the Nintendo Switch, a system that has revolutionized gaming, in my opinion. It features Mario Kart 8, so you know I'm in. Here's the thing about this challenge that makes it, well, challenging: You have to drive blind. Here's how it works, straight from GameStop:
What You Need: A minimum of two players, a Nintendo Switch, and Mario Kart 8. If you don't have a Switch or Mario Kart 8, just head over to GameStop and score them there. They have over 1,400 stores with demo Switches, so you can even film your challenge there.
Player One: The commander who faces the screen.
Player Two: The driver who sits with their back to the screen, blindfolded, or otherwise unable to see the course and using the Joy-cons controller.
The Challenge: The commander guides the driver through the course, telling them when to turn, use items, and avoid all the obstacles Mario Kart is known for.
Share: Players post their best race on social media, tagging @GameStop and using #NintendoSwitchChallenge. Awesome videos might earn awesome loot, so start videoing.
Watch the hilarious frustration unfold with Chesney and me:
A Birthday Celebration Means Great Deals
Usually, a birthday means receiving gifts, but in honor of the Switch's first birthday, GameStop is giving the gift of savings. Visit your local GameStop between March 3rd and March 10th to get great deals on over 50 Switch toys, collectibles, and accessories. I've put the biggest and best deals below, but there are even more to be had. For the full lowdown, check out this GameStop Flyer.
20% off select Nintendo Switch accessories like controllers, charging docks, carrying cases, racing wheels, and more.
20% off select Nintendo-themed plushies, toys, housewares, and drinkware.
Up to $20 off select switch games like FIFA 18 (only $39.99)
Get an extra $5 when trading in any Nintendo Switch games
50% extra credit on any future Nintendo Switch game trades with purchase of any sale products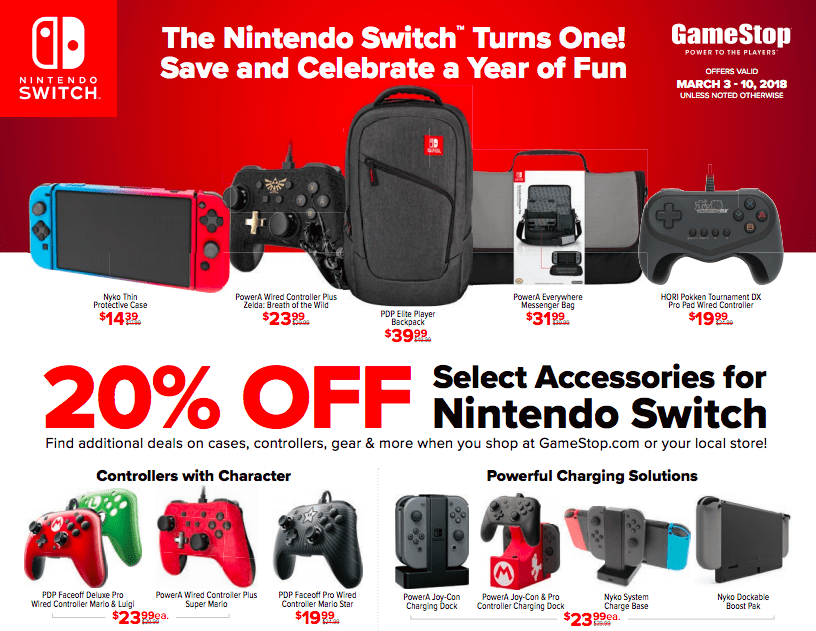 The Birthday Goodies Aren't Over
Last but not least, we have a giveaway, folks. Thanks to PDP, we're offering some awesome Switch gear. When you enter, you'll have a chance to win:
Nintendo Switch light-Up Dock Shield in Mario and Zelda designs
Faceoff Deluxe Wired Controller in Mario and Luigi design
Nintendo Switch Deluxe Console Case in Mario Kart or Mario Kana
Pixel Pals Mario and Zelda characters
Get Your Mario Kart On
Whether, like me, you've always had a love/hate relationship with Mario Kart or you dominate the field, it's time to experience the joy of this delightfully frustrating racing game again. With more courses, more vehicles, new power-ups, and other exciting additions, Mario Kart 8 is the racer we need in our lives–at least, I do. I can't wait to bust out my Nintendo Switch and get absolutely destroyed by the kids. Good times await!
==> GIVEAWAY ENDED! Winner: Timothy Hall < ==
Head on over to the Ultimate Geek Wish List next!