This post is hard for me to write and something I know I may regret. However, I think it's time to get a little more personal on this blog. It's easy to write about products and topics that people can't use against you, but I feel like that is a disservice to many of you. I do want you to know me, and a huge part of that is my mental health issues.
As much as I don't like to let my mental health define me, it is a huge part of who I am and why I am the way I am. Some people may use this against me, but I know there are more that can relate. So, let's rip the band-aid off, shall we?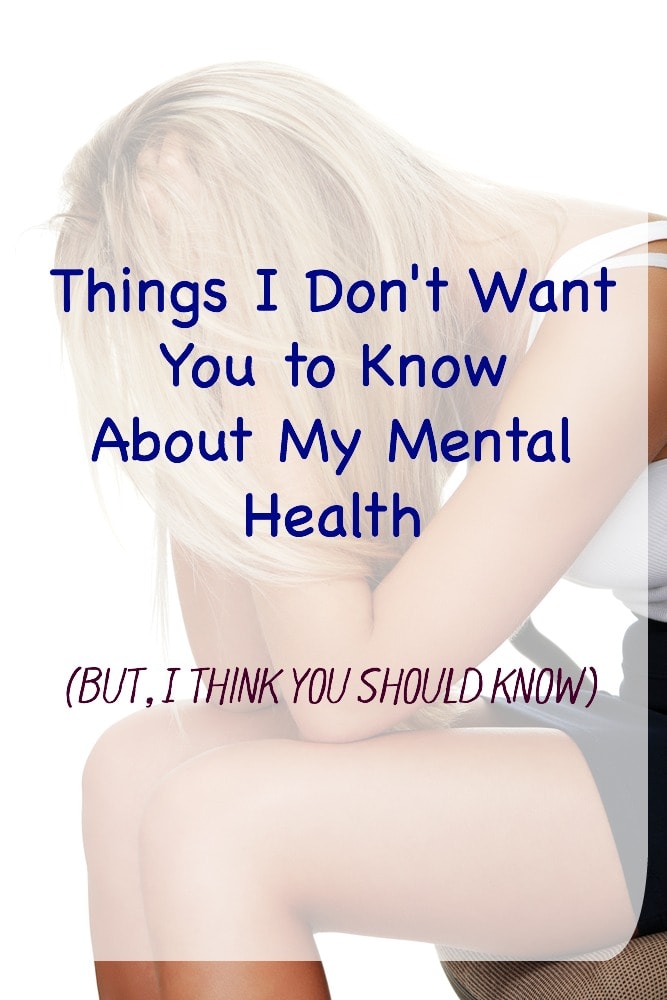 Things I Don't Want You to Know About My Mental Health, but Many Should
1.) I have been diagnosed with bipolar disorder with a hefty side dish of general anxiety disorder. Here's a super brief synopsis: My issues started in my early teens. Probably even before that, but around 12 years old is as early as I can remember feeling very different. At sixteen, I had my first panic attack that scared the living hell out of me. After many doctor visits, they said it was "in my head" and left it at that. In my early twenties, I sought treatment, got on meds, abused some meds, and went off all meds. This is like pressing fast forward on the movie of my life. Clearly, there's a lot more to this.
2.) After over five years trying natural treatments, I am back on meds. I hit rock bottom with abuse and went off everything. I tried pretty much every alternative medicine treatment out there. Things seemed to help here and there, but never enough. Finally, one holistic healer told me that I could have bipolar disorder and therefore, require medication. Tens of thousands of dollars I spent in this five-year span. I gave it the ultimate try to keep chemicals out of my body. Of course, this was ridiculous considering I was drinking heavily during this period.
3.) Support is welcome, but advice is not. One of the reasons I like to keep all this to myself is that people try to help. That sounds so ungrateful, but hear me out. I have had so many people make suggestions or tell me I just need to "do XXXXX" or "try XXXX" and it all just makes me feel worse. Or how they feel the same way sometimes, but they just power through. Please do not assume that we have the same issues. The day they create an invention to give you access to my brain, come on in, but until then, please don't assume you know what I am dealing with. And saying that you just power through implies I am choosing not to. Trust me, that's not the case.
4.) Don't compare me to a character on a show. Lately, it seems like bipolar characters are popping up everywhere. Please remember these are over dramatized interpretations of a disorder. We aren't all bouncing off the walls, and more importantly, we aren't murderers. Most of us are more likely to hurt ourselves than anyone else.
5.) Events drain me for days. Plans send my anxiety into hyper-drive. Events people look forward to I cannot wait to get them over with. Once I get somewhere, I can usually have fun, and can live in the moment for the most part. I can only take so much though, and then I am legitimately beat for several days afterward. Because of this, I am extremely choosy about what I attend.
6.) It's not all in my head. Many of the issues I experience are physical, as well as mental. I have some weird stuff happen, and it's like the stress settles into a body part. The last event I felt like my bladder turned to stone. My whole body flushed with heat, and my ears started ringing like I was going to faint. So weird, but always very real physical disturbances happen.
7.) I don't trust people with this info. Trust is not easy for me. I don't want any of you to know this about me. I feel like I am giving you ammo and making myself extremely vulnerable. On the flip side, maybe it will clear things up if you ever thought I was a strange one. Having an invisible illness is difficult to explain to people. I am not bleeding or displaying any evidence of my condition. A lot of people view it as nothing more than a weakness.
8.) Paranoia is my middle name. Yeah, see above.
9.) I never want to be a burden. Everyone has issues and their own garbage to deal with. If I start to feel like a burden, I will remove myself from a person's life. Because of all this bullshit I have to wade through in my own brain, I feel like there is little left sometimes. It makes me a shitty friend. I don't want to whine or complain to anyone ever, and that causes me to distance myself from everyone.
10.) Introverts are us. I never realized I was such an introvert until I stopped drinking. I used to be the life of the party when I was younger. Perhaps that's because I would binge-drink myself into another person. I no longer drink due to the meds that I am on, and it's better off for so many reasons. Today I love nothing more than being home with my hubby and dogs reading a book or watching shows. I am not boring, I am content. This is also why you will see my sister on most of the press trips.
11.) I need to work from home. I busted my ass for years to get my blogs to the point where I could quit my job. Leaving my house for 40 hours or more per week was killing me. That's not me being dramatic — I wanted to die. I need to be home like I need air to breathe. The older I get, the stronger this feeling gets. Sometimes my head spins at the thought of going to the grocery store.
12.) I have different personalities. No, I am not saying that I am schizophrenic, but I tend to be a human chameleon. It's not that I am being fake, it's more like I let a person I meet draw out similar traits in me. Like a coping mechanism for me to get through the conversation, if that makes any sense at all. This is why if you meet me, you probably won't guess anything like this is happening. I can play it off until I go home and recover for days.
13.) My husband is the best person. Thankful doesn't describe how I feel about my husband. He is the most understanding, loving, and compatible human for me. He, too, requires little entertainment. He's thankful that I am not asking him to take me on fancy vacations or date nights. I don't care how often he goes fishing, and he's totally fine with me being the workaholic that I am. We watch our shows and hang out, it's all good.
14.) No more shame. I'm done hiding this like a dirty secret. I'm so over making excuses for why I won't be attending your party. I think I have finally reached an age where I just don't give a shit about some things. My energy when it comes to attending outings has to be for my family or work. End of story. My mental health has to be a top priority.
15.) It's a daily battle. Most days I wake up with a pit in my stomach like doom is approaching. It's an uphill battle to convince myself not to trust my gut. I am beyond grateful for so many things in my life, and that helps. Believe it or not, I am even thankful for this brain. With my mental mess comes creativity, drive, ambition, and all the other things that make me who I am.
Well, now I feel naked and also like I barely scratched the surface. There are so many other posts that could be written about my mental issues. This is by far the most word vomit-y post, and I realize the flow is way off. I just had to get some of this off my chest.
Oh, and PS… I hate how being mentally ill is suddenly trendy. If you joke about having panic attacks, or call the weather bipolar, or anything like that, please stop. Living with a mental illness is terrifying and shouldn't be taken lightly.