I absolutely love decorating our home. I don't change things up very often but it's fun when I get the chance. I was recently offered the chance to do a review for Accent Studios and the hardest thing was picking which room I wanted something new for! 🙂 I really considered getting something for our baby girl's nursery, but I finally decided on something new for the whole family to enjoy. I originally selected it for our living room, but I didn't realize the size I ordered so we ended up putting it in the hallway. Product was received for review purposes and this post may contain affiliate links.
We decided on the Bless This Home Wall Decal 2. I love the message, "Bless this Home with Love, Laughter and Kindness" and it's written in such beautiful fonts. Our living area is done in browns/earth tones so I was thrilled that I could choose the colors that for this decal so it would match our living space. It is also available in various sizes, which is great because it allows you to customize it even more depending on where you would like to apply it in your home. We chose the 46″ x 18″ decal for ours. Accent Studios uses high quality vinyl and the adhesive is made to be non-permanent so when you are ready to remove it from your wall you can do so without the worry of marks being left behind! I love this feature! The decals are also made with a flat matte finish vinyl so they are made to look like paint and they look incredible on walls!
When I was ready to apply the decal, I watched their instruction videos online. It looked pretty simple to do so I thought I would apply the decal when my husband wasn't home to surprise him. I soon began to wish that I had waited! I was having a difficult time hanging this size of a decal by myself. For some reason, the decal wasn't sticking to our wall as easily as it did in the instruction video. I wondered if it would have stuck better had our walls been freshly painted? I did quickly wash the wall prior to applying the decal as instructed, but maybe I didn't clean it well enough and that could also be why I experienced problems. Some parts of the decal worked great and applied super easy, others were a tiny bit stressful – which looking back I am sure is because of our wall not being thoroughly washed! That will teach me to take my time the next time I decide to do a project! 🙂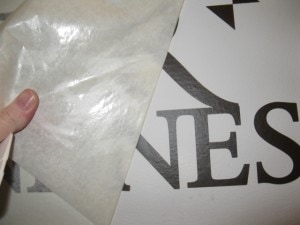 The above picture is the part that worked GREAT and was easily applied!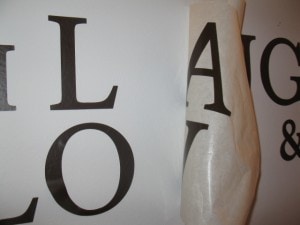 In the above picture you can see the part that wasn't going so well for me. I did put it back on the wall and used the tool it came with and that did help but I used lots of muscle! 🙂 Learn from my lesson – clean your walls REALLY well if they aren't freshly painted and you'll most likely have a much easier application process with your wall decal! 🙂
The decal came in two pieces and I love that each piece had little tabs that would easily line up with each other to be sure the decal was applied in the correct place and evenly. That was very nice and made the stress of getting it just right nonexistent! I think it took me about 45 minutes to complete the installation and I was so happy when I was done. It was beautiful! It looked great in our hallway and will remind us daily of a beautiful message.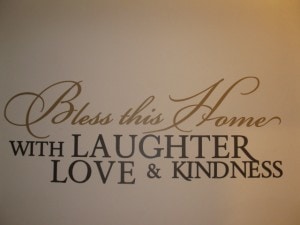 We don't have the greatest lighting in our hallway, but the above is my finished project! Looks great, doesn't it?
Accent Studios has amazing wall decor for your home! It's a great way to liven up an empty space, it's a beautiful solution to a boring wall! Overall I am very pleased with this product. It was challenging to apply at times, but I think if I had waited for help and cleaned the wall a lot better it would have been easier on me. Accent Studios has some beautiful pieces and I highly recommend them for home decor!