Acne – Really? At this age?
I'm almost 28 and my son is 10. He's starting to get really big pores and a few pimples already. And, me, well I have acne like a hormonal high school-er. So, I was incredibly eager to get the chance to sign up for the opportunity to try MaxClarity™ products.
Acne is a nightmare at any age. But, at my age it's really just getting annoying. I mean, c'mon already. I'm starting to see wrinkles, and perhaps some age spots, but I have to have acne too? This is just ridiculous.
I guess I'll share the really grotesque mugshot of myself… I seriously can't believe I'm sharing such an awful pic.
🙁  Please forgive the puffy eyelids–a week straight of crying will do that to you. (Break up with Chad hasn't been easy.)
As you can see, I am in need of some help in the acne department. I am very excited to try the MaxClarity™ line of products especially after going through such a rough break up. I feel worse than I look, and if I could look better, I just know I would start feeling it too.
Of course I have tried numerous other products on my skin but haven't had great results. MaxClarity™ has a lot of unique features that have me hoping for great results. Using VersaFoam® technology, the MaxClarity™ Acne Management system includes Benzoyl Peroxide and Salicylic Acid to ensure maximum benefits. The particles of these two ingredients are micronized before the foam is created to ensure both potent ingredients can get through the skin's defenses.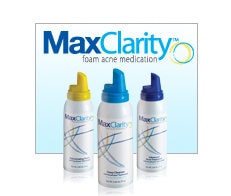 The MaxClarity kit comes with a foam deep cleanser, foam advanced acne treatment, foam rejuvenating toner and facial moisturizing lotion.
I feel comfortable knowing that a team of qualified experts also have my back. The MaxClarity Difference Team consists of employees in marketing, research and development, and customer service. Contacting them is not only easy but encouraged. And with the MaxClarity Difference Promise, I know that if for some reason this doesn't work for me I can get a full refund.
We can also continue to learn more about acne treatment and MaxClarity products on Twitter and Facebook.