ADAMS Flea and Tick Spot On for Cats
I adore my cat and I love the Spring and Summer months, but together, cats and warm weather can spell disaster in the form of Flea and Tick season. There is nothing worse than watching your poor kitty scratching nonstop day and night, finding flea dirt everywhere kitty sleeps (usually on your bed) and worrying about how not only your kitty will be suffering, but your family will be too during flea season. While prescription flea and tick control can be costly, ADAMS Flea and Tick control for cats is only about $9. for a 1 month dose, we like the sound of that 😉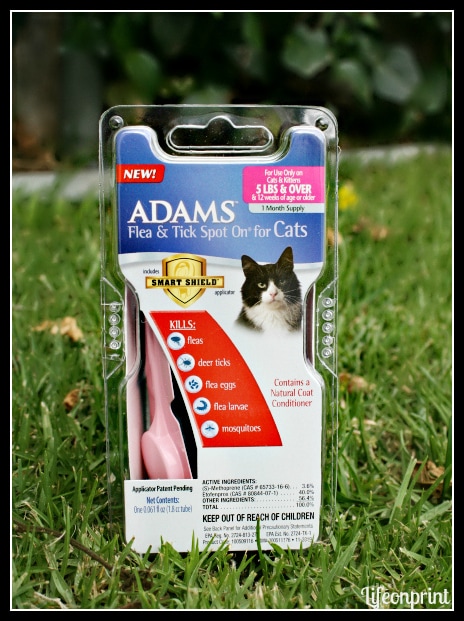 Adams Flea & Tick control starts killing fleas and ticks in 15 minutes and helps prevent re-infestation in your home. Designed with veterinarians' and pet owners' input, the applicator completely surrounds the product tube keeping the liquid away from your hands, the applicator tip is designed for parting your pet's hair for easy on the skin application and the applicator clicks to let you know when the proper amount of product has been dispensed.
ADAMS Flea & Tick control is available for both dog and cats of every size. I was sent a 1 months supply to try on my kitty for review. I followed the easy to understand directions and loaded the pink product tube into the red and gray applicator, I then closed the red door to "snap" open the product tube so I could apply it to The Lady's neck. When it snapped open a bit of the product shot out onto my own leg, which ended up burning a bit, but this didn't stop me from my mission of getting the meds on The Lady. I uncovered her (she was sleeping) and parted her fur with the applicator tip and and pressed down to release the product, which, in theory should have worked great! …but the parting tip is a bit longer than the product tube so the liquid got all over her fur rather than straight onto her skin… and the "clicking" at the end scared her and she jumped off the bed. BUT I did get it all on her, so mission accomplished! Before her treatment I had seen her scratching a few times and had found a little bit of flea dirt, within the next few day after her treatment the itching stopped and no more dirt!
The Lady
All and all I think ADAMS Flea & Tick control is a very cost efficient way of handling fleas and ticks for your pets and home, and maybe I just need some practice on the application part. Would I use ADAMS again? Sure thing, it wasn't as tidy as I thought it would be, but for the cost and the effectiveness I for sure would keep using this product to control fleas and ticks on The Lady.
I give ADAMS Flea & Tick Spot On for cats 5 out of 5 stars for price, and effectiveness and 3 stars for ease of application.
You can find ADAMS Flea & Tick control products at Walmart
This review was made possible by Mom Spark Media. Thoughts are my very own 🙂