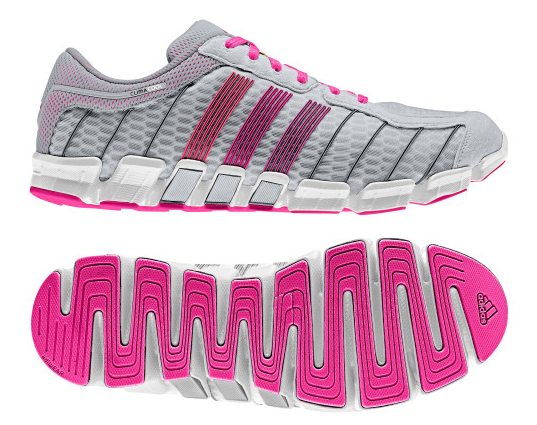 CLIMACOOL Ride Shoes
Recently, due to my wedding and it being summer, I have amped up my running routine quite a bit. I would never go as far as to call myself a "runner", but I do run to workout. I even enjoy it at times. There are many factors that contribute to a good run, though – shoes being the most important of all! Finding comfortable running shoes can be extremely challenging. Product was received for review purposes and this post may contain affiliate links.
One issue that I face when choosing a shoe is that my feet tend to roll inward too much (overpronation). I have always been aware of it, but was given that term when I went to a store that specializes in running shoes. They recommended a special shoe just for my problem. Oddly enough – I hated the shoes! So, who knows…I think the only answer is to try many pairs and see what feels best for YOU. The Adidas CLIMACOOL Rides are extremely comfortable on me. I still notice my overpronation (I always do), but the shoes do not make it any worse and my arches do not burn when I wear them.
Another problem I experience – and this may seem weird – is that I sometimes feel claustrophobic in shoes. If a shoe is too heavy, tight, or restricting, I feel very anxious in it. I guess this is why I love summer and sandals! With my Adidas CLIMACOOLs this is definitely not an issue. They are so light and airy that I barely feel like I am wearing them. The light mesh really does make a huge difference. My feet still feel secure, but not trapped. It's also very apparent to how this shoe got it's name because my feet feel amazingly cool in them!
The springy bottom of the shoe is an awesome feature, as well! I can definitely feel the extra bounce and cushion in my step. Running can really take a toll on my body due to the high impact, but with these shoes, I really notice the difference. This is especially important to me while running outside. That is even more harsh than running on the treadmill.
Because of all of these factors combined, I am happy to report that I have been running faster and longer! This might also have to do with the urgency of bikini season, but I swear it's the shoes, too! Regardless, I feel more comfortable and less sore in them. I am a fan and would recommend them if you are in the market for new running shoes.
I originally ordered a size 6 which is my normal size and was instructed to go a half-size smaller due to them running larger. Well, I could have gone even smaller because they do feel a little big. I can still wear them comfortably, but the next time I will definitely choose a size 5.