Hello fellow geeks. It's your friendly neighborhood Marvel geek here to let you know that you can get a look at a cool Ant-Man poster from Marvel Studios. In fact, you can get a look at three of them! They've releases some wicked cool posters, and every Ant-Man poster in this collection is epic.
An Ant-Man Poster to Fit Any Fan
Every Ant-Man poster in this batch from Marvel Studios hit the mark, in my opinion. All three of them capture everything that makes Ant-Man cool. They give long time Marvel Comics geeks like me some great eye candy, and they also do a great job of getting across what Ant-Man is all about for those people who just follow the movies.
Ant-Man is a character who has always been about wits more than brawn, although he can mix it up with the best of them. He always finds creative ways of besting the bad guys and using his unique size/strength powers to his tactical advantage. Every Ant-Man poster here captures that perfectly. Let's take a look – because that's why you're here, isn't it?
Ant-Man Poster 1: Ant-Man and Iron Man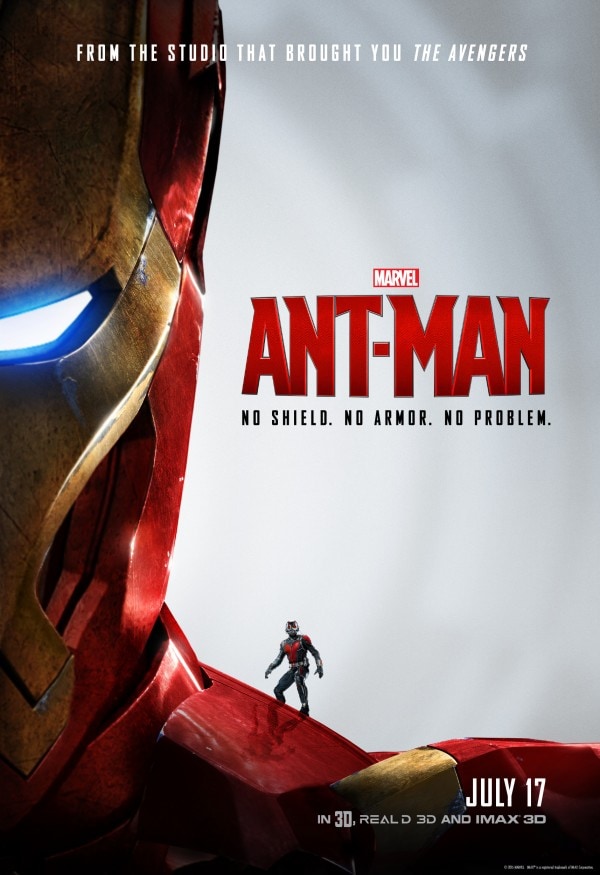 No Shield. No Armor. No Problem. I love it! All it takes is an image of a shrunken down Ant-Man standing on Iron Man's shoulder to give everyone an idea of just how small he can get.
Ant-Man Poster 2: Ant-Man and Thor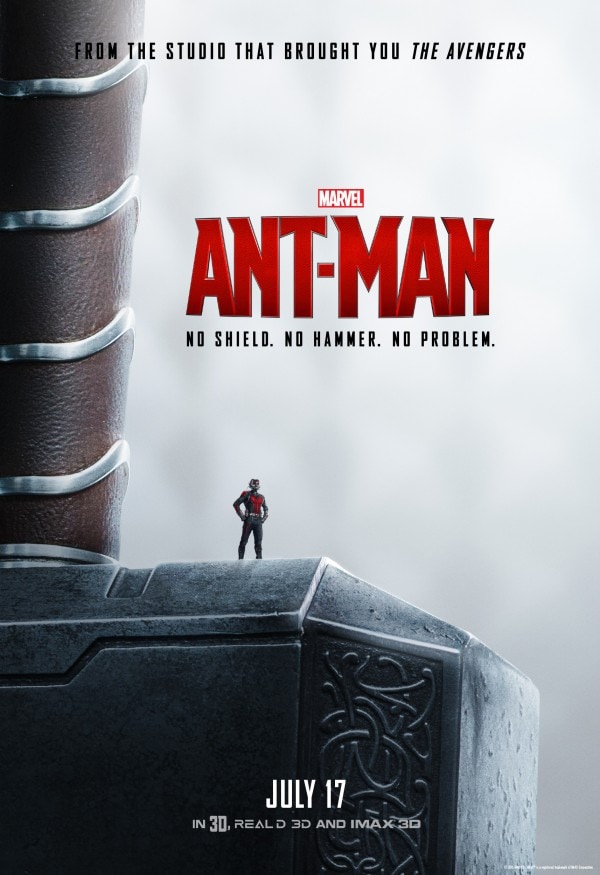 Aww yeah. I love this one. What makes this Ant-Man poster great is the totally opposite ideas of power it represents. We have Ant-Man, whose power is shrinking and enhance strength, standing on Thor's hammer, Mjolnir, which is all about brute force. This poster perfectly illustrates that you don't need Asgardian artifacts and super huge muscles to get it done.
Ant-Man Poster 3: Ant-Man and Captain America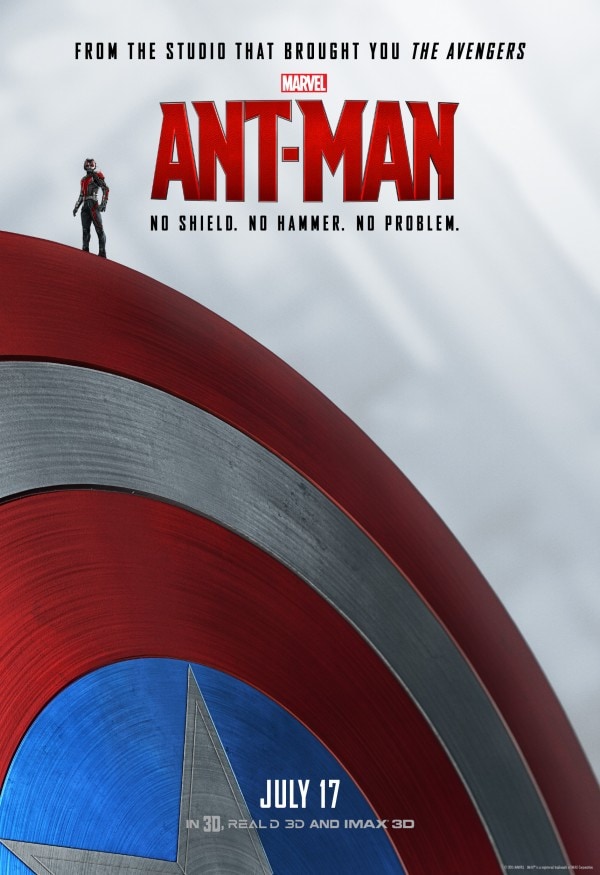 This Ant-Man poster might just be my favorite. Captain America's shield is one of the most iconic images in all of comic-dom, and here we see Ant-Man, striking a heroic pose on top of said shield. I love this poster so much, because it's the convergence of two of my all-time favorite Avengers.
Every Ant-Man Poster is a Glimpse of Things to Come
Speaking of convergence. Every Ant-Man poster released features Ant-Man and an Avengers character. It's happening, folks. Ant-Man will soon be taking his rightful place in the Avengers! BOOYAH! I can't wait to see that happen. But before that, I've got to see Ant-Man when it comes out. It will be in theaters everywhere July 17, 2015. I can't wait. Until then I'll have to be content with teaser trailers and a cool Ant-Man poster -which I fully intend to print out and hang on my wall. =D