Arctic Zero Frozen Dessert

Product was received for review purposes and this post may contain affiliate links. When I am trying to watch my calorie intake, the most difficult food item for me to avoid is ice cream. I am obsessed with ice cream. I have absolutely zero willpower when it comes to it, too. I cannot have it in the house or I WILL eat it! So, needless to say, I was ecstatic to see that the geniuses over at Arctic Zero have a solution for me!
I hate when people say, "well just eat a serving". Have you ever actually measured out one serving of ice cream? That tiny little bit is not going to satisfy me – no way! I need to eat the entire pint – or none. Perhaps I am just an extreme person, but I a know I am not alone. With Arctic Zero, it's only 150 calories if you devour the whole pint. No big deal. That's typically the calories in the one tiny serving of regular ice cream.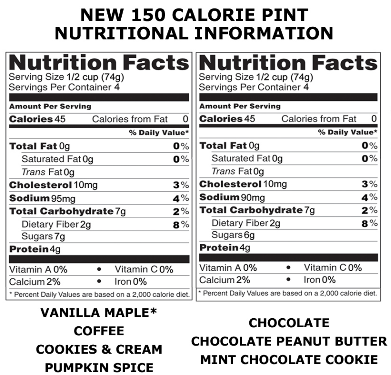 A big part of my love for ice cream is the texture. There is something fantastic about the cold creaminess of it. Arctic Zero has that great texture that I love! Sometimes you have to sacrifice that in low calorie ice creams. Not here! The one difference that I notice is that it's not extremely flavorful. It's still very good, don't get me wrong. But, that is where you can tell the difference between full fat ice cream and Arctic Zero. It's totally a fair trade if you ask me!

Sometimes low fat and calorie items contain harmful ingredients. NOT Arctic Zero. It has all natural ingredients. They are also gluten free, fat free, suitable for lactose intolerants, low glycemic, high fiber, non GMO, Kosher and okay for kids because there are no sugar alcohols! With up to 16 grams of whey protein, it's pretty much like you are eating a protein shake.
I got to try all the flavors and I like them all. My ultimate favorites are Cookies + Cream and Coffee. The vanilla is awesome for smoothies and shakes, too! HUGE FAN!!!!