Armband Water Bottle
As an avid runner, I've often found myself wishing I had an armband water bottle. When you're in the middle of the woods in high temperatures, it's not only miserable to be thirsty but dangerous as well. But, one, for obvious reasons, doesn't want to be lugging around bulky gear that will interfere with performance. Product was received for review purposes.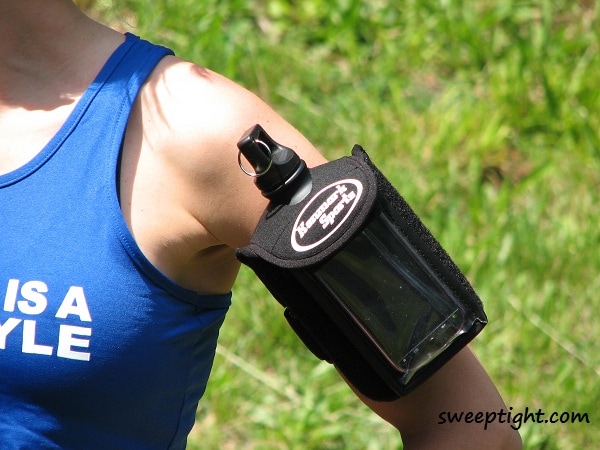 I am so grateful to have found this wonderful product. I am able to carry just the right amount of water (16 oz.) without it being too heavy and have my cell phone within reach at all times. I always run with my phone for several reasons: you just never know when an emergency will present itself, having kids means I always need to be reachable, and smartphones offer a variety of great apps to help with training. I just started interval training and found an app that has a timer to signal when you should speed up and slow down.
This Velcro pocket can also fit your ID, credit cards, keys and/or MP3 player. The entire pocket is detachable so while you're moving it's easy to access. And the plastic covering is touchscreen friendly so you don't have to actually take out your device to use it. When you're done you can just slap the pocket back on for virtually no interruption to your workout.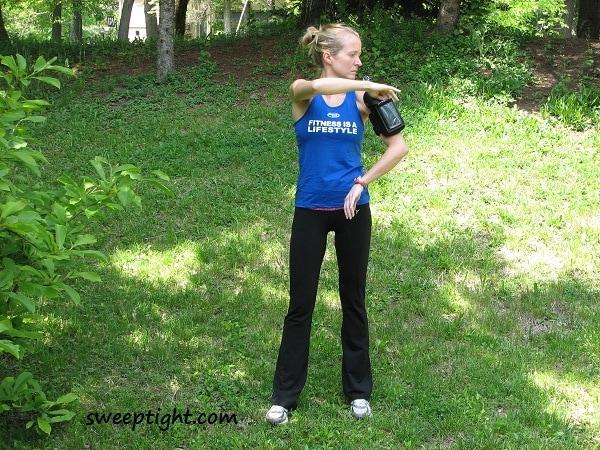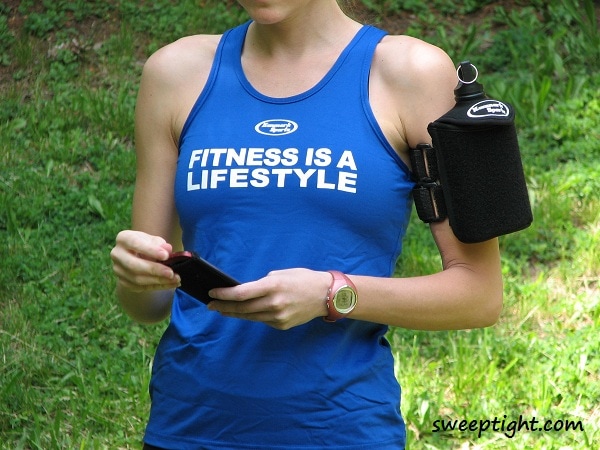 Usually, when things claim to be "one size fits all," I end up disappointed. As you can see, I have total noodle arms. The last armband I bought claimed to fit all sizes and was way too big and didn't adjust down small enough for my arm. I ended up having to tie a knot in it and that caused it to rub on the inside of my arm and side. After one run, I threw that thing out. But this one, is great. It fits my arm comfortably and can easily adjust to a body builders' arm if needed. The straps are incredibly soft and breathable so I have no problem wearing it for as long as needed.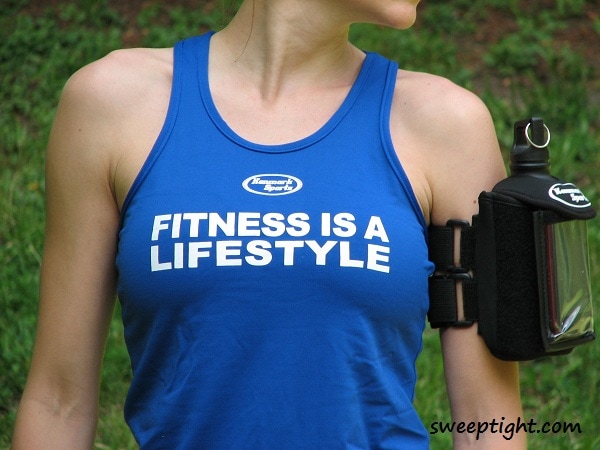 Kenmark Sports also sent me this great workout tank. It's very comfortable, cool and stretchy. The slogan "Fitness is a Lifestyle" is one that I am proud to wear. I completely agree and strive to incorporate physical activity into everything so that it is second nature.
These products are coming soon to retail stores! Until then, you can find them at kenmarksports.com.