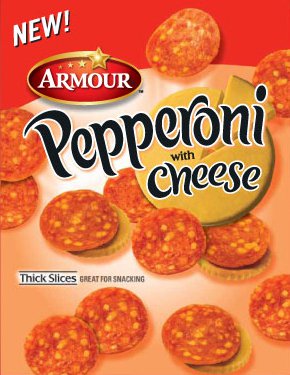 Armour Pepperoni with Cheese
Armour's new Pepperoni with Cheese is delicious! It is sliced really thick so you can put it on a cracker for a super fast and satisfying snack. My kids love that they can make little mini pizzas for lunch at school! I hate buying those prepackaged versions because they are so expensive and contain very little actual food–it's mostly just packing materials. Now, I can create my own "lunch-ables" for the kids. Product was received for review purposes and this post may contain affiliate links.
In another attempt to be thrifty, we never order pizza. Instead I buy cheap frozen pizzas and doctor them up at home. Well, this was a HUGE SUCCESS! This was seriously better than any delivery pizza I've ever had and it cost under $5 to make!!! I got a frozen cheese pizza on sale, added the Armour Pepperoni with Cheese and some oregano to the top; cooked it per the instructions on the package and added a pinch of grated parmesan cheese when it was out. The whole family was shocked at how amazing this tasted!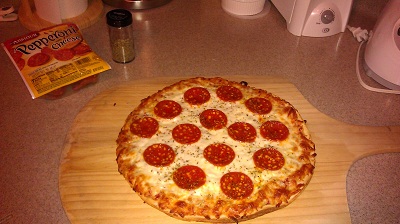 For lunch I made Quesadillas using whole grain Flat-Outs, several varieties of shredded cheeses, oregano, and Armour Pepperoni with Cheese… Again, another huge hit with the kids! And this only takes like 3 minutes to make! I just put all the ingredients together and then microwave it for one minute on a microwavable plate and cut with a pizza cutter! Perfect for an after school snack or weekend lunch!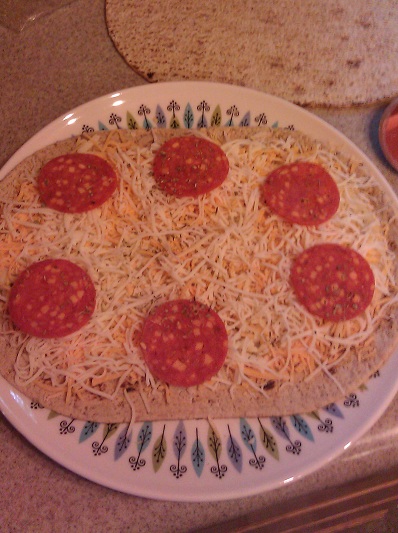 This cutting board/cheese slicer is great! It is made out of eco-friendly bamboo. Bamboo is the fastest growing and most replenishable woody plant in the world. It has inherent anti-microbial and moisture-resistant properties making it a natural choice for entertaining and food preparation.