The new pacifiers from Tommee Tippee promise to help take the drama out of your baby's life (and more importantly yours). While I hope there isn't too much drama in your little one's life – pacifiers can be quite the miracle tool when trying to keep your baby calm and content. I received a variety of pacifiers from Tommee Tippee for review, and I cannot wait to try them out with our little one.
New Pacifiers from Tommee Tippee
The new "baby approved" line from Tommee Tippee debuts in stores in January. These pacifiers are specially designed for baby acceptance from the first attempt. They are similar to the Tommee Tippee signature bottle line, and have a symmetrical orthodontic shape that was designed in collaboration with a leading pediatric dentist. The pacifiers come in three sizes/stages including 0-3 months, 0-6 months, and 6-18 months. They are dishwasher and sterilizer safe (thank goodness!) and BPA free with phthalate-free silicone.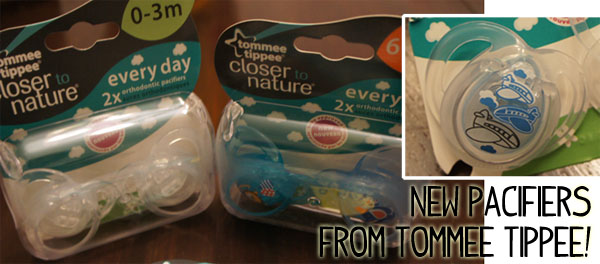 The fun part about these pacifiers are the cute options. The air style allows for extra air flow between the shield and cheeks, hopefully cutting down on those little red marks on your little one's face. The night time style has a glow in the dark handle – easier for you to find in the middle of the night! The fun style features bright and playful designs in boy, girl, and gender neutral designs and colors.
You can learn more about the pacifiers from Tommee Tippee on their website. Tommee Tippee products can be found at Babies R Us and Target. While I was checking out the fun patterns on the website, I also saw that they have advice pages like Baby Crying Advice or Teething Remedies. I am thinking it will be easier to take advice from a reliable brand than it is from a nosey woman in the grocery store trying to tell you how to do things while your child is crying uncontrollably!