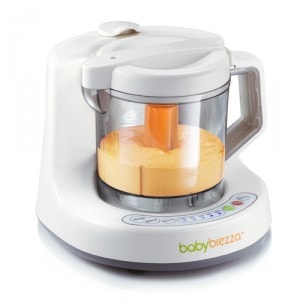 Baby Brezza – The One Step Baby Food Maker
"Bring healthy, homemade baby food to your table in just minutes with the Baby Brezza One Step Baby Food Maker. " Product was received for review purposes and this post may contain affiliate links.
The Baby Brezza ONE STEP baby food maker is a patented, multi-functional baby food maker allows you to steam and blend all kinds of fruits, veggies, and even meats and fish all in one bowl quickly and easily. In as little as fifteen minutes, you can have healthy, nutritious, and delicious meal ready for your baby – and the great thing is, you make it yourself!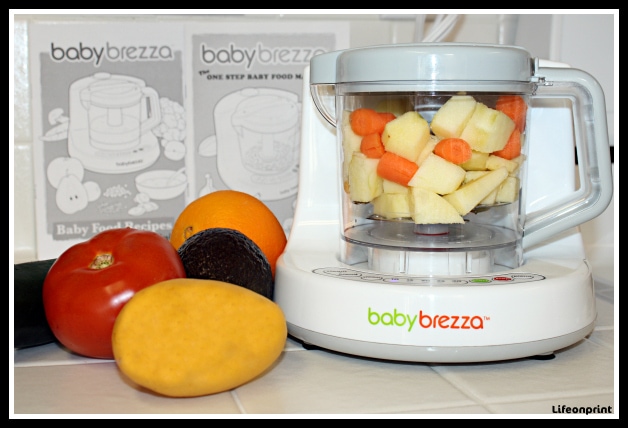 I was sooo excited to be able to review the Baby Brezza. I had seen it in stores and online and I thought it was the coolest product I had ever seen!! But, of course I wondered if it was as easy and wonderful as I had imagined. The Baby Brezza came assembled  (as pictured) out of the box, it also included an instruction booklet and a Baby Food Recipe and feeding guide booklet. The instructions were very easy to read and understand, which I really appreciate. The main bowl twists easily off the base and the lid was just as easy to remove.
After reading all instructions, washing the bowl, lid, and blade, I began cutting up fruit and veggies. The first recipe I tried was apples and carrots. I filled the steam tank with water then placed the cut up pieces of fruit and veggie in the bowl, locked the lid in place the locked the bowl into the base. I pressed the "steam and blend" and left it alone for 15 minutes while it steamed. Then all by it's self, it started to blend to perfection! All with the push of a button!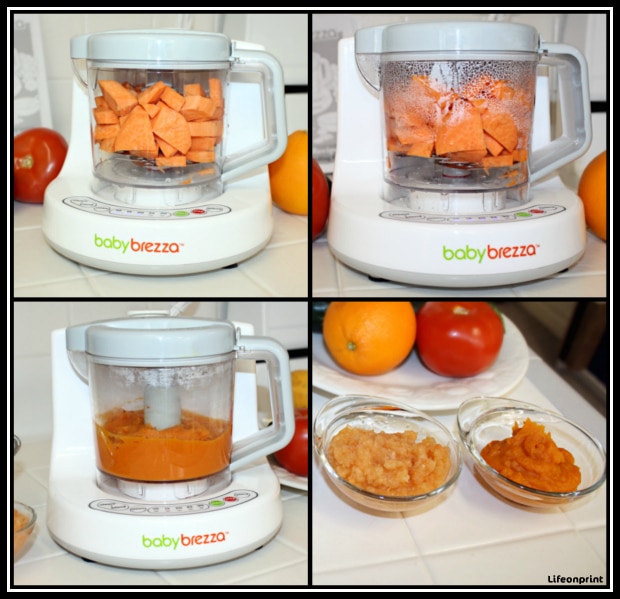 I went on to try other recipes, sweet potatoes (shown above) I also blended fresh berries with yogurt and honey for popsicles, they were delish! The possibilities with the Baby Brezza are endless! I am so very excited about this machine and yes, it is everything I thought it was and more! With the Baby Brezza you have the option to steam and blend in one step, but you can also chose to steam only, blend only, reheat or defrost! Options are very nice 😉
As a mom and a caregiver, being able to prepare the freshest/cleanest/healthiest food is so very important and with the Baby Brezza I am the one who chooses what goes into the food I serve my family and those I care for. No mater how "fresh and natural" factory prepared food says it is, I have no way of knowing if it is or not. The only way to know for sure that the food you feed your baby is clean, fresh and healthy is to make it yourself. 🙂
Awesome Facts:
Easy to use! Just add your ingredients and set your steam time, and the machine will do the rest
• Safe – one bowl design means you don't have to transfer hot foods to another bowl or blender in the middle of your cooking process
• Easy to clean – bowl and blade are dishwasher safe (very easy to clean!)
• BPA/Phthalate Free!!!
**The Baby Brezza receives a total two thumbs up!!! (if I had more thumbs they would be up too!!) for quality, usability, healthy options, ease of use and clean up, and an all around awesome product.
 On a scale of 1-5 (with 5 being total top notch) the Baby Brezza is a 6, all pros and no cons.
You can check out all the wonderful products that Baby Brezza has to offer online, and if you have questions about Baby Brezza you can also find them on Facebook and Twitter too!