I love DIY projects, but since bringing home a baby last spring – it has been hard to keep up with projects and a baby. Which is why it is SO fun to find ways I can teach our little guy to be creative. Wee Can Too makes this endeavor easier for me by creating safe products for us to use. I received a set of their Baby Finger Paints in exchange for my review, all opinions are my own.
DIY Christmas Cards with Wee Can Too Finger Paints
We had tried our hand at finger painting earlier this fall, but I was nervous since my son likes to "taste" EVERYTHING. I was excited to find finger paints from Wee Can Too that are completely safe for us to craft with! Their finger paints are all organic, vegan, made with no wheat, no sugar, and no preservatives. Fruits and veggies are used to to achieve the colors. The orange with pumpkin, green with spinach (we could smell it!), purple with blueberries, and the red with beets.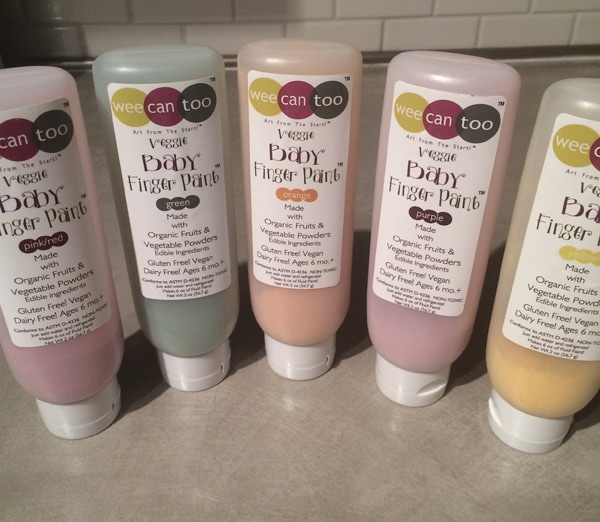 To make our DIY Christmas cards craft, I started by having baby finger paint with the green paint ALL over a couple pieces of paper. The paint was everywhere – including in his mouth, and I knew we were safe because of the all-natural ingredients. Then, I used an ultra-washable ink pad to dip his little fingers in and make ornaments on the green background. Now that his work was done – I cut the green into tree shapes, used a background paper to provide some dimension and pasted them on the front of pre-cut, pre-folded kraft paper cards. I found adorable wood stars that I pasted to the top of the tree – and voila! Christmas cards from Naomi and Little Dude!
It was fun to create something special to send to friends and family this Christmas. You can find finger paint, tempera paints, sidewalk chalk, and crayons by Wee Can Too. Their mission is to bring the best products to little ones – made with safe products for all. I love that they are all food based ingredients as it doesn't look like we are kicking this "taste it all" phase anytime soon!
Find Wee Can Too on Facebook and Twitter.
Do you make your own Christmas cards?