Being on the set of Guardians of the Galaxy Vol. 2 is probably one of the most badass things I've ever had the privilege of doing. I went with a small group of bloggers, and we've had to keep quiet for months. Now that I finally get to go into detail on this trip, prepare yourself for a week of #GotGVol2 posts!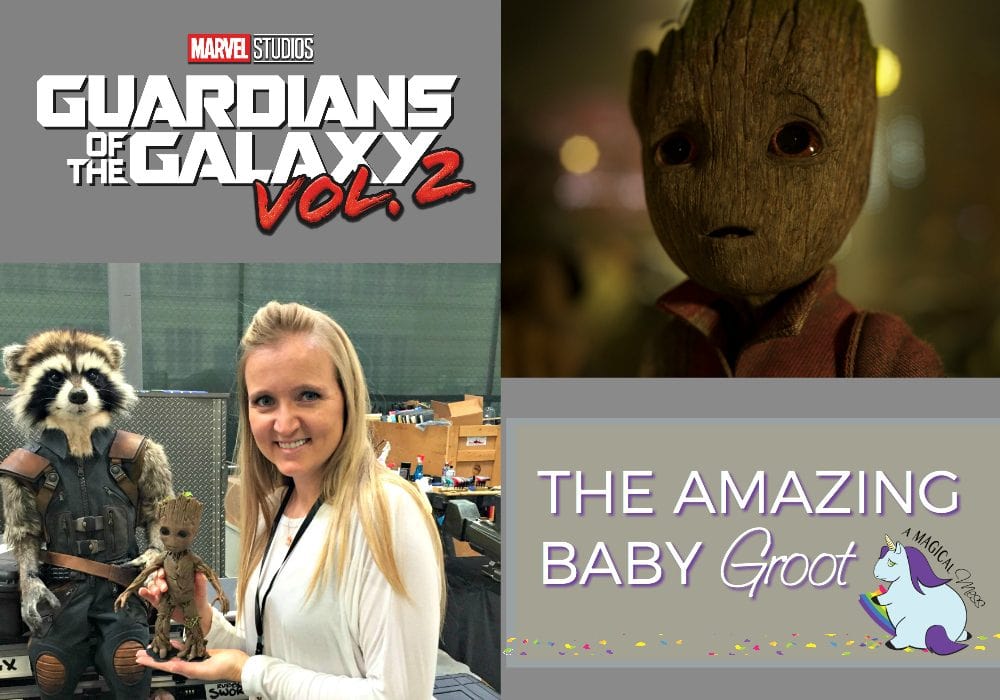 Guardians of the Galaxy Vol. 2 – Set Visit
Upon entering Pinewood Studios, I realized how different this was going to be from all other celebrity encounters. This is much more like visiting your dad at work. All the celebs are in their zone and, well, working. When we see them for interviews, or on the red carpet, it's formal and, I don't want to say phony, but maybe more guarded. They're prepared for questions and all that chaos. THIS, this was seeing them in their natural habitat. Like National-Geographic-style observing them in the wild. I'm going to go into more detail in the individual interview posts about how each of the cast is downright awesome in their ways. But this post is more for the overall set visit… so let's get to it.
Okay, wait. I first have to mention that the grounds at Pinewood Studios are outstanding. There are several buildings on the lot with large paved areas in between but also lots of grass–for all the DOGS! I was blown away. This studio is beyond pet-friendly. They have a whole community of rescued animals and employees bring their furry family members to work. When we entered one building, each floor had an animal occupant. There are funny signs on each level saying things like 'Beware of <some scary type creature>,' and then this adorable poodle-type pup comes bounding down the hall. (No photos were allowed. Otherwise, I'd have about 947 of all the pets to share.) This could very well be the happiest place on earth.
Storyboards with Producer Jonathan Schwartz
We entered a black-walled room lined with stunning storyboards from Guardians of the Galaxy Vol. 2. Some were hand drawn concepts; others were digital pieces of what you'll see in the movie. All were mind-blowingly magnificent. Some even gave away spoilers, so I won't go into too much detail. Producer Jonathan Schwartz then spoke to us about the film.
He described some of the things that have changed with our Guardians since movie one including the way they look. He said that James Gunn wanted them to have more of a rock and roll appearance because let's face it–they're a little full of themselves now. They just saved the entire planet of Zandar and are famous all over the galaxy.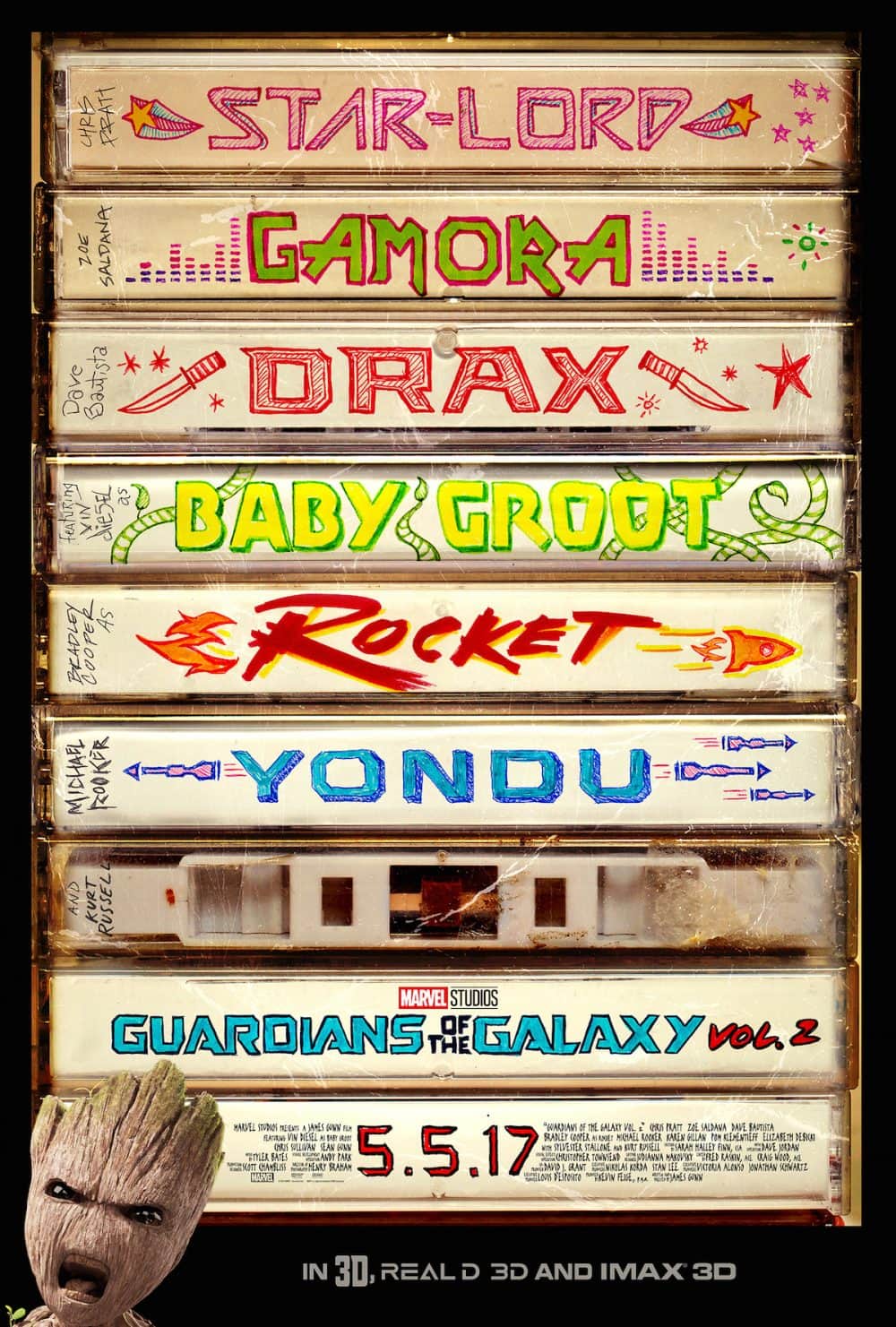 With their heads so big, it's getting even more cramped in the Milano, Peter Quill's ship, which is really only built for one person. As you can imagine, like a family that's in an undersized house for too long, there is tension amongst the group. Jonathan gave us more details but for fear of spoiling something… I'll just skip to our interview:
Referring to one of the storyboards, we asked about one of the settings and why it looked so different from all the others.
JS: "There are a lot of different color spaces in a lot of these worlds. This actually takes place kind of deeper in the heart of… here. [Points to another board.] It's a space on the Jayson world, but the Jayson world has a lot of layers to it. Color was something we looked a lot at in movie one. And again on movie two. I think there's a really specific color journey that James [Gunn] has in mind to sort of help differentiate these worlds from the audience and also to sort of get–you know, color is a way we convey mood to the audience, and that's something we're paying a lot of attention to but I hope it comes off in a really pulpy way–where the color impresses itself upon you. It's a colorful movie, but also helps the audience feel what the movie intends it to feel at certain moments."
How much inspiration is from the actual comics versus your minds?
JS: "It's a mix. On movie one, we definitely paid a lot of attention to a very specific comic… from 2008, that Lanning run. I think more so than specifics from the story that's in that run; it was kind of the spirit of those comics that evolve in the Guardians of the Galaxy. I think that's true here too. Those comics were so much and had so much heart to them, and it really had a core group of characters that really worked. I think that's what's kind of animating everything in the movie."
Regarding the music, is the second film's soundtrack going to be as good as the first? Better? New stuff? All old?
JS: "I'm a little biased. I think it's way better. I really liked the music on movie one, and a lot of it was music I never heard before. [We are all shocked.] …I never heard Come and Get Your Love before James Gilling was like 'yeah, it's gotta be that song in that movie.'
On movie two, I think I was a little bit more familiar with some of it. Maybe that's cause I'd been listening to '70s music for two years now. But, it's cooler. It's a cooler mix, I think. And I think James is really great at writing that music for specific moments so that it's not on the necessarily, but feels like what you want it to feel, and can kinda be a fun counterpoint to what's happening in the movie, in a very similar way to the way it was in movie one. Some of the songs in movie two–I can't stop singing. I go nuts.
I think the music plays a much bigger role directly in the plot than it did in movie one. Like the music is much more important to the actual story of the movie.
It was really kind of cool, on movie one, how people responded to that music. Like younger people who had never heard some of those songs before were like 'this is cool… I wanna get into this,' which was great because it was kinda the same way for me. Maybe not to the same extent, but it was like, wait a minute, these are amazing. This era of music is so awesome. And it sort of got people going on '70s music in a way that they, maybe, weren't before."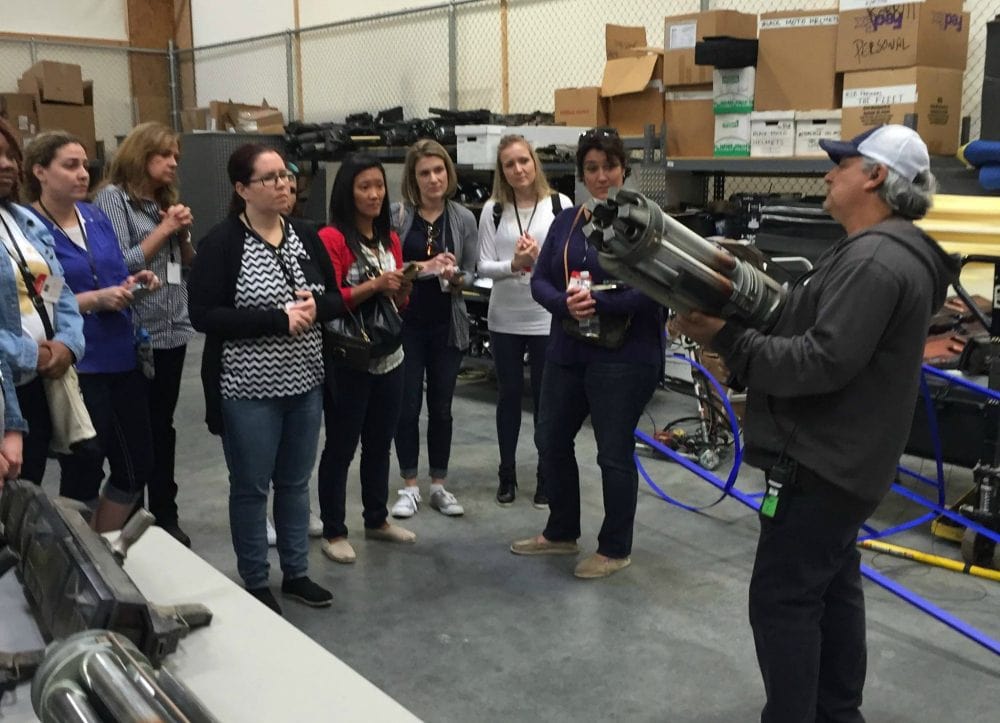 Hanging out in Props
We had the time of our lives with Property Master Russell Bobbitt. He's done the props for Iron Man 1, 2, and 3, Thor, Captain America, Captain America: Civil War, and more. He's an integral part of the Marvel Cinematic Universe, creating some of the most crucial finishing touches or the sole creator of props that make these movies so fantastic.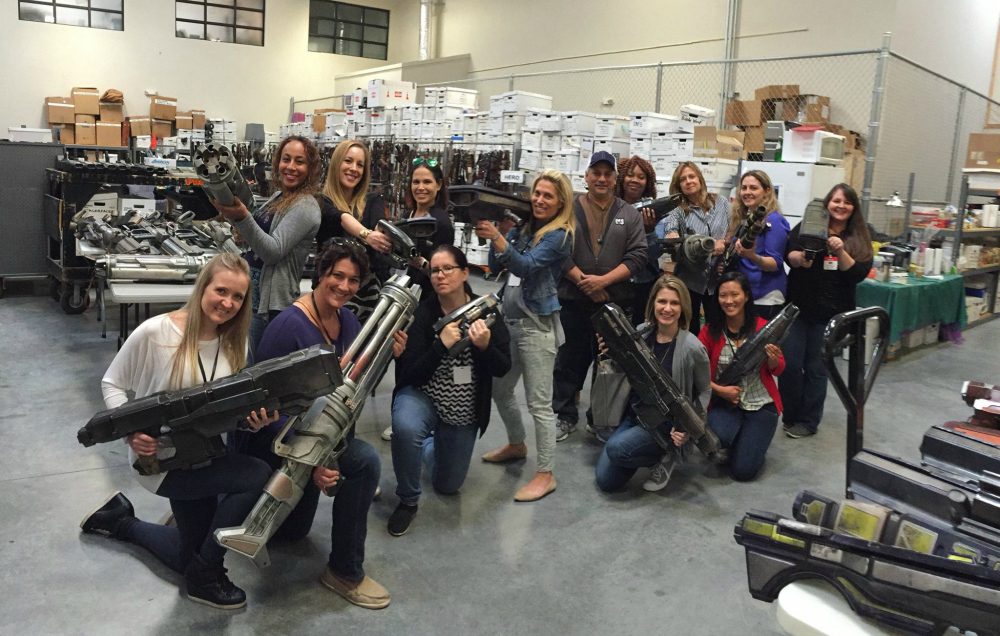 He explained a bit about his process and said he goes over the script and makes a big list of what he thinks should be in the movie. He creates things for everyone–even the extras that simply walk by and are in the frame for just a second. "You know, like the background alien person walks by, what's he going to have in his hand?" He pays the closest attention to detail every step of the way. They manufacture everything from scratch because "there is no outer space prop rental house or anything."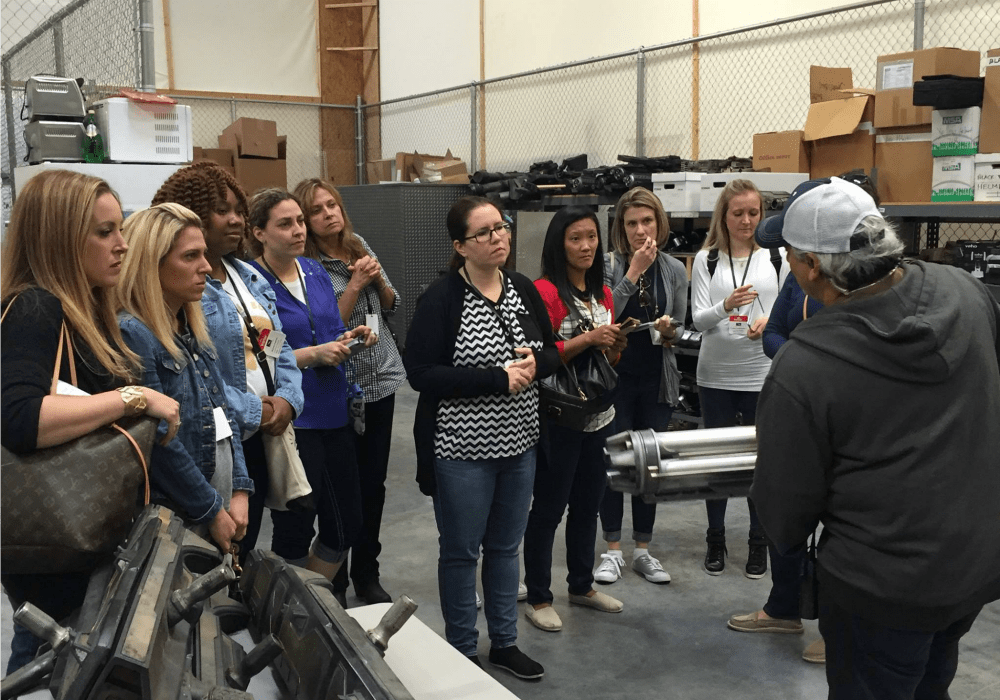 So, he draws out his ideas, shows the director, gets approval, gets with the actors and makes sure their props fit their body sizes, and then they come up with a plan for the manufacturing process. I'm not kidding when I say, this man is amazing. He's a tinkering genius and comes up with the cleverest ways to bring his ideas to life.
The Blasters, The Ravagers, and The Walkman Headset
These are so heavy! He makes one of each with real metal and another lighter version with rubber, so the talent doesn't have to hold something that heavy for several hours at a time. Because nothing looks as real as real metal–he said the paint that gets closest is $1,000 a gallon!–an authentic metal version is necessary for close-up shots. Again, this man pays impeccable attention to detail.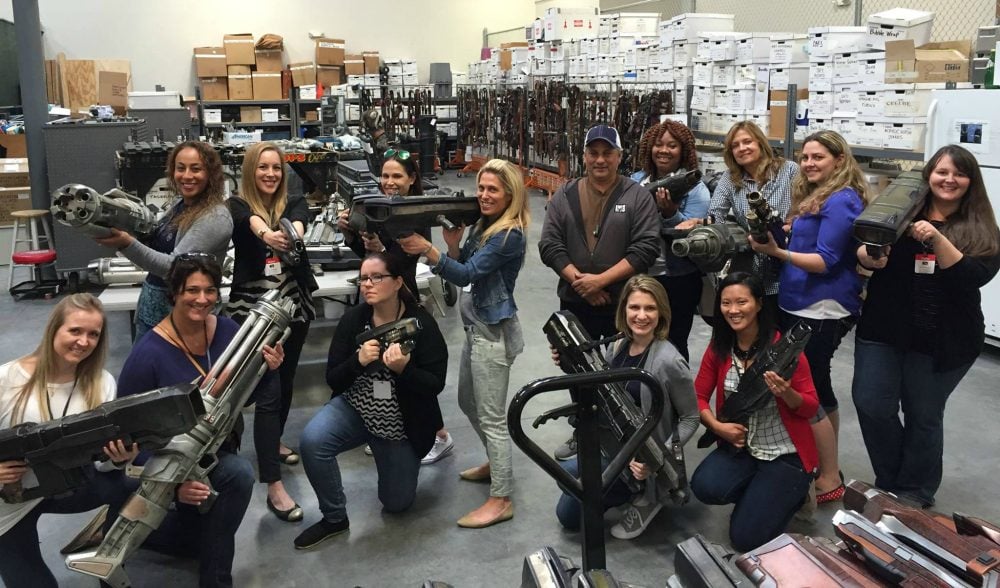 As for the Ravagers, he had to make props for all 150 of them. And it's actually okay to call them "steampunk." For some reason, that word became sort of taboo… like "it's too easy, and it's not their design if it's steampunk. But these ravagers are steampunk" and it's fantastic.
Bobbitt said he went to electronic surplus stores and bought cell phones from the 80's, motherboards, heat syncs, all kinds of gears, and just tore them apart. Little pieces of these things can be found on every ravager.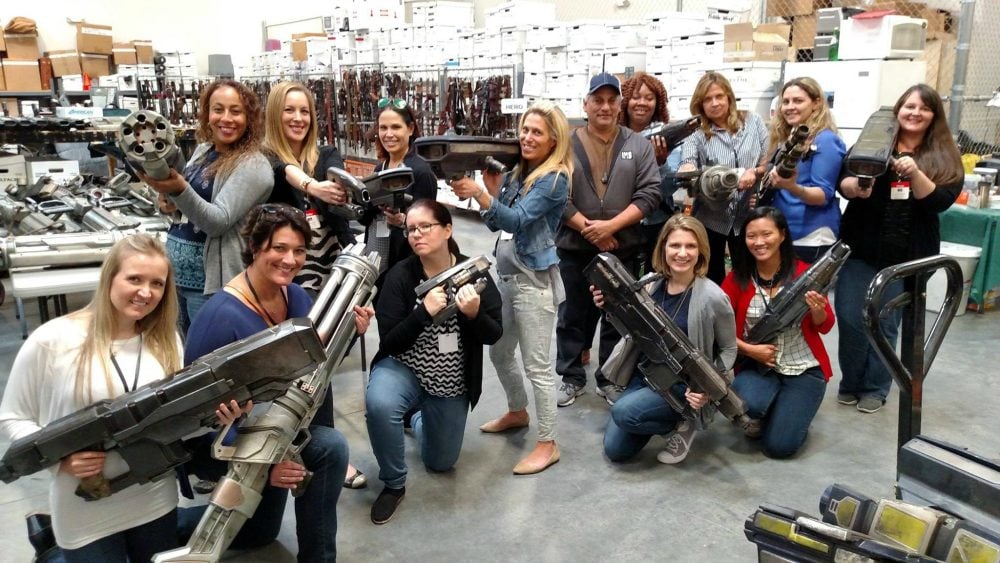 He uses as much as he can from previous films, but ran into an issue with the Walkman headset. Allegedly, there was a fire in the Sony warehouse, and all of that model was burnt. When we tried to find them on eBay, the prices were gouged to $8,000! He refused to pay that price so manufactured his own.
How To Hold Baby Groot
The answer to this: very carefully. The cast and crew love him just as much as we all do. In fact, James Gunn even cancelled production when Baby Groot was injured and needed "surgery."
You see, Baby Groot is all CGI in the movie. A physical version of him is not necessary. However, having a representation helps show where he will be once the CGI is complete. So, it helps his costars know how to interact with his character.
Baby Groot is made of silicone with wires inside so that he is posable. Too many bends and he broke a hip! Poor little guy. Since there are only two of these in existence, the Baby Groot surgery really affected James Gunn.
Russell Bobbitt: "This is a true story. I'm just telling it from the eyes of a person that cares. So, we cut him open, we put new armatures in him, and the next time he had to make an appearance on set, I saw James, he was sitting in his director's chair, and I saw him look over at Baby Groot to make sure he was okay. I carried him over, and I let James have him, and he touched him and moved him, and he was so happy that Baby Groot was all better."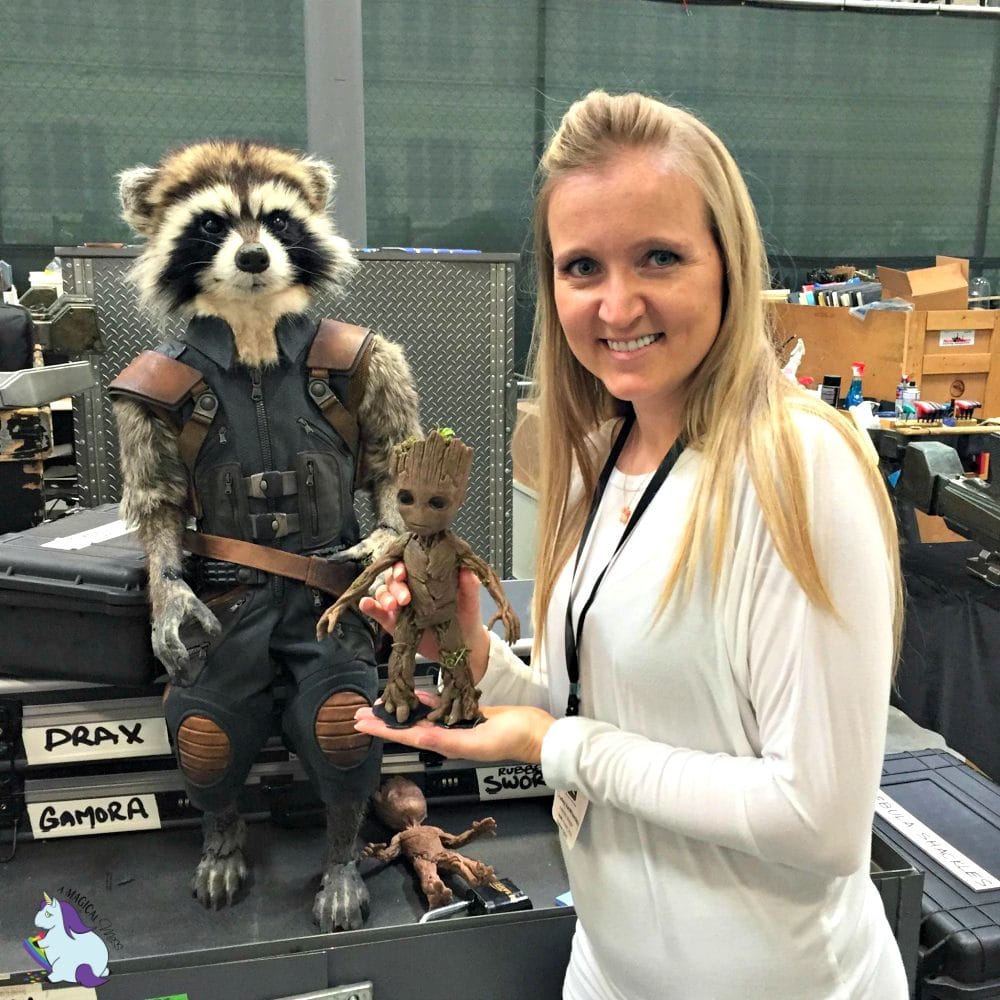 Wardrobe
When you find yourself in the wardrobe trailer standing next to a row of Chris Pratt's clothes, all sorts of strange impulses come over you. I may have touched his undergarments inappropriately. And, you know, I'm really not sorry.
Otherwise, it was super awesome to see all their costumes. It really puts everything into perspective, like how heavy Peter Quill's jacket is and OMG Zoe Saldana has the tiniest waist!
If you've made it this far, thank you for reading! This truly was such an incredible experience, and I'm glad I got to FINALLY share it with you all! Come back every day this week for our individual interviews! 🙂
How crazy-excited are you to see Guardians of the Galaxy Vol. 2?! Mark your calendars for May 5th!