The Olympic Games are coming soon! Often times outrunning your children can be a medal worthy event in itself. Right now, P&G and Babies'R'Us are teaming up to celebrate baby milestones with Noelle Pickus Pace, U.S. Olympic Skeleton Athlete. I received a fun #MilestoneMoments prize pack from P&G and Babies'R'Us in exchange for my post, all opinions are my own. I am also excited to have a prize pack for one lucky Sweep Tight reader!
#MilestoneMoments with Babies'R'Us and P&G
P&G and Babies'R'Us know that when it comes to raising kids, every finish line is a new start. They know the importance of celebrating milestones with your little one – each smile, step, laugh, haircut, and adventure. You can find out more about #MilestoneMoments at Babies'R'Us.com. In our adoption process – there are much different milestones – finger prints, background checks and home visits are not like ultra sounds, baby kicks or morning sickness. Since our little one isn't home yet – we haven't hit any of the usual baby milestones but we will soon celebrate the first day at home, the first laugh, the first bottle and so much more.
Along with the #MilestoneMoments campaign, Babies'R'Us is offering a couple special deals in their stores. From Friday 1/17 through Monday 1/20 you can receive $15 off when you buy 2 value boxes of Pampers diapers (78ct. or higher), valid in store only. From January 31 to February 22 you can get FREE Pampers wipes when you purchase an two of the following P&G items:
Pampers mega packs of diapers & Easy-Ups training paints
Bounty 12ct paper towels
Charmin 30ct toilet tissue, Dreft laundry detergent
Tide laundry detergent
Duracell AA24pk batteries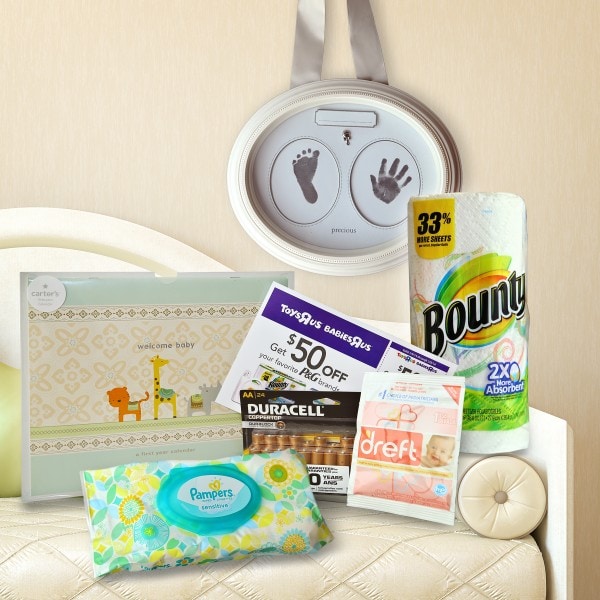 Make sure to enter to win the #MilestoneMoments prize pack includes the following: Babies'R'Us Coupon: Save $50 on your total purchase of P&G participating brands of $50 or more, C.R. Gibson Precious Prints Frame, C.R. Gibson Wonder First Year Calendar, Pampers Sensitive Wipes (56ct), Duracell AA Batteries (4 pack), Bounty Regular Roll, and a Dreft Sample.