FRONTIERSMAN Bear Attack Deterrent 9.2 oz with Chest Holster
On a recent trip to Yosemite National Park, I noticed signage saying you can no longer carry firearms on park grounds. Now, I am a very avid camper, and prefer back country trails and primitive camp sites. Let me tell you–when you're all alone out there, you feel very vulnerable and defenseless. Product was received for review purposes and this post may contain affiliate links.
Ahahahaha! I love the supermodel pose! (He's going to hate me for posting these!)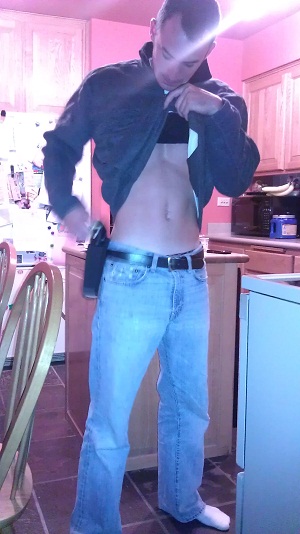 Many people will tell you a .45 is your best defense against large animals, but in many cases a handgun will not even faze a bear. Make sure to always look ahead down your trails to make sure you spot them before they spot you. Try told a loud conversation, even if it's with yourself. Research shows 90% of the time, bears will run away, as they are not interested in humans. If you find yourself in the other 10% you must have surprised the bear, or stepped boundaries on their young. This is where bear spray is your only 100% true defense.
Make sure you always hold your ground. Remember most cans will empty in 5 seconds, and spray 35 feet. With a sweeping motion use your first 2 seconds to spray a barrier across the trail (45 degrees from your left to your right). Wait… if the bear continues forward, use your final 3 seconds to cover his eyes and snout.
The effects of the spray usually last about 30 to 45 minutes. It is recommended that once the animal has retreated that you leave the area as quickly as possible without running.
Best part– No one is permanently harmed! You can each continue your separate lives.
Remember to always respect wildlife, happy camping!