My hair may not be dyed, but it is light blonde and dries out really quickly. Having Chicago water is really hard on my hair and skin. I am constantly using all kinds of product to try and replenish moisture to my hair and skin due to all the chemicals in our tap water.
Dry Hair and Skin
As if we don't do enough harm to our hair and skin during a typical day, showering in chemical laden water is only causing more damage. We can actually smell the chlorine coming from our tap. If only I could shower in bottled water! Well, with the T3 Source shower head, that's pretty much what I'm doing!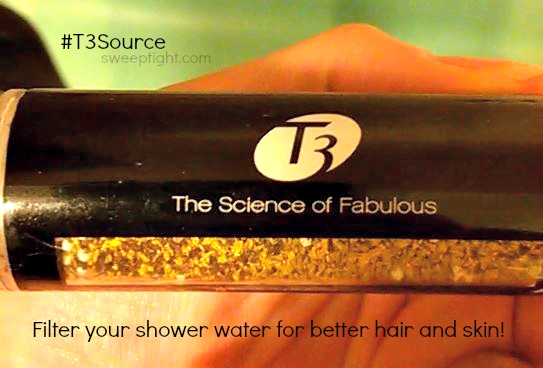 T3 Source Hand-Held Shower Filter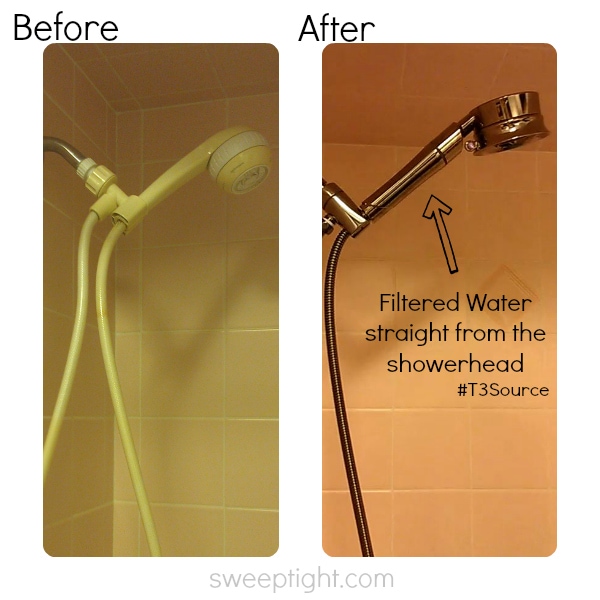 With the T3 Source Hand-Held Shower Filter (MSRP $150) and replaceable filters ($15–every 3 to 4 months) I can save a lot of money on other products like salon-quality shampoos/conditioners, body lotions, face creams and anti-aging serums.
Clinically Proven Hair Benefits:
64% Reduction in Frizz
28% Increase in Body
47% Increase in Comb-ability
28% Increase in Shine
I can't even believe how much easier it is to comb mine and my daughter's hair. We have really fine and thin hair–a lot like a doll's–and getting a comb through it can be a nightmare. Since we've been using this shower head, for only about 4 days, I have noticed a huge change! The hair doesn't feel like we've been in a pool all day!
As for our skin, all I can say is "Wow."
The most noticeable thing for me was how smooth my legs were WITHOUT lotion after shaving. Before using the T3, you could literally see cracks in my skin. This time my legs looked young and shiny!
Proven Skin Benefits:
By removing chlorine from shower water, your skin will be less dry, retain more moisture and look healthier.
Installation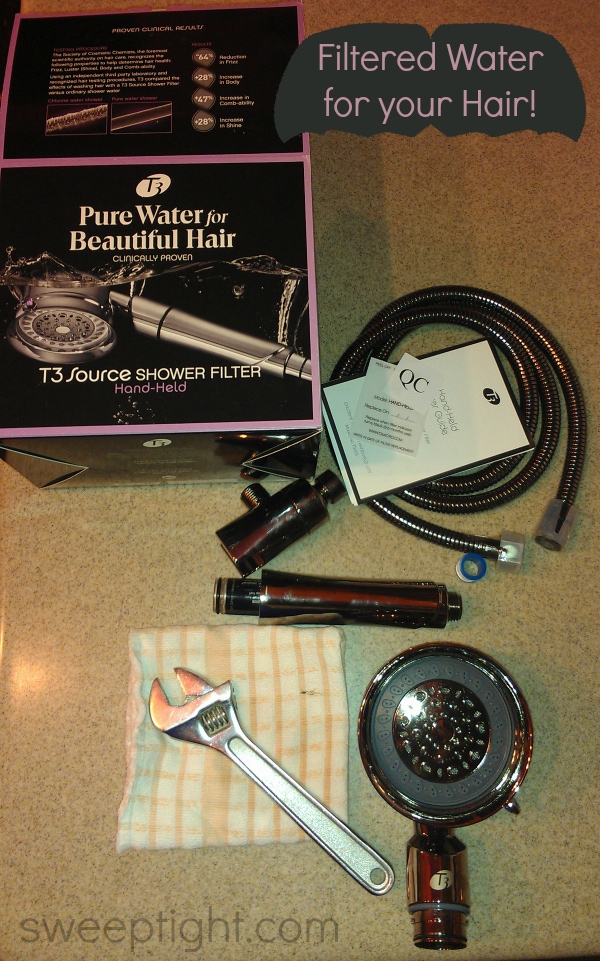 Installation was a breeze. I was even able to do it all by myself–a huge accomplishment because I normally find a boy to do these tasks. It only took me about 15 minutes! (It would probably take another human only 10, but I'm still proud that I did it!)
Other Benefits
Less mineral build up in your shower=less cleaning!
8 Premium spray settings
The filter only costs $15 to replace every 3-4 months or 3,000 gallons
Accessories include matching shower arm bracket and 59-78″ extendable hose
2-yr warranty offers comprehensive coverage, telephone support and repair options