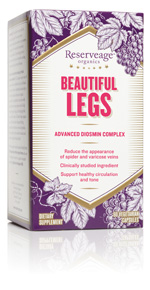 Beautiful Legs from Reserveage Organics
As I get older I try to be more specific when choosing my supplements. I have already read quite a bit about Resveratrol and try to incorporate it regularly into my supplements. I have worked with Reserveage in the past, and have also purchased bottles on my own. I find them to be a company that I trust when it comes to vitamins and supplements that contain Resveratrol. Product was received for review purposes and this post may contain affiliate links.
Since I have this ongoing relationship with Reserveage, I am always eager to try their new products. Especially this one…Beautiful Legs? Um, yes please! I have actually never had too many issues with my legs, but varicose veins run in my family big-time. My Grandma has them very bad after having six kids. My sister only has two kids and developed a nasty batch of them, as well. So, I would like to do anything to beef up my vein health! I am already noticing some spider veins and strange lines on my legs without even having kids. I was on my feet quite a bit during my years as a waitress when I was a teenager. I have also always been very compulsive when it comes to working out. I will go from running 5 miles a day, to doing absolutely nothing! My legs are probably feeling confused and abused, so it's about time that I nourish them a bit!


Here is an excerpt from the press release:
Beautiful Legs combines the scientifically researched flavonoid Diosmin with other support nutrients, such as grapeseed extract, butcher's broom, horse chestnut and Resveratrol, to provide comprehensive support for healthy leg vein and tone. Beautiful Legs helps diminish the unsightly look of spider and varicose veins, and contains a 95% standardized extract of Diosmin, the same strength used in clinical studies that was shown to: support the health and tone of leg veins and capillaries, support healthy blood flow and circulation, and help reduce the occasional swelling and sensation of heaviness in legs caused by standing or overexertion.
This supplement is also popular among doctors in Europe. The label clearly states what each ingredient focuses on which I find interesting and helpful. Personally, I will opt for taking natural supplements over prescription meds any day. Plus, my Grampa always tells me, "An ounce of prevention is worth a pound of cure", so you can count on me always having a bottle Reserveage in my cabinet!