FitTea has been popping up in my feeds for months now. I assumed that it had to be the best detox tea since so many people were raving about it. This FitTea review is sponsored, but all opinions are my own.
FitTea Review
Things are changing for me as I get older. Making the transition into working from home as a full-time blogger has me sitting around a lot more than ever. It also has me wearing comfy clothes all the time, and not realizing how I have let my fitness routine completely fizzle. It's no mystery as to why I always have some strange ache, pain, or sickness. I have turned into a toxic slump of a human.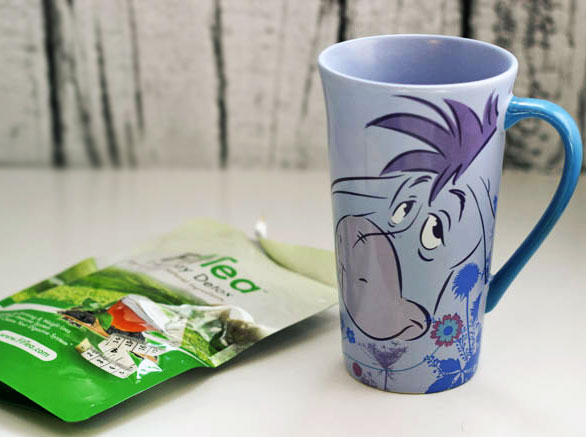 Do you love my Eeyore mug? It's my favorite mug of all time.
In the past, summer has always motivated me to get back into shape. We have a boat and a pool, so that means wearing a bathing suit. Well, this summer has been relatively cold and rainy so far, and the motivation hasn't come. That's just another sorry excuse for why I am a slacker. In any case, it's time to do something.
FitTea 14 Day Detox

I am a big believer in detoxes. Of course, I am not a medical professional, but just by getting to know my own body over the years, I feel like I have learned a thing or two about what works for me. Natural teas like FitTea have been used all over the world for thousands of years for weight loss and increased energy which helps anyone with a fitness program. I try to detox a few times per year, but I have to be extremely careful about ingredients.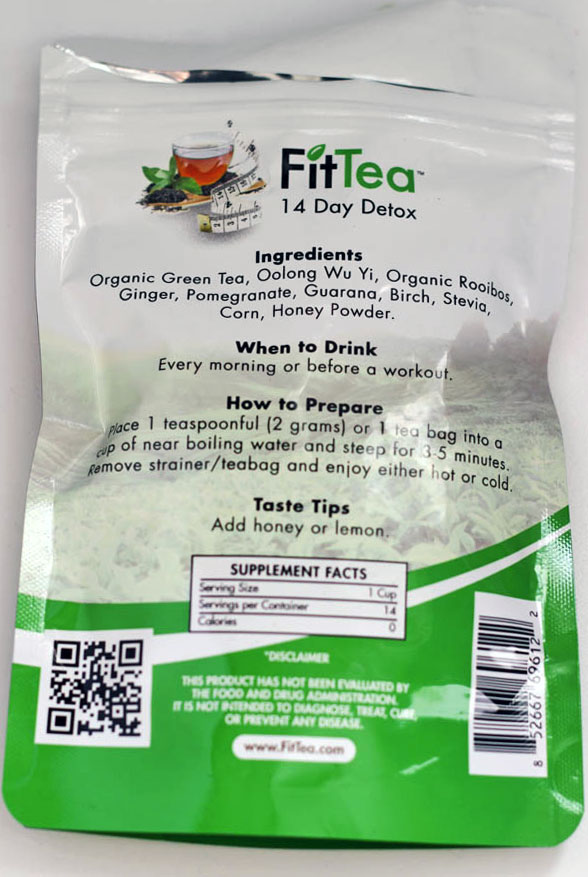 The first thing I noticed about FitTea was the ingredient list. It contains Organic Green Tea, Oolong Wu Yi, Organic Rooibos, Ginger, Pomegranate, Guarana, Birch, Stevia, Corn and Honey Powder. Nothing scares me in there. The package suggests adding honey or lemon if you want to sweeten up the taste. I did not, and it tasted great to me.
These ingredients are known to do the following:
-Boosts immune system
-Promotes fat burning
-Promotes and soothes digestion
-Antimicrobial properties
The above ingredients provide a fast-working and natural detox. They are natural ingredients that have other benefits besides detox, which include weight loss, increased energy levels, suppressing the appetite, and natural antioxidants.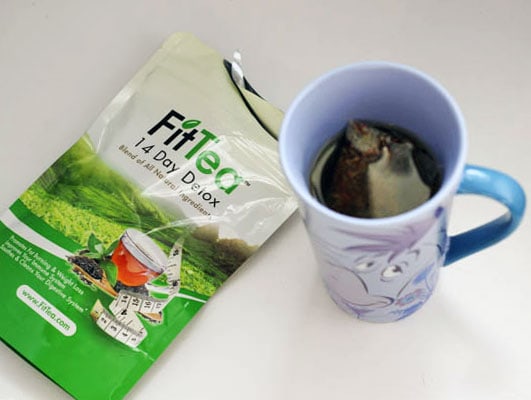 FitTea Results
I am happy to report that I do not feel jittery after drinking the tea. That's one thing I get nervous about. I am already an anxious person, so the last thing I need is extra nervous energy. The tea gives me just enough of a boost to motivate me to get moving. The day after drinking the tea for the first time is when I really noticed a difference. I felt amazing. I woke up bright and early with a positive and productive attitude.
Another welcome side effect to drinking FitTea is appetite suppression. There are days when I sit here and just count the minutes until I can eat again. I hate it. After drinking FitTea, I am less hungry and less food obsessed. My energy is focused elsewhere, and that is an extremely welcome feeling. I had light cramping after the first day, but nothing to get upset over. That's just proof that the tea is doing its job and moving stuff around a bit.
The package suggests drinking the tea in the morning or before a workout. Personally, I drink it during the afternoon slump that I can predict experiencing daily. Right about 1pm-ish, I feel a strong need for a serious nap. To resist that urge, drinking the tea helps a lot. It powers me through the rest of my day. In the long run, this helps me sleep better at night, too. Not having a nap makes me extra tired at night. I am quite childlike like that. 😉
Slowly, I can feel my winter weight melting off a little, too. Without even exercising hardcore, I am starting to feel slimmer. More energy and not feeling so hungry all the time is helping quite a bit.
The Best Detox Tea that I have Tried
I have tried a lot of detox teas over the years. Some have made me way too spastic; some have made me downright sick. FitTea makes me feel great, so I am extremely happy. It's enjoyable to drink since it tastes good, and it makes me feel healthier. What more can you ask for in a detox tea? I am confident in calling FitTea the best detox tea that I have tried.
Have you tried FitTea yet? Did you find it to be the best detox tea?