The DOCTOR STRANGE villains couldn't have been cast any better. I'm a total sucker for a good villain. Loving to hate someone is such a great dynamic for true entertainment. When it's done right, the villain is able to play on all your emotions. You hate them, then suddenly you find yourself sympathetic and daring to love them for the damaged creatures they are. Mads Mikkelsen is quite possibly the best villain of all. This interview was part of an expenses paid press junket.
Best of the DOCTOR STRANGE Villains
Mads Mikkelsen plays the villain, Kaecilius, in Marvel's DOCTOR STRANGE. He has the perfect look, voice, and vibe for this role. He nailed it like no one else could.
Will you be collecting yourself as a toy figure?
Mads Mikkelsen: "I've been waiting 51 years for that. So I think yes, yeah?"
Do you prefer the villain or the superhero?
MM: "I wouldn't mind playing this character [holds Doctor Strange figure]. I mean, not saying he's doing a bad job on that. So, I'll take the villain. I mean, in terms of playing characters, I think that any good hero, or any good villain has to be interesting, having both sides of the coin. And I think that's exactly what Marvel always does."
For your look as Kaecilius, what was it like going through that transition?
MM: "It was fantastic. I mean, we went to do some of the tests, and we were doing the makeup. I insisted on bringing the costume and have it on when we do the makeup, just to see how it looks together. And they were spot on. We were sitting in there for hours trying out this makeup, and I was like, 'Oh God, do I really wanna do this every day?' You know? Uh. But then it turned out so fantastic, I was like, 'Yeah, that's it. Three hours every day, we'll do it.' It's worth it, really."
Three hours of makeup?
MM: "Not always. Between two and three, depending on how tired we were."
How did you pass the time?
MM: "You just close your eyes and go through the scene you're going to do today. It's a transformation into preparing… if you're not doing it the makeup chair, you'll do it in your own trailer. So, I did it in the makeup chair."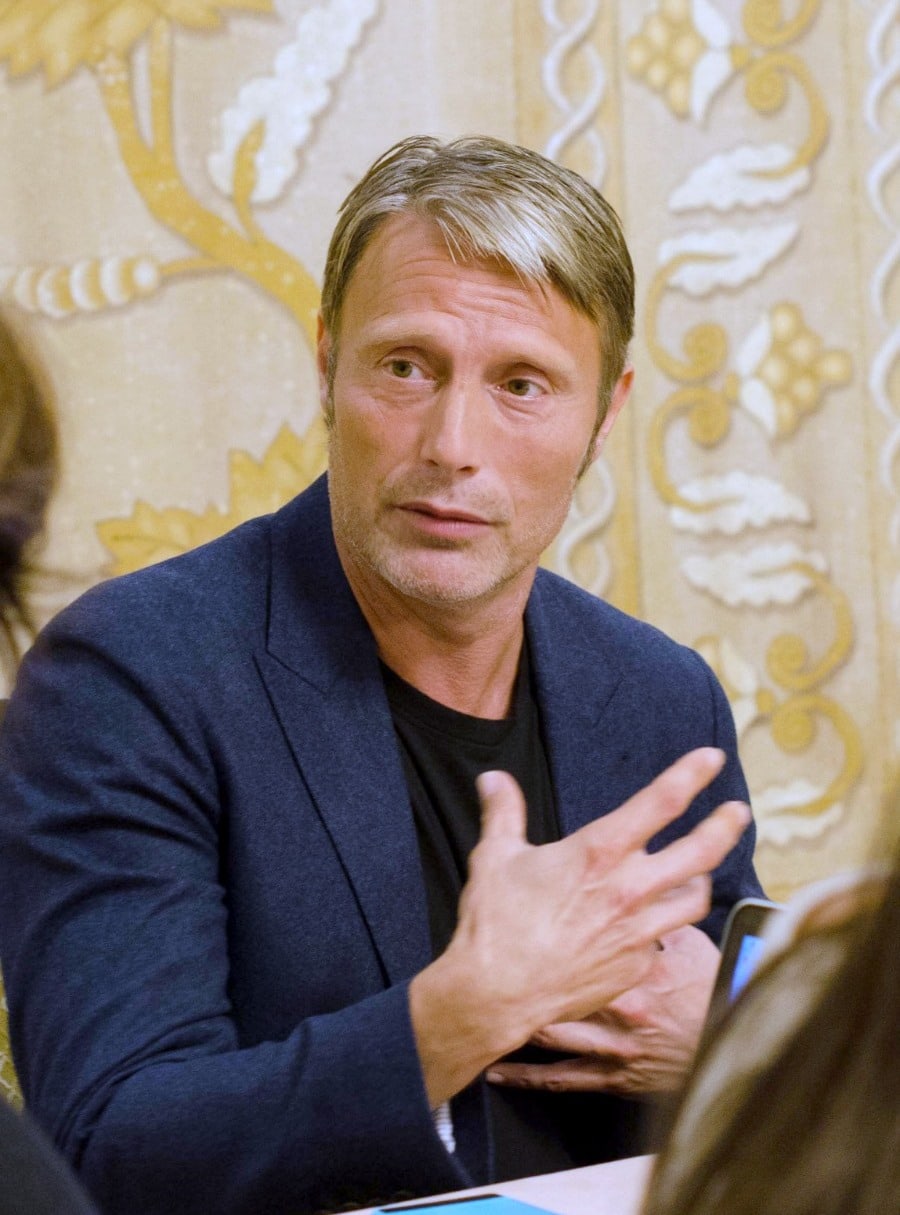 How does it feel to have your name cemented in the Marvel Universe as well as in the Star Wars Universe?
MM: "It seems appropriate. [LOL] No, it feels fantastic. I mean, as a Dane (citizen of Denmark), who started out acting 20 years ago back home–late starter–I never imagined that I would work in America at all, a little less that I would work in a Marvel film. So it feels as if I'm a very fortunate person.
Do you feel like you're typecast as a villain due to your phenomenal performance in Hannibal?
MM: "Well, I am to a degree over here (in the States). If the alternative is not to work over here, I'll take the villain. And luckily I do a lot of different things back home in Europe, so I'm not starving in the sense of like, why am I always the villain? If it's this kind of villain, I'll take it any day."
Who influences you?
MM: "Not to compare at all, but some of my favorite actors have been playing villains as well. Christopher Walken is a hero of mine. I think he has the ability to somehow make the villains likable. Whether it's his personality, or it's that he chose a part that was dualistic written so it makes sense. It's just that some of the great actors can do that. The joker is a fantastic example. We love to hate him, you know?"
Did you have to do a lot of preparation to play Kaecilius?
MM: "We had a lot of preparation, from the very beginning, with the stunt guys. And for the stunts we were taught some basic martial arts things. Like some moves that we will do again and again in the film. And having fairly small people teaching us bigger people to do things on the floor like that we felt like clowns. But I think we did our best, so it was a long preparation period."
What's next for you?
MM: "Just this doing the press and, promotion for Doctor Strange. And then as you probably know, in a few weeks, we have Star Wars coming out."
Why did you want to take on this role?
MM: "It's Marvel. I mean, Scott was pitching on the phone the story, and then I remember he said 'And then, it's a lot of Kung Fu stuff, flying, but don't worry, we got stunt guys for that.' I was like, 'Wow, hold, wow, wow, hold on, what'd you say?' 'We've got st-.' 'No, no, rewind back, Kung Fu? I'm in.' So, it's like Marvel and flying Kung Fu, I was like, 'I think that could be a yes.' Yeah. I've always wanted to be Bruce Lee when I was a kid. And now wait until I was 51 years old to be a slightly older version of him, less good of course. But, it was fun. It was something I've always wanted to do when I was a kid."
Do you have any inspirations to pull from for your character?
MM: "As I said before, the script is the bible. This is where the character, he is in there somewhere together with the director. We can approach it different ways. I think inspiration wise, I mean, like all good in leaders in the world. Like religious leaders, political leaders, they have a sense of having ability to speak to the people in the way that they understand. I think that was the approach to have a certain kind of religious leader. He can also be quite physical. But, as all good dictators, it takes some sacrifices."
Your costume seemed pretty heavy, did that cause any difficulties?
MM: "It was quite heavy. Not crazy heavy, but is was not light. Obviously, we just go in shape. Every day, the more you were wearing it, the stronger you got. It felt featherlight in the end."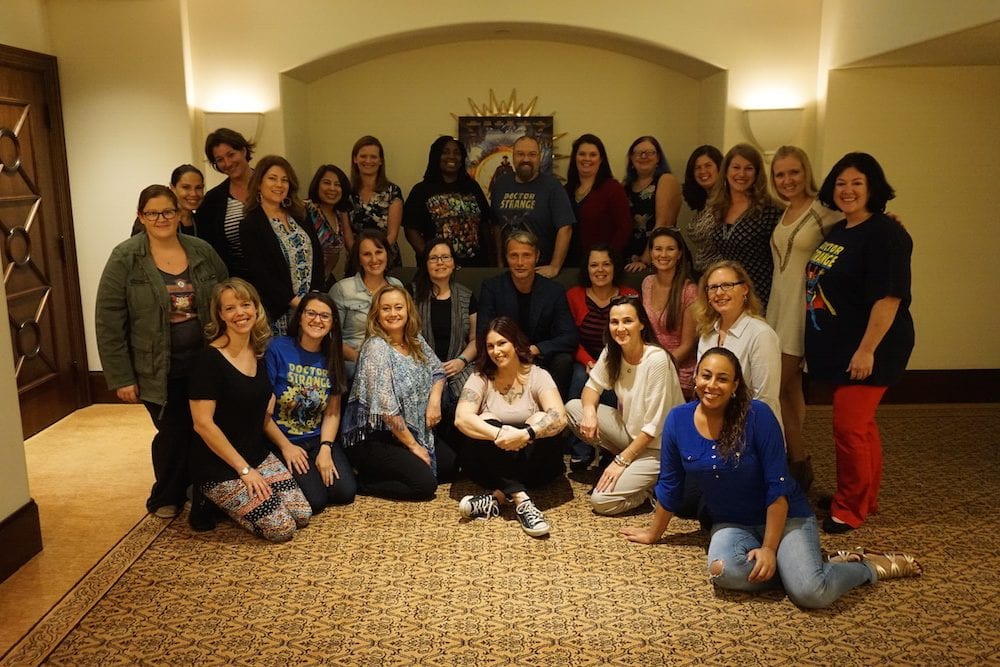 Did you keep anything from the set?
MM: "I did. I always keep something… but I can't tell you because they'd want it back."
Do you have a ritual that helps you prepare before you go on set?
MM: "It varies from the characters I'm playing, depending on what kind of energy they have, and what kind of scene they're approaching, but I will warm up. It's not a specific ritual, but I will try to get into that energy by myself somewhere in the corner. It it's a different kind of scene where everybody's having a good time, I might spend a lot of time with the actors before we do it. But I often walk around in a corner somewhere."
I love how mischievous he is in person. He puts off such a bad boy vibe and it really is what makes him the perfect villain.
See DOCTOR STRANGE in IMAX 3D (only way to do it right) November 4th!