The Paleo diet or Paleolithic diet is a modern diet based off of what we believe was the diet of the cavemen. As hunters and gatherers in their time mostly ate plant and animals as available, this leaves out dairy, grains and legumes, refined sugar and processed oils. My husband and I loosely try to stick to this diet at home – however, I quickly run out of creative things to eat – and I am very excited to review the new cookbook from Judith Finlayson, The 163 Best Paleo Slow Cooker Recipes.
The 163 Best Paleo Slow Cooker Recipes
The Paleo diet is generally gluten free- and all the recipes in this new cook book are 100% gluten free. The book features variations to dishes you may already make in the slow cooker – that you are able to modify and stick to a Paleo and/or a Gluten free diet. The book features starters and snacks, soups, varies meat dishes, meatless main dishes and desserts (woo dessert!).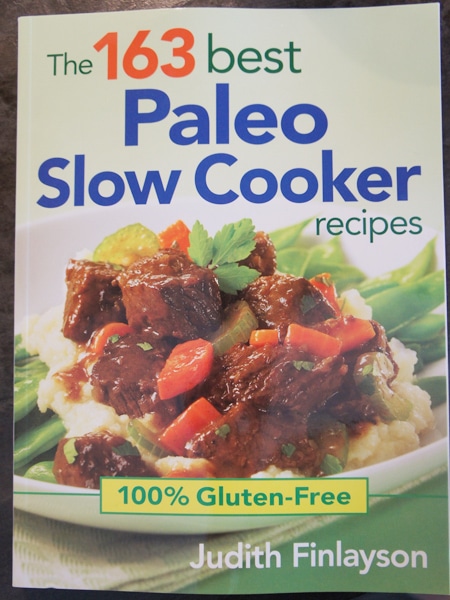 I have forever said I would like to do that "make and freeze" a month's worth of meals all in one day, leaving tons of things for you to have to eat when you get home – and not much work to get them on the table. Most of the recipes that I see to make this easier are slow cooker recipes. As soon as I got this book in the mail, I set to work planning out a menu and creating ways to create many of the meals ahead of time. Today I was able to go shopping for many of the items – and tomorrow I am hoping to get it all cooked, divided, and ready to freeze. Just a note: the book is just recipes, it doesn't have plans to prepare, freeze and cook.
You can find The 163 best Paleo Slow Cooker Recipes book on Amazon.com
I am hoping this stock of slow cooker recipes will help us eat at home a little more – and save a little on eating out!
Do you use your slow cooker often?