Between Me and You Keepsake Journal
Throughout every relationship I hold, whether it be with my mother, my grandfather, or my significant other, I can remember always curiously asking questions about intimate times and thoughts that are often not shared openly or that I just couldn't remember (hey, we all suffer from memory loss!). In fact, my boyfriend and I play the "Question" game whenever we feel like killing time or are just interested in knowing more about each other. We have been together for years and it is fascinating how much we continue to learn from one another. Product was received for review purposes and this post may contain affiliate links.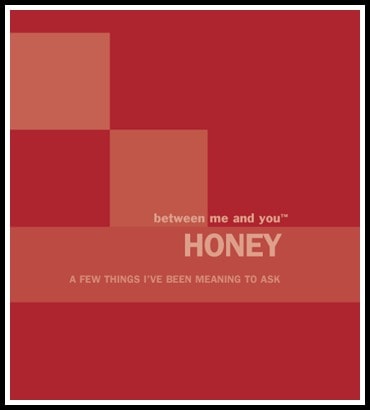 When I received the Between Me and You – Honey journal, I was under the assumption that the questions asked would simply be a review of everything I had already asked, however I was pleasantly surprised to find that the contents of this journal were questions I had never thought of! My level of excitement went sky-high as I read through the pages and chapters (based on various points in your relationship) and realized I was going to get to know the answers to these intimate and fun questions that I had never even considered. I can truthfully attest to the loveliness of these journals. Not only do they work as a way to further connect with your loved ones- and in a time when work takes so much of our time, connecting is a priority- but they can easily become a memento of your relationship to be utilized as a keepsake for the future.


Honestly, EVERYONE can use one of these fabulous journals! They would make perfect gifts for newlyweds, for an anniversary, for a birthday, just for fun- ANYTIME! They have even gotten awesome reviews in Runway Magazine, Redbook, and Mothering Magazine!
What is even better is that you can purchase this item –in a variety of 15 different formats!!!- for about $15 directly on the website: https://www.sanddunebooks.com. They even provide examples of some of the questions in each version!